MIT-Diamond Jubilee Lions Leadership Conclave-2017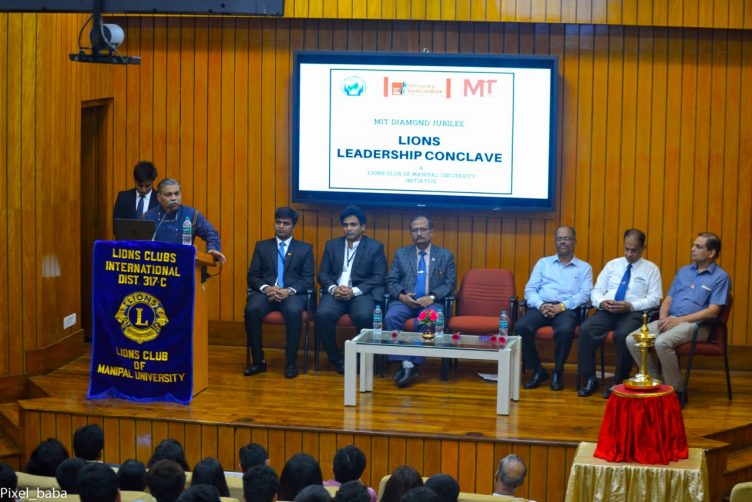 A Leadership Conclave was organised by the Lions Club of Manipal Academy of Higher Education in collaboration with Manipal Institute of Technology (MIT). The event was sponsored by the Syndicate Bank.
Organised as part of the MIT Diamond Jubilee celebrations, the event began with the National Anthem. Inaugurating the event, Dr G K Prabhu, Pro Vice-Chancellor (Technology & Management), Manipal Academy of Higher Education and Director, MIT Manipal, apprised the audience of the MIT Diamond Jubilee celebrations, and various initiatives carried out by the different student clubs of MIT. "The stories of leaders are too inspiring to be put in one small sentence or a quote. Listen to them, get inspired, strive and lead towards success, like they did," he said, as he shared his excitement for the Conclave.
"Workers are born, leaders are always made, through their own will and perseverance," exclaimed Mr Sathish Kamath, Field General Manager, Syndicate Bank, who appreciated the concept of the Conclave.
Dr RS Aithal-Director-ICAS, Dr. BHV Pai-Joint Director-MIT, Dr. Kailash Poojary-President-Lions Club of Manipal Academy of Higher Education, Prof. Dasharathraj K Shetty-Faculty Advisor of the club were present on the occasion. 
Four eminent speakers were invited to share their thoughts on different aspects of Leadership. Mrs Anuja Trehan Kapur, Criminal Psychologist and TV Personality, spoke on the topic 'Narcissism Creates Leaders'. According to her, "Great leaders need to have traits such as narcissism, predator-ship, emotional stability, and paranoia in their personalities; but in balanced amount, else it might prove dangerous."
Mr Chaitanya Malik, Proprietor, Dr Mallik Farms, talked about 'Why he chose to Farm', and summarised a life of an engineer turned farmer. He also shared how he organised film festivals in Goa and took part in music concerts and theatres during his journey from 'Megabytes to Healthy bytes'.
Mr Umesh Dhand, Director, Pepper Solutions, talked about the 'Disruptions that Keep Retail Leaders Awake in India'. "Disruptive technologies like Artificial Intelligence, Robotics could be the next big thing guiding human lives," said Umesh Dhand.
Mr Shailendra Bhatnagar, Sr V P, Capital Market, Adfactors PR, talked about 'The Indian Economy: How to Make Money from it". He said, "If you want to stay a millionaire in India, then rent a house, don't buy it. Money is an essential requirement to satisfy other conditions," he said, as he shared smart ways of making it easy.
Under the guidance and leadership of the faculty advisor K Dasharathraj Shetty and President of the club, Ln Namesh Malarout, the event successfully went to a full house. Ln Prajual PJ, the Vice-President of the Club, proposed the vote of thanks. Ln Keshav compered the event. Secretary Ln Cindhuja, Ln Tanishq, Ln Aditya Chandra, Ln Vaibhavi Mishra and Ln Teja introduced the speakers.