International Conference on Emerging Trends in Chemical Sciences, ICETCS-2017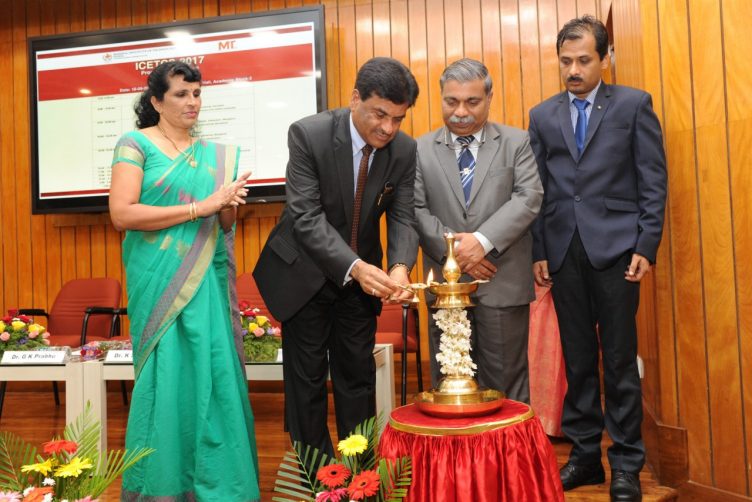 International Conference on Emerging Trends in Chemical Sciences, ICETCS-2017
14 – 16 September, 2017
Department of Chemistry, MIT, Manipal
Department of Chemistry, MIT, Manipal is privileged to organize the three day International Conference on Emerging Trends in Chemical Sciences, ICETCS-2017 during 14 – 16 September 2017 as a part of Diamond Jubilee Celebrations of MIT, Manipal. Department of Chemistry takes the credit of being the first to contribute to Diamond Jubilee celebrations by hosting the Salters' chemistry camp, a residential programme for high school children in association with Royal Society of Chemistry, held during the first week of January 2017. After about six months, Department of Chemistry hosted a two day workshop-Professional Development Program for Science Teachers" again in association with Royal Society of Chemistry during 23 – 24 June, 2017.
Department of Chemistry has once again been in the forefront in organizing the three day International Conference on Emerging Trends in Chemical Sciences, ICETCS-2017 during 14 – 16 September 2017.  The conference was organized with the vision of setting a stage for a panel of experts who are pioneers in chemical sciences from diversified backgrounds providing new directions to young researchers from academia and industry. The Conference was inaugurated on 14 September by the chief guest, Prof. Dr. K. S. Rangappa, former Vice Chancellor of Mysore University and Karnataka State Open University. Prof. Rangappa highlighted the need for multidisciplinary research and conveyed that, the research outcome of chemistry has to be reach the society and benefit the common man. Dr G K Prabhu, Pro - Vice Chancellor (Technical & Management) Manipal Academy of Higher Education, and Director of MIT presided over the function.  In his presidential remarks, Dr G K Prabhu also emphasized the need for interdisciplinary research.
The three day conference included the plenary lectures, scientific sessions, oral presentations and poster presentations. Scientists from leading institutions like CSIR, NIIST, BRNS, DRDO, RRI, IIT, NIT and various other reputed Universities have come together to share their knowledge of research findings. More than 200 delegates from India and also from abroad are taken part in this conference. The conference commemorated with the diamond jubilee celebrations of Manipal Institute of Technology. Two best oral and two best poster awards were distributed to the winners.
The three day conference concluded with the Valedictory function on 16th   September. Prof. B S Sherigara, Former Vice Chancellor, Kuvempu University was the chief guest for the function who spoke about the diversified technology which aid us in present day research and also the importance of chemistry in day today life. Dr. B H V Pai who presided over the function described how chemistry can be made attractive to the students during classroom teaching and also how chemistry can be useful to mankind.
The International Conference was held under the able leadership of Dr M P Yashoda, HOD, Department of Chemistry as the Convener, Dr Fasiulla and Dr Dhanya Sunil as the Co-Conveners. Dr Subramanya Bhat was the organizing Secretary.