Spellbound – Renowned Odissi Dancer Reela Hota Performs in MIT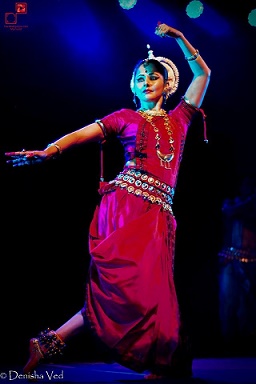 The evening of 17th February, 2017 saw, as a part of MIT's Diamond Jubilee Celebration, Ms. Reela Hota's infectious, evocative pirouette. "Vedas", a compendium of Odissi dances, was a production rooted in ancient Hindu mythology with each performance describing a different stage of human life. The dignitaries who graced the cultural evening with their presence included Dr. H. S. Ballal (Pro Chancellor, Manipal Academy of Higher Education), Mr. Sandeep Bekal (CEO, Jewels of India), Mr. Ravi Kumar (Assistant Director, Department of Kannada & Culture), and Dr. G. K. Prabhu (Director, MIT Manipal).
A decorous staging of Bharathnatyam put on by children of the college faculty greeted the leisurely congregation and started the proceedings of the evening. A spectacular rendition of the Hindu legend of the "Dashavatar" followed. The facial expressions that were as critical a part of the dance as the intricate hand gestures and rhythmic peals left the audience with something to talk about before the main performer even took to the stage.
Adhering to tradition, the esteemed guests then lit the ceremonial lamp.  Before the performance, Dr. Prabhu addressed the austere gathering - speaking about the vast cultural heritage India possessed, and the importance of being connected to our roots. 
"Vedas" comprised three facets - each a blend of rhythm, sophistication, grace and story-telling. Ms. Reela Hota, the chief guest on this occasion, a critically acclaimed danseuse, and former director of International Ancient Art Festival,  along with Mr. Sudarshan Sahoo, an Odissi teacher and performer, elucidated three of the four 'ashramas' or stages of life without a spoken word.
The performers did a fantastic job choreographing moves and interactions, suspending reality, and truly delving into the story-telling aspect of dance. When asked as to why she chose to perform "Vedas" as a part of MIT's year-long celebration, Ms. Hota said,
"I wanted to convey the message that the universe is made up of positive and negative energies, and it is up to us to choose which one to tap into and embody, and I believe the vedas act as a road-map to doing so."
Everyone present would attest to the fact they had witnessed a performance that was both ethereal and elegant - enough to grab their attention and keep it till the very end.