Strategically Speaking: Dr. Anil Kakodkar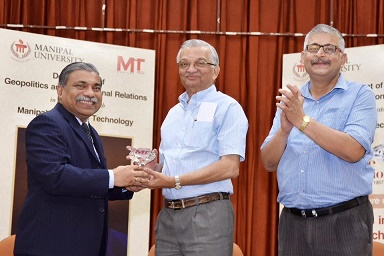 Feb 23, 2017 : Manipal Institute of Technology (MIT), Manipal administration made a stellar addition to the lecture series celebrating MIT's Diamond Jubilee year. Organised with the help of Department of Geopolitics and International Relations, Dr. Anil Kakodkar's talk took place on 23rd February in MIT's Library Auditorium.
The number of students and faculty members who turned up to see the renowned scientist speak had packed the auditorium to full capacity. Dr. G.K. Prabhu, Director MIT and Dr. Arvind Kumar, Head of the Department of Geopolitics and International Relations, also graced the event. Former Director of BARC, and Chairman of the Atomic Energy Commission, India, Dr. Kakodkar has served as the Secretary to the Indian government in the Department of Atomic Energy from 2000 to 2009. Dr. Kakodkar has been the recipient of the Padma Shri (1998), Padma Bhushan (1999), and the Padma Vibhushan (2009) - to name a few of his herculean achievements.
Being a member of the Mentor Group of Manipal Academy of Higher Education, Dr. Kakodkar has visited our University on multiple occasions. His talk revolved around the need for implementing strategic guidelines while making technological advancements. Dr. Kakodkar's words struck a chord with an audience that comprised students and faculty from the engineering stream. He stressed on the importance of developing technology for the civil sector.
"Every country had made advances in the field of technology while working for the military forces. A strategy aimed towards developing technology in the civil sector will not only benefit the country technologically, it will also create many job opportunities", Dr. Kakodkar said. He also spoke about the problem of brain-drain, claiming that there was no dearth of talent in India. "Indian scientists exceed expectations while working in different countries. It is the government's jobs to provide them with the tools which are essential to execute their ideas."
The lecture was followed by a brief interactive session. Dr. Kakodkar's ideas were refreshing and radical in an era where technology for the military are given prime importance. With a vast expanse of knowledge in different sectors, and a roster of achievements to show for it, Dr. Kakodkar was the perfect source of inspiration for students and faculty alike. His speech shall undoubtedly be one of the highlights of Manipal Institute of Technology's Diamond Jubilee celebrations.