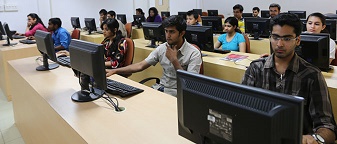 WELCOME TO E-LEARNING SUPPORT @ Manipal Academy of Higher Education
Successful e-learning depends on the self-motivation of individuals to study effectively. Aspiring to contribute to advanced and extended learning of our students , Manipal Academy of Higher Education has opened its corridors of knowledge to the student community by taking learning beyond the classroom.
This is to create an ecosystem of sustainable development using innovative learning tools, thereby enabling learners to enhance their capabilities and foster their intellectual growth in a virtual environment.
The resource area is regularly updated by our academic staff, ensuring that you have the most up-to-date material to hand.
This e-learning platform also aims to provide a collaborative platform for sharing of the learning objectives across multiple disciplines, facilitating learning process.
Please click here for the E-learning platform which is access controlled and is available only within MU Campus.
Next-Gen Learning Platform
The greatest challenge for any learner today is not "what to learn" but "how to learn effectively." Manipal ProLearn's award-winning learning management system – EduNxt is designed to provide you with an immersive learning experience – anytime, anywhere. All you need is the latest browser and stable Internet connection.