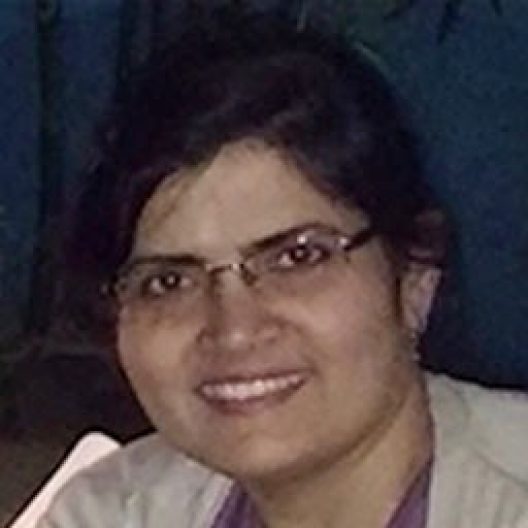 Professor (Dean)
Manipal Institute of Regenerative Medicine
CURRENT ACADEMIC ROLE & RESPONSIBILITIES
Sudha Warrier is Professor and Dean of  Manipal Institute of Regenerative Medicine.
PI- Cancer Stem Cells, Cardiovascular-Neuronal Regeneration.
Group Head- Wnt Lab.
Adjunct Associate Professor, Health Sciences, Curtin University, Western Australia.

 

She is:

·     Adjunct Associate Professor, Curtin University, Western Australia

·     Has a DBT-BIRAC funded start-up company, Cuor Stem Cellutions Pvt Ltd in SORM- Disease

       and diagnostic platforms

·     Group Head- Wnt pathway lab for cardiovascular, cancer stem cells and neuronal degeneration

·     PI-Stem cell based Disease modeling for cardiovascular, neurogenerative disorders

·     Editorial board of Scientific Reports, Frontiers Oncology, Guest Editor for IJBCB

·     Collaborative partner with National University of Singapore, Curtin University, Australia,

       University of Putra, Malaysia

·     Research projects funding and student exchange to and from Australia and Singapore

·     Convenor – Institutional Committee for Stem Cell Research

·     Guide for PhDs and MSc students

·     External PhD examiner of National University of Singapore, Anna University

 

 
SUBJECTS CURRENTLY TEACHING
| Subject | Semester / Year |
| --- | --- |
| BIOMOLECULES | First Semester |
| BIOMOLECULES | First Semester |
| BIOMOLECULES | First Semester |
| BIOMOLECUES | First Semester |
| EMBRYONIC DEVELOPMENTAND CELL DIFFERENTIATION | First Semester |
| ARCHITECTURE OF CELLS, TISSUE AND ORGANS | First Semester |
| NON CLINICAL APPLICATIONS OF STEM CELLS | Second semester |
| NON CLINICAL APPLICATIONS OF STEM CELLS | Second semester |
| NON CLINICAL APPLICATIONS OF STEM CELLS | Second semester |
| NON CLINICAL APPLICATIONS OF STEM CELLS | Second semester |
| NON CLINICAL APPLICATIONS OF STEM CELLS | Second semester |
| STEM CELLS IN CANCER AND REGENERATION | Third Semester |
| STEM CELLS IN CANCER AND REGENERATION | Third Semester |
| STEM CELLS IN CANCER AND REGENERATION | Third Semester |
| STEM CELLS IN CANCER AND REGENERATION | Third Semester |
| STEM CELLS IN CANCER AND REGENERATION | Third Semester |
| STEM CELLS IN CANCER AND REGENERATION | Third Semester |
| STEM CELLS IN CANCER AND REGENERATION | Third Semester |
| STEM CELLS IN CANCER AND REGENERATION | Third Semester |
| STEM CELLS IN CANCER AND REGENERATION | Third Semester |
ACADEMIC QUALIFICATIONS
| Degree | Specialisation | Institute | Year of passing |
| --- | --- | --- | --- |
| PhD | Reproductive Biology | Life Sciences Institute, University of Madras | 2002 |
| MSc | Integrated Biology | Madurai Kamaraj University | 1991 |
| BSc | Zoology | Stella Maris College, Madras University | 1988 |
Experience
| Institution / Organisation | Designation | Role | Tenure |
| --- | --- | --- | --- |
| Manipal Institute of Regenerative Medicine, Bengaluru | Associate Professor | International Collaborations, academic networking, research, editorial contributions, teaching, mentoring PhD, postdoctorates, MSc | Jan 2013 to Dec 2017 |
| Manipal Institute of Regenerative Medicine, Bengaluru | Assistant Professor | Multiinstitutional funding, commericalization, innovation, research, editorial contributions, committees, teaching, mentoring PhD, MSc | Apr 2009 to Dec 2012 |
| Curtin University, School of Biomedical Sciences, Faculty of Health Sciences | Adjunct Associate Professor | Research on cancer stem cells, mesenchymal and pluripotent stem cells Propose collaborative research proposals on degenerative disorders and metabolic diseases Teach course in stem cell biology | March 2013- to present |
| Avesthagen Ltd, Bangalore, India | Functional Head | Developed a cancer stem cell unit for drug development by high throughput platform for compound screening targeting cancer stem cells. | April 2008-April 2009 |
| Frontier Lifeline Cardiovascular Hospital, Chennai, India | Senior Scientist | Mesenchymal stem cell from human bone marrow and cord blood and its differentiation into cardiogenic lineage, identification and development of biological markers specific in hypoxia of congenital heart diseases in children, teaching MTech, MSc level | Sep2006-Mar 2008 |
| Anna University, Center for Biotechnology Chennai, India | Visiting Faculty | Teaching MTech Advanced Genetic Engg, Pharmaceutical Biotechnology | June 2005-Dec 2007 |
| Medical College of Ohio, Ohio, USA | Research Associate | Postdoctoral research on rat model of hypertension | June 2003- April 2004 |
| Duke University, North Carolina, USA | Research Associate | Postdoctoral research on characterisation of interactions between DNA methyltransferase I and RNA polymerase II | Jul 2002- April 2003 |
| Lund University, Sweden | Project Associate | Effective assay system for insulin by targeting the C-peptide region of the insulin molecule | June 1993- Dec 1993 |
| Center for Protein Engineering and Biomedical Research, Madras, India | Project Associate | Protein refolding and stabilization in the presence of crosslinkers and additives | June 1991- March 1994 |
AREAS OF INTEREST, EXPERTISE AND RESEARCH
Area of Interest
Cancer Stem Cells, Cardiovascular Regeneration of Stem Cells, Developmental Biology
Area of Expertise
Cancer Stem Cells, Cardiovascular Regeneration of Stem Cells, Developmental Biology
Area of Research
Cancer Stem Cells, Cardiovascular Regeneration of Stem Cells, Developmental Biology
TOP 5 RESEARCH PUBLICATIONS
· Netrin-like domain of sFRP4, a Wnt antagonist inhibits stemness, metastatic and invasive properties by specifically blocking MMP-2 in cancer stem cells from human glioma cell line U87MG. Ishmat Ara Yasmin, S. Mohana Sundaram; Anasuya Banerjee; Lavanya Varier; Arun Dharmarajan, Sudha Warrier*. Experimental Cell Research-Nov 2021. DOI: 10.1016/j.yexcr.2021.112912.
· Designing precision medicine panels for drug refractory cancers targeting cancer stemness traits- Sudha Warrier*, Manasi Patil, Sanyukta Bhansali, Lavanya Varier and Gautam Sethi. Biochim Biophys Acta Rev Cancer. 2020 Nov 11;1875(1):188475. doi:10.1016/j.bbcan.2020.188475.
· Aberrant lipid metabolism as an emerging therapeutic strategy to target cancer stem cells: Concise review. Visweswaran M, Arfuso F, Warrier S, Dharmarajan A*. Stem Cells. 2020 Jan;38(1):6-14. doi: 10.1002/stem.3101.
· Stemness, Pluripotentiality, and Wnt Antagonism: sFRP4, a Wnt antagonist Mediates Pluripotency and Stemness in Glioblastoma. Bhuvanalakshmi G, Gamit N, Patil M, Arfuso F, Sethi G, Dharmarajan A, Kumar AP, Warrier S*. Cancers (Basel). 2018 Dec 27;11(1). pii: E25. doi: 10.3390/cancers11010025.
· Epigenetic reprogramming converts human Wharton's jelly mesenchymal stem cells to functional cardiomyocytes by differential regulation of Wnt mediators- Bhuvanalakshmi G, Frank Arfuso, Alan Prem Kumar, Arun Dharmarajan and Sudha Warrier. Stem Cell Res Ther. 2017 Aug 14;8(1):185. doi: 10.1186/s13287-017-0638-7.