'Be what you are and stay focused," Chairman Manipal Health Enterprises tells graduating students at 26th Convocation
5084 students received their degrees, 928 in absentia. That includes 3245 undergraduates, 1746 post graduates, eight super specialities and 85 PhD scholars. Twelve students received Dr TMA Pai gold medals.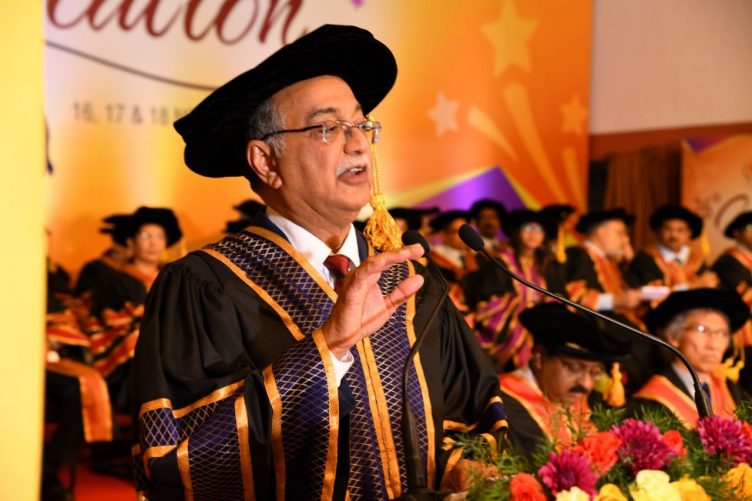 Manipal Academy of Higher Education Convocation got off to a splendid start with Dr H Sudarshan Ballal, Chairman Manipal Health Enterprises Private Limited, Bengaluru advising the graduating students to keep their eyes on the stars but feet firmly on the ground at KMC Greens here on Friday.
"Be what you are and not necessarily what others want you to be; stay focused – in spite of the numerous distractions you have in this world which may lead you astray.  Push yourself hard each day because no one else will do it for you," were his words of encouragement.
Dr Ballal while lamenting the evils that blot the society today, advised the students to become inspiring leaders. "You as the future generation need to tackle several issues that are plaguing the country and make it a better world."
"Delivering the convocation address at my alma mater is indeed a great honour and privilege," he said and added, "Today we are proud that MAHE has become an institution of eminence, one of the very few in the country to achieve this status and I am sure all of you are very proud to be graduating from this "Institution of Eminence," he said.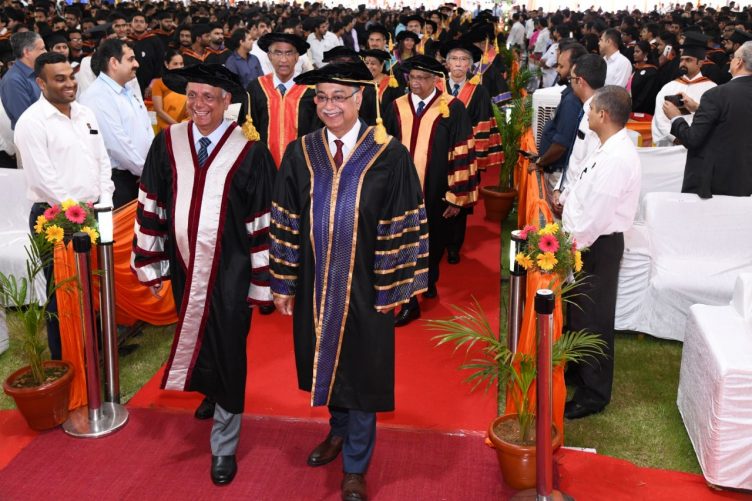 His advice for the graduates was, "Face the new world ahead of you, work hard, because without hard work, nothing grows but weeds; be courageous and courage doesn't mean you don't get afraid, it means you don't let fear stop you; and, be a good leader. Don't order, push or demand, instead guide, lead and inspire".
It's also "Pay Back Time," he told the graduating students. "Please give back to the society something in return for what the society has given you.  One great idea is to give quality education to the youngsters, who will be our future.  It would be a great idea to set up an endowment at the university to help the less privileged," he added.
"Harvard, Stanford, Yale, Oxford, Cambridge are what they are because of the huge endowment and I am sure MAHE, 'considered to be Harvard of East' could do the same.
Vice Chancellor, Dr H. Vinod Bhat made a presentation of the achievements of the university in the year gone by. Dr Poornima Baliga, Pro Vice Chancellor welcomed the gathering and Registrar, Dr Narayana Sabhahit gave the vote of thanks.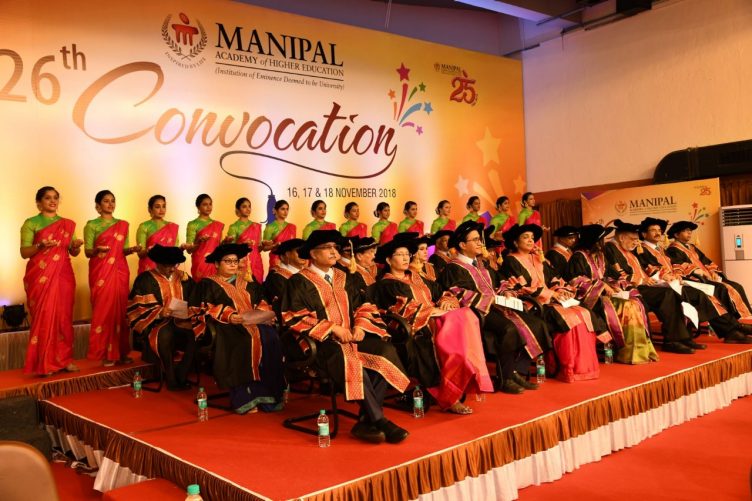 Dr TMA Pai gold medal winners:
Under graduates: Sahana Pai, MCOPS, Manipal; Aasadur Rahaman Midday, MCODS, Mangalore; Urgyen Dolma, MCON, Manipal and Ann Mathew, FOA Manipal.
Post graduates: Mascarenhas Jeswil Evrald, SOIS, Manipal and Akhilaja Pratyusha, SOLS, Manipal.