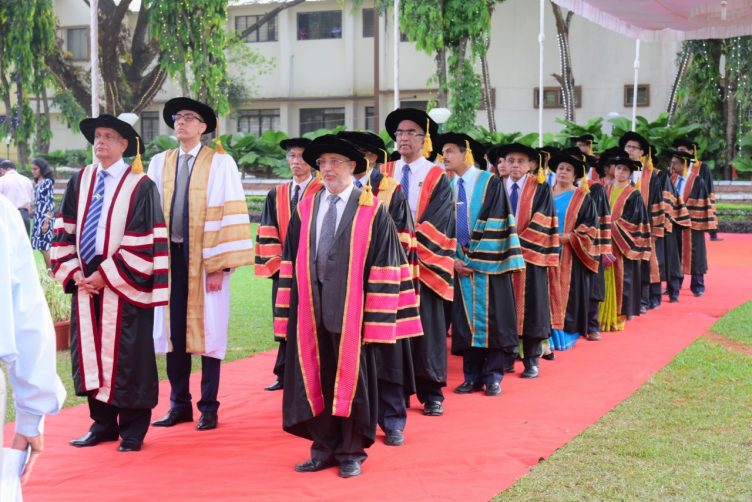 You have graduated from one of the finest Deemed to be Universities in India, AICTE chairman tells students
Over a thousand students received their degrees at Manipal Academy of Higher Education's 23rd Convocation at KMC Greens here on Saturday. On the first day of the three-day Convocation, Dr Anil Dattatraya Sahasrabudhe, Chairman All India Council for Technical Education, New Delhi was the chief guest. On the occasion, Manipal Academy of Higher Education alumnus, Mr Rajeev Suri, President and CEO of Nokia was conferred the honorary doctorate.
Pro Chancellor, Dr H.S. Ballal declared the convocation open and Vice Chancellor, Dr H. Vinod Bhat gave an overview of the University. He covered almost every aspect highlighting the important ones, of course. From institutions, to rankings, to research to some future goals, it was a presentation which took one through all that the university in known for.
While congratulating the graduating students in his convocation address, Dr Sahasrabudhe told them that they had graduated from one of the finest Deemed to be Universities in India which has distinguished itself as a pre-eminent institution with excellence as its motto. "Hard work and dedication of faculty and support staff, devotion to quality, contribution of illustrious alumni, and vision of administration are responsible for making this institute one of the top ranking universities in India, BRICS and Asia. People like Mr Suri and Mr Satya Nadella CEO of Microsoft are products of the excellent education being imparted here," he said.
Speaking of the general quality of education in the country, the AICTE chairman said it was below expectations. "The quality level of education has unfortunately not seen the degree of growth it should have. The industry bodies such as NASSCOM, CII and FICCI keep lamenting about employability of graduates. This has been often leading to under employment of graduates. 
Some of the lacunae pointed out by industry are soft skills such as effective communication, team work, discipline, ethical practice among others," he said.
"Today we have more than 40000 colleges, both private and government and 780 plus universities of which 45 are medical universities and 90 technical universities. While this number has certainly helped in creating access to higher education and also equity to a great extent, with a GER of more than 24.3% (34.2 million students), the quality of education is much below our expectation in most universities with few exceptions," .
He spoke of the Multiple Open Online Courses platform "SWAYAM" started by the ministry of Human Resource Development and said the responsibility was given to AICTE. "Large number of courses are already on the portal and many more are getting added. This will create a unique learning experience for everyone, for people of all ages and backgrounds, learning from anywhere, anytime from anyone, the best in the world. 
The UGC and AICTE have already brought in regulations permitting 20% of the courses being taken through MOOCs," he said.
On global rankings he said, "We need to consistently put our efforts to challenge ourselves and create models of excellence in education so that at least 10-20 institutes appear in global top 100 institutes. We need to devise a strategy for enhancing quality in all institutes and create competition. The National Institutional Ranking Framework is a baby step in that direction.
Research outcomes and international collaborations and recognitions are important. "Most importantly we need to build strong and world-class graduate schools leading to research, masters and PhDs in a very innovative space. Last year India produced 21830 PhDs while 1,17,301 are pursuing their PhDs". Although, these numbers have increased by leaps and bounds compared to a decade ago, there is a long way to go. I am pleased to know that Manipal Academy of Higher Education has been focusing on research work and has several programs running in the university, providing incentives to students for research work.
To read full speech CLICK HERE.
For Convocation Day 2  CLICK HERE
For Convocation Day 3 CLICK HERE