Abide by our duties and take up cause of nation building , says VC
MIT first in March Past, Kasturba Medical College Manipal adjudged second and Manipal College of Nursing is third
Manipal University celebrated the 68th Republic Day at KMC Greens on Thursday. Enthusiasm and patriotism marked the occasion as faculty, students and others turned up in large numbers to celebrate freedom snatched from the firm British grasp, as the Vice Chancellor Dr H. Vinod Bhat so aptly put it in his message after the Tricolour was hoisted by Pro Chancellor, Dr H.S. Ballal.
Dr Bhat said, "The concept of freedom being a birthright was very much etched into the Indian psyche. In fact, this was the dogma on which we fought for our independence from colonial rulers. Free India thus transferred power from the British monarchy directly to our people and empowered the citizenry with basic rights".
Having achieved that freedom, there are certain rights, duties and responsibilities which the Indians have towards the nation. "Rights are what we claim and sometimes challenge. Duties are what the state demands which we sometimes sidestep. Peace and prosperity of a country can only be maintained and fostered when we as a nation respect everyone's rights and our own responsibilities," he said.
"Swachh Bharat and Demonetisation together are reminders to the citizens about their duties and responsibilities. However, the impact of Swachh Bharat initiative will be felt only if the action is extended to cleaning up the pillars of democracy, and Demonetisation is a brave action against black money and parallel economy," he said and added, "Both have the potential to create long lasting impact".
"India as it is poised to graduate from a middle income to a high income country has the potential to emerge as a global powerhouse if we get our act together. To do this the state has a set of responsibilities too.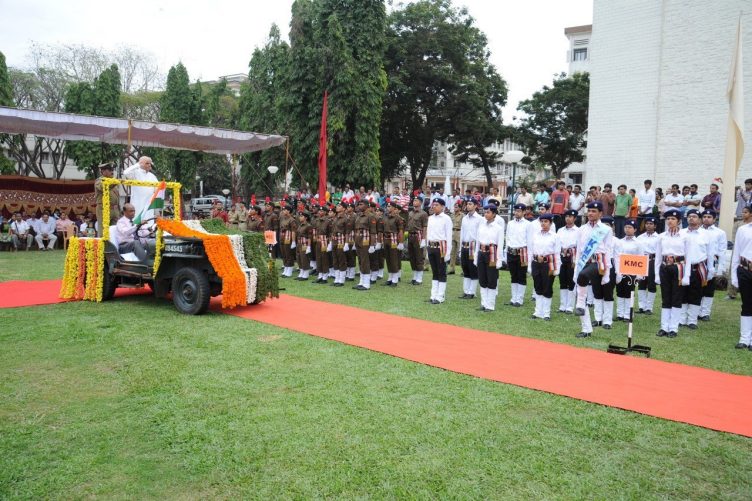 The sovereign nature of the Indian constitution has to be preserved jointly by the state and its people. On the 68th Republic Day, let us all resolve to abide by all our duties and take up the larger cause of nation building. Let us take pride in everything that we do as our country moves towards India 4.0.
Manipal Institute of Technology, which is also celebrating its Diamond Jubilee, played hosts this year. Dr G.K. Prabhu, Director MIT. At the march past, the host team stood first, KMC, Manipal second and Manipal College of Nursing came third. Melaka Manipal Medical College were awarded the consolation prize.
--------******---------*****-----------******-----------******--------********-----------*****-----------