RTE is key to India's economic growth, says VC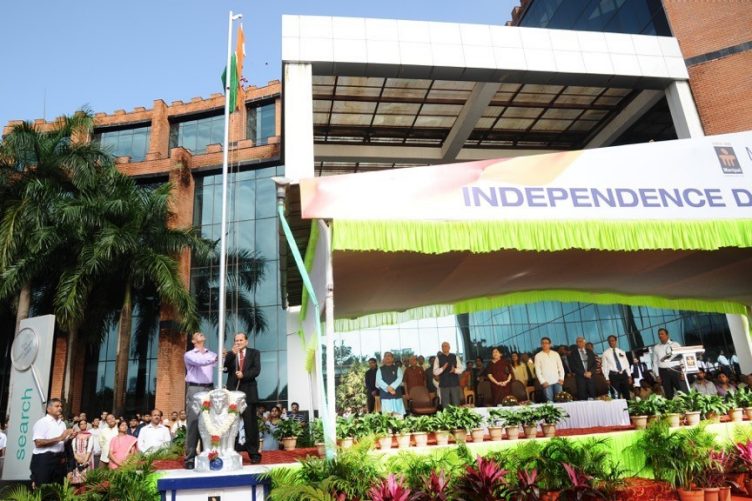 "The right of every child to school education, is the key to India's economic growth and prosperity," said Dr H Vinod Bhat, Vice Chancellor Manipal Academy of Higher Education at the 69th Independence Day celebrations here on August 15, 2015. Delivering the I-Day speech he said that the fundamental rights provided in the Constitution if implemented correctly can help in the nation's growth considerably. School of Information Sciences hosted the celebrations this year and Dr Harishchandra Hebbar, Director SOIS welcomed the gathering.
Lamenting the paucity of quality higher education Dr Bhat said, "The demand for higher education is forever increasing but the paucity of quality education is a major stumbling block in our endeavor to increase the supply.  The pressing need for reforms in the higher education sector is more acutely felt now than ever before," he said.
"The archaic and often atavistic policies are detrimental to the cause of broad basing and expanding the sector," Dr Bhat opined. "It is time that an independent India decided to free education from the clutches of approval-accreditation raj which is so reminiscent of the license permit era," he said.
He strongly advocated liberation of education. "We need liberation of distance and online education, which has been the early driver of massification of higher education the world over, from the painful shackles of geographical and territorial restraints".     
"If we have to "make in India", the need of the hour is to train and educate our youngsters in a variety of disciplines. Institutions like Manipal Academy of Higher Education will be the leading lights in taking India to sublime heights in the new era of accelerated industrial growth," he said.
While briefly mentioning about the progress made in the near-seven decades since achieving freedom, he said that philanthropists and corporate India have pitched in to contribute significantly to the growth. "The remarkable foresight of humanists like JRD Tata and Dr TMA Pai and their willingness to dig deep into their pockets, helped inputting up national institutions of repute in the fields of science, banking, culture, healthcare etc," he said.
Earlier, Chancellor Manipal Academy of Higher Education, Dr Ramdas M Pai unfurled the Tricolour, inspected the guard of honour and took the salute at an impressive march past by the constituent institutions of the University, security personnel and Asare.  Faculty of Architecture emerged as the best contingent in the march past, Welcomgroup Graduate School of Hotel Administration came second and KMC, Manipal declared third best.