"Your journey in life begins with the convocation," says SL Prime Minister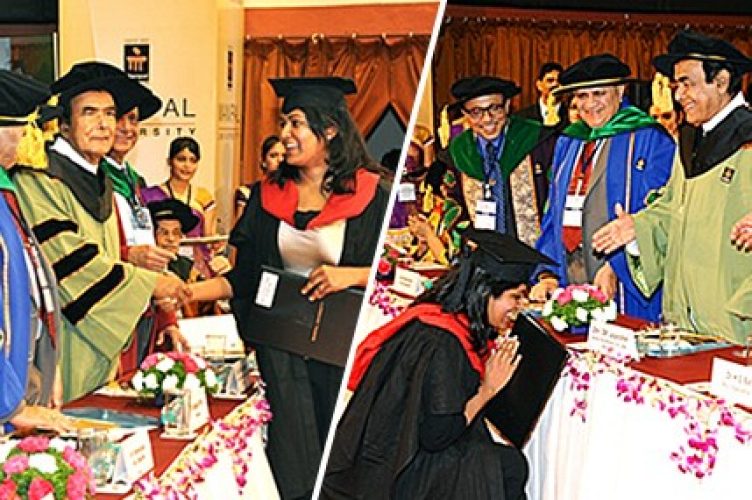 Convocation 2014: Day 1
Nov 8: "Your  journey in  life has  just begun and  convocation marks that  day," said Dr Dissanayake Mudiyanselage Jayaratne, Prime Minister of Sri Lanka while addressing the graduating students of Manipal Academy of Higher Education at the two-day 19th Convocation at KMC Greens on November 8, 2014. About 1700-odd undergraduate and post graduate students received their degrees on the first day. Fifteen gold medalists and 33 PhD scholars were also awarded. Chancellor, Dr Ramdas M Pai declared the convocation open.
The Lankan Prime Minister began his convocation address with a congratulatory note to India on the success of Mangalyaan. "India has demonstrated its rank to the world in education by successfully launching a rocket to Mars. I also wish someday the students of Manipal Academy of Higher Education will become an astronaut and land on the Red Planet," he said. About the ties between the two countries he said, "Sri Lanka has the longest continuous historical link with India. Historically and culturally, our two nations have been very close to this day," he added and indicated the written references in Ramayana. "I am happy to be here today to enhance our friendship with India," he said.
Impressed with the quality of education being imparted in Manipal Academy of Higher Education, Dr Jayaratne said; "Apart from catering to the needs of modern higher education to a large number of students worldwide, including Sri Lanka, the institution has several important features that make it different from the rest -- maintaining discipline, protecting environment, research, respect for cultural values and high quality education are some of the commendable aspects of the university. He called upon the students to be responsible citizens. "Now you are ready face and contribute to the world at large as worthy citizens. Today is a day when teachers deliver the final advice and blessing for your future journey. It is an emotional occasion for both," he said. "It is also a day to express your gratitude to the teachers who have contributed to making you worthy of being recognized in the society," he added.
"It should be our collective effort to make the world a better place to live while respecting others. Each one of us, regardless of our differences and as human beings, can meaningfully contribute to this objective. After all we are all in this world to play our respective roles to make the world peaceful and happy place for the future generation as well. It depends on how well we play our roles," the Lankan PM said.
"The best period of your life has been sacrificed to acquire knowledge. Your parents did their sacrifices with the expectation that you will become an asset to your family and the country. Now it is your turn to fulfill their aspirations," he said.
Earlier, Pro Chancellor, Dr H.S.Ballal welcomed the gathering and congratulated  the graduating students. Vice Chancellor, Dr K Ramnarayan gave an overview of the University through a power point presentation. Also, on the occasion, Mr Banmali Agrawala, President and CEO of GE South Asia was honoured as the distinguished alumnus. He is the chief guest for the second day of the convocation on Sunday.
Gold Medal Winners 2013-14 with subjects:
Undergraduates: Pallavi Maben (BE), Vora Bhavisha (B Pharm), Aalisha Kanodia (BDS), Adithya Ravi (BHM), Anisha Melania Monis (BSc Nursing), Shruthi R Menon (BAJC), Fatima Mohamedabbas Rawji (Allied Health Science), Fatmah Zahra Mehboob Rashid (BSc Biotechnology), Ashrith B (BBA Jewellery Design and Management), Deepa Lilly Edmond, (B Arch), Jewel Maria Francis (Pharm D).
Postgraduates: Sanchari Basu Mallik (M Pharm), Hannah Smiles Javvaji (MS Communication), Paluri Venkata Aditya (MS Information Science) and Ashish Viswanath Prakash (MBA).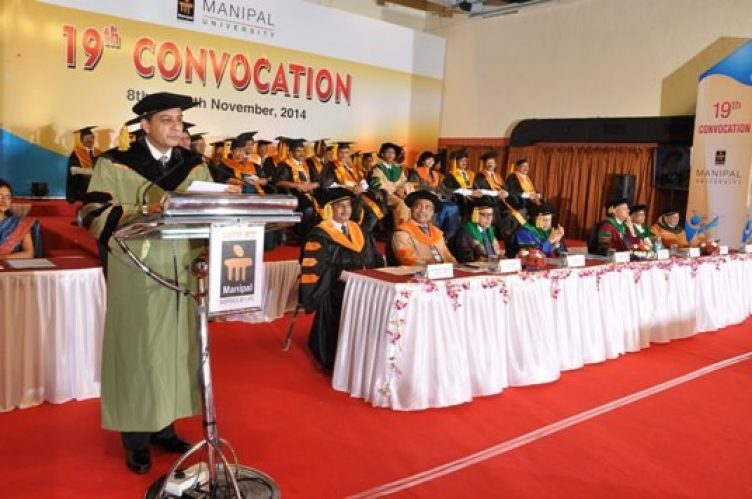 "There is no such thing as failure," says
Banmali Agrawala
DAY 2, Nov 9: "Every experience gained at Manipal Institute of Technology (MIT) thirty four years ago has stood me in good stead," recalled Mr Banmali Agrawala, President and CEO of GE, South Asia while addressing his audience on the second day of Manipal Academy of Higher Education's 19th convocation at KMC Greens on November 9. He used some of his personal experiences to tell the graduating students of MIT that all of them had a bright future after graduating from the University. Some 1500-odd students, both undergraduates and post graduates received degrees.
He shared some learnings in his life with the graduating students so that they could draw inspiration from it. "As I look back, I take a lot of pride in the fact that I learnt from mistakes and it is this alma mater that gave me the confidence and ability to do so. And as I look ahead, I see a very bright future for all of you. The MIT of today is a much sought after institution and the environment is brilliantly conducive for high quality learning," Mr Banmali said. He took the opportunity to pay tributes to his teacher, Prof KJ Kamath. He made five points to explain and present his personal story to the students as they step into a new world after MIT. 
The first he said was that no human being could be branded as a failure or success. "It was wrong on my part to have thought of myself as a failure thirty four years ago. It would be equally wrong for me to think of myself as a success today. The circumstances around us keep changing and if anyone believes they can control their destiny to guarantee success, they are mistaken. We have seen many "successful" people fall from grace and many "failures" recognized as successes, later on in their lives." 
The next point he made to the students was that their attitude was more important than the degree. "Skills and knowledge can be acquired but attitude is something that is difficult to change as age catches on," he said. "What matters in the real world is not how well you have learnt the jargon but your attitude. Are you curious to learn more? Can you get along with other people? What are you passionate about? Are you humble enough to understand that there will always be something that you don't know?  And so on..."
The third he said was that no one should take their loved ones for granted. "As you step into the real world and pursue your ambitions, I urge you to constantly remind yourself that there is someone out there who is giving up his or her today for your tomorrow. If nothing else, at least acknowledge that sacrifice and always remember it," was yet another mantra for success he thinks and said, "I spent more than 200 days in a year travelling when I was working in Finland, leaving my wife behind to fend with two young children. Once again, I put my career ahead of family. I did well professionally but only because my wife decided to sacrifice her present for my future".  
He dwelt on technology next saying that it can solve many of the world's challenges.  "You are graduating from the Manipal institute Of Technology. The key word here is Technology," he said and added, "Technology has not only made our daily liveseasier and more affordable, but it has also altered our social behaviour".
And finally, he said, "You can never achieve success till you like what you are doing. While you go about building your future, remember that you need to accomplish something before you demand respect. In order to accomplish something, you will need to focus on depth before breadth, take personal risk on what you believe in and live with integrity".
Mr Banmali's closing remarks were, "As you step out to face the world, carry your education with pride but humility, be confident but not arrogant, be grateful to your loved ones, remember their contributions in your growth and above all – have fun. The world will become a much nicer and more joyful place as you continue your climb. May you make many friends and may you meet them all at the top.