Formula Manipal hopes to do better this time round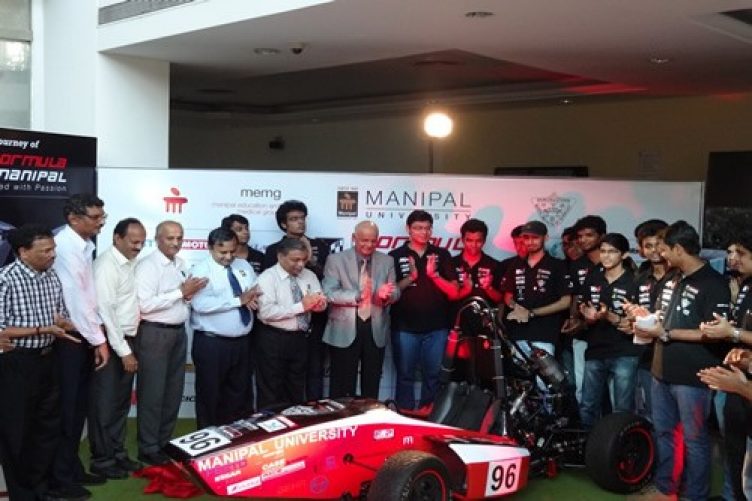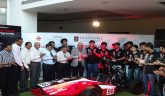 Formula Manipal, has come a long way since inception in 2007. The sixth car, to compete in competitions at Germany and Czech Republic later in July and early August 2014, was unveiled at the Innovation Centre of Manipal Institute of Technology by Pro Chancellor of Manipal Academy of Higher Education, Dr H.S.Ballal on July 4, 2014. The car is a superior version of all previous cars assembled so far and the students who worked on it, night and day, hope to give a better performance. The title sponsor this season is Manipal Education and Medical Group (MEMG)
Last year for the first time there was a podium finish when the team finished second in Cost Analysis. They had missed out on other awards narrowly. Formula Manipal, conceived by the students of MIT with support from faculty, has participated in Formula Student competitions in Italy (2008) UK (2009), Austria (2010), Italy (2011) and Germany and Czech Republic (2013).
Formula SAE (FSAE) is a competition organized by the Society of Automotive Engineers (SAE) for students. The challenge for the students is to design and manufacture a formula style race car with specific design and safety considerations as per the guidelines laid down by FSAE. The different cars competing at the event are evaluated on quality of design and performance. The competitions are held in 10 different zones around the globe. More than 2000 engineering students participate from over 23 countries to showcase their technical expertise. The competition gives the students the opportunity of applying classroom knowledge to practical purpose.
"These events are attended by more than 4000 students from over 23 countries participating and showcasing their technical expertise. At the competition, the cars are tested on several parameters, including acceleration, handling, efficiency and endurance. A report on the car's Design, Cost effectiveness, as well as a Business Logic Case and a Business Presentation is presented to the judges. This year the team will comprise 27 undergraduates from different disciplines," said faculty adviser, Dr Aunachalam U Chandavar who will be accompanying the team.
The team hopes to do better this time with improvement in every aspect of the car. Both technical head Ayush Prakash, a fourth year Mechanical Engineering student and team manager Tanmay Bohra, a third year EEE student said, "The team aims to improve its performance at both the competitions and has incorporated various changes in the car for the purpose
The major highlights include extensive use of CFRP for weight reduction, introduction of a 4-2-1 exhaust system, anti-roll bar. The team will also be using an electro-pneumatic clutching mechanism for faster gear shifting. The team will also be using rear wheel hubs integrated stub-axles which have helped in making the rear wheel assembly more compact thus leading to weight reduction.