Gayatri College, Hyderabad girls are best Teenovators
Sri Gayatri Junior College – Girls, Bachupally, Hyderabad emerged winners of Teenovators 2014-2015 at the Dr TMA Pai Hall here on January 21, 2015 for their project on Eco-friendly Mechanical Pump". And with the win, they bagged a cash prize of Rs 5 lakhs as well. Teenovators is a competition for schools across the country being organised by Manipal Academy of Higher Education to provide young minds a platform to showcase their creative and innovative skills.
Saraswathi Vidyalaya High School and Junior College of Science, Thane was the first runners-up for their project on Ultimate Power Car and Poorna Prajna Education Centre, Sadashivnagar clinched the second runners-up spot. Their project was all about creating alternative source of Energy. The teams got cash prizes of Rs. 3 and Rs. 1 lakh respectively.
Two teams from V K R Acharya English Medium High School, Kundapur, Udupi and DAV Public School, Rajpura were given the consolation prizes of Rs 50,000 each.
The competition which lasted almost five months saw nearly two lakh students from over 600 schools take part. Following a thorough grilling of the students about their projects, the judges concluded that the girls from Bachupally had the best exhibit among the ten in the fray for the final. The teams were trained and mentored by experts from Dell, GE Global Research, Microsoft, Intel, Nvidia, CSIR and CMR IT.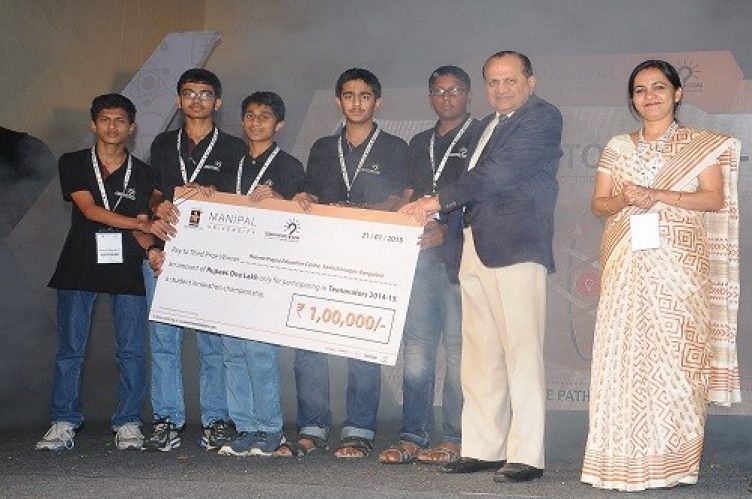 An excited Anunitya from Sri Gayatri Junior College, Bachupally said, "Teenovators proved to be an important milestone in our life. It has given us sense of responsibility towards society and has motivated us to develop projects that will have an impact on society. While we are overwhelmed to win Teenovators, the buck doesn't stop here. We will work towards making our project market ready with the help of ideas and guidelines suggested by experts at Manipal Academy of Higher Education".
A number of principals and teachers from various schools across the country attended the grand finale of the competition. They were all praise for the competition which has caught the imagination of young minds to create and innovate. The exhibits clearly indicated their inclination for bigger things in future. Generally, the judges were happy with the quality of the projects.
The prize distribution was held later in the day. Mr Srinivas Prasad, CEO Innovation Campus, Bangalore was the chief guest and Dr. Ramdas Pai, Chancellor, Manipal Academy of Higher Education presided over the function. Mr. Varun Agarwal – young entrepreneur, author and film-maker was the guest of honour.