Glorious year of MAHE silver jubilee celebrations come to an end
This is an important year for us for many reasons. Firstly, because Academy of General Education, completed 75 years of existence. Then, the conferment of Institution of Eminence tag and Chancellor, Dr Ramdas M Pai's Lifetime Achievement Award by FICCI: Dr H.S. Ballal, Pro Chancellor.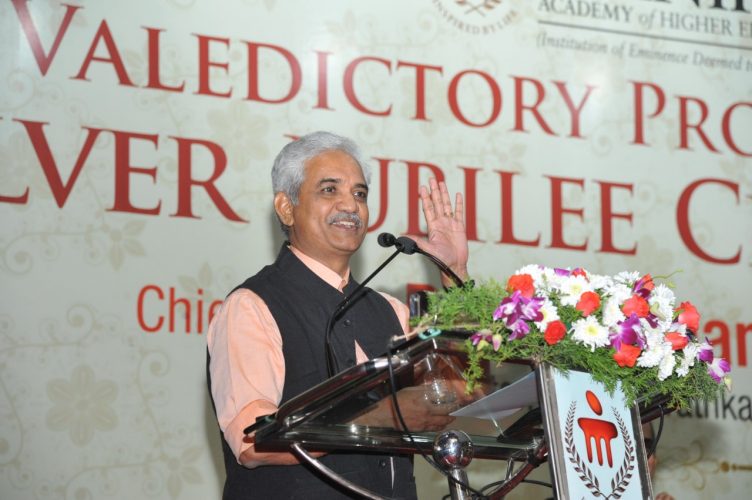 Curtains came down on the silver jubilee celebrations of Manipal Academy of Higher Education, Manipal on December 22, 2018 at an impressive function here at Fortune Inn Valley View. Some of the highlights of the glorious year gone by, were presented to a packed Chaitya Hall audience by Pro Chancellor, Dr H.S. Ballal and Vice Chancellor Dr H. Vinod Bhat in their speeches and through a short video made by School of Communication.
On the occasion, a book on 25 years journey of MAHE was released by chief guest Prof K Umamaheshwar Rao, Director NITK Surathkal. Also, past and present, registrars and registrars of evaluation of the University were honoured. All past and present vice chancellors were honoured at the inaugural function in January. Mr N.R. Narayana Murthy, founder Infosys was the chief guest then.
"This is an important year for us for many reasons," said Dr Ballal in his welcome address as he enumerated some of the achievements. "Firstly, because Academy of General Education, mother of all institutions under Manipal completed 75 years of existence this year. Then, MAHE was recognized as an Institution of Eminence by Union HRD Ministry and our Chancellor, Dr Ramdas M Pai was honoured by FICCI for his contribution to Education and Health Care with the Lifetime Achievement Award," Dr Ballal said.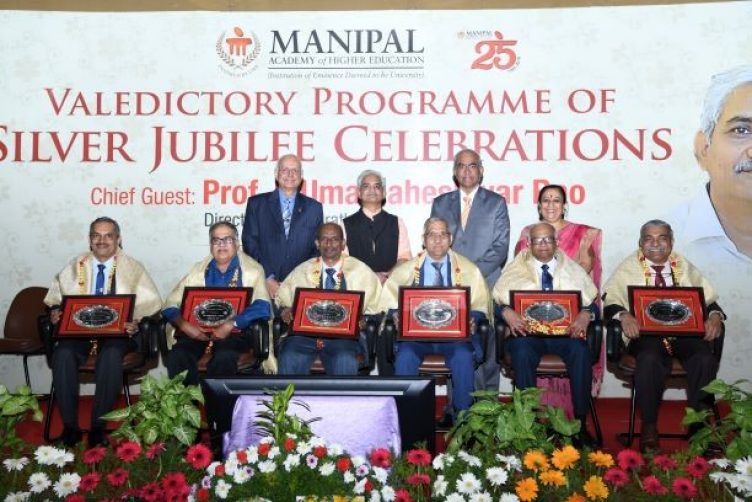 Vice Chancellor Dr H Vinod Bhat speaking about the silver jubilee year said, "I look back at the year with a sense of fulfillment. We asked for the moon and got it." That's how he summed up every aspect of the rewarding year. "It was a year when nothing went wrong. Conferment of IOE status, an all-time high annual publication count and quality research," he said. He also announced that a strategic partnership was being finalized with University of New South Wales, Sydney Australia, a top 50 university in the world.
Chief Guest Prof Rao speaking on education in the country today, Prof Umamaheshwar Rao said, "Although seven lakh students appear for JEE for entry into IITs, only one per cent of them succeed. But the society rarely thinks about the 99 per cent who are left in the lurch.  Commercialization has marred the sanctity of education. There is a need to bring back the lost glory of student-teacher relationship".
He added: "There is also the need for change in the way we gauge education which should not be object oriented, but should have a holistic approach where students are not left to be confused about the choice of their career". MAHE registrar, Dr Narayana Sabhahit gave the vote thanks. Prof Anup Naha was the master of ceremony.