Inspiring messages, colourful parade mark I-Day celebrations in Manipal University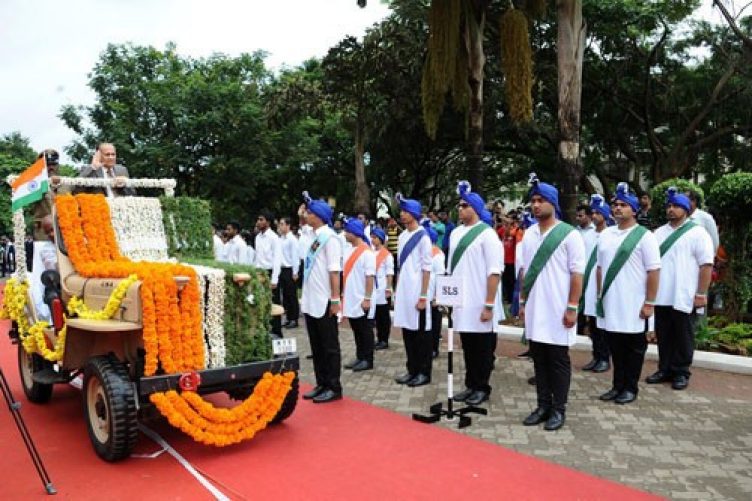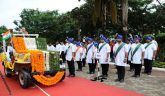 Manipal, August 15: Manipal Academy of Higher Education celebrated the 68th Independence Day with inspiring messages, a colourful parade and a wonderful camaraderie so apt for the occasion. Weeks of pouring rain took a break making way for fine weather as every moment of the celebrations, hosted by School of Life Sciences this time, were enjoyed by all present.
Chancellor, Dr Ramdas M Pai hoisted the Tricolour, inspected a guard of honor and took the salute at a march past which is improving with each passing year. Manipal College of Nursing, Manipal was declared the best outfit in marching, Manipal College of Dental Sciences came second and Manipal Institute of Technology finished third.   
Welcoming the gathering, Director, Schools of Life Sciences, Dr K Satyamoorthy said that progress was discernible in every sphere of human endeavor in the country. "Be it in science, technology, agriculture and food production or space and atomic energy, there is progress. Today we live in exciting times. We are seized of the urgency of concerted hard work, enterprising zeal on many more fronts to put India among the top nations," he said and added, "No nation can progress unless its people are educated. The vision of Dr TMA Pai, the founder has grown over the last six decades in Manipal Academy of Higher Education for higher education and research. We mark this occasion with a solemn pledge to continue to contribute to the nation building".
Vice Chancellor, Dr K Ramnarayan in his message said, "Independence Day is about celebrating our beliefs and is a great opportunity to renew our dedication to the principal of liberty and equality. This celebration is our way of showing gratitude to our freedom fighters. India's strength is in its diversity, is in its plurality, is in its tolerance and is in its ability to embrace differences. This then is the strength of Manipal Academy of Higher Education as well". To the students he reminded that the years of education and training provided to them on this campus was their greatest source of strength and growth. 
Veteran journalist and honorary director Schools of Communications Manipal Academy of Higher Education, Mr M.V. Kamath recalled moments from history and lauded the freedom fighters. "It was because of their contribution that India is celebrating Independence," he said.
Click here for Vice Chancellor's speech