Manipal Group of Institutions celebrate Founders' Day
Bhajans were held at the amphitheatre in Madhav Vihar and Smriti Bhavan. Tributes were paid to the founder at the University building and MIT. The day's programme concluded with a public function.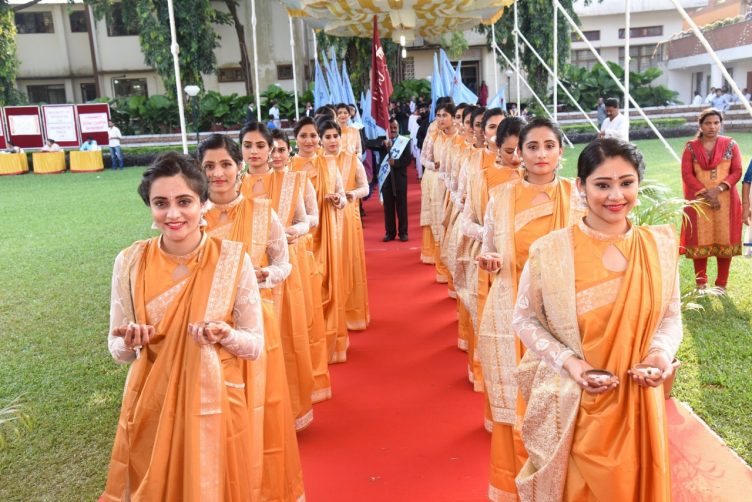 Manipal Group of Institutions, Manipal celebrated the Founders' Day here on April 30, 2017. Several programmes were held as part of the celebrations beginning with bhajans by Laxmi Rao and team at the amphitheatre in Madhav Vihar Garden in the morning.
Dr TMA Pai Foundation, Academy of General Education, Manipal Media Networks limited and Manipal Education and Medical Group organized a public function later in the day at Chaitya Hall, FIVV where Mr D A Prasanna, Founder, Ecron Acunova was the chief guest. 
Mr Prasanna spoke on the Founder of Manipal Academy of Higher Education Dr TMA Pai whose 119th birthday it is today. He briefly touched upon several qualities of Dr Pai, gave instances of some of the values he pursued steadfastly and told about his perseverance to build Manipal into an education hub. "It has been emulated by many others in the state," he said. Vice Chancellor, Dr H. Vinod Bhat welcomed the gathering and the Registrar, Dr Narayan Sabhahit gave the vote of thanks.
In the morning after the bhajans and floral tributes at the amphitheatre, there was bhajan and light music at Smriti Bhavan (Dr TMA Pai Museum) as well.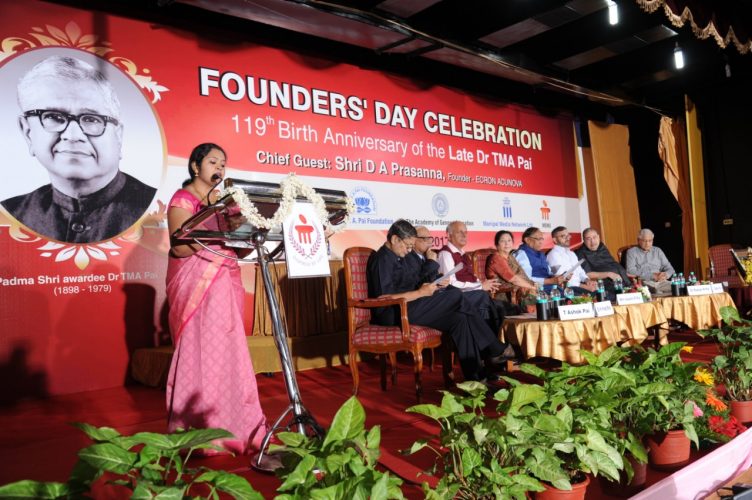 That was followed by floral tributes to the founder at 9.30 in the Manipal Edu building where Dr PLN Rao, former Registrar Evaluation Manipal Academy of Higher Education shared his personal experiences with Dr TMA Pai. In doing so, he portrayed an aspect of the founder. Tributes were also paid at the MIT campus.  
Several awards were given away on the occasion. MIT Innovation awards, Best Poster Awards, the Kundapur Mohan and Latha Bhandarkar merit cum means scholarship, the Kadambi Scholarship, Best Nursing and Anganwadi Service Awards in memory of Sharada M Pai and Dr A Padma Rao and Ph.D Scholarships. Manipal Academy of Higher Education also felicitated the students who are recipients of the University's merit cum means scholarships. Manipal Academy of Higher Education in the last academic year provided scholarships worth Rs 25.41 crores to students.
The Awards:
MIT Innovation Challenge Awards:
Aryan and Shubham Garg won the first prize for their innovation called "QBCD". Shambhavi Ganesh and Jhelum Nandy bagged the second prize for "Smart Medikit" and the third went to "Smart Farming" invented by Udit Rajan, Chinmay Tiwari and Soundarya Thangirala.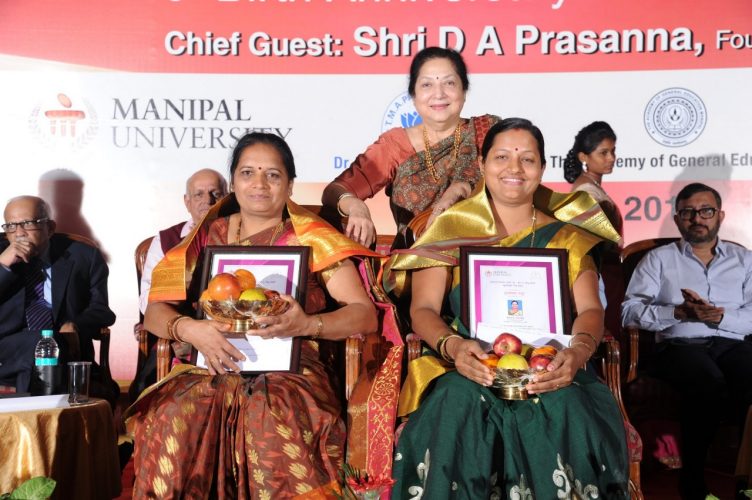 Manipal Academy of Higher Education Innovation Awards:
Manipal College of Nursing, Manipal bagged the first prize for their innovation, "Urosac Comforter". Shalinin G Nayak, Janet Alva, Prima Jenevive and Jyothi D'Souza were the inventers. MIT came second with "Atomized Cleaning Water Dispenser". Sandesh Manik and Akshatha R Pai invented it.
And the third prize went to Dept of Atomic and Molecular Physics. Dr A Abdul Ajees, Shilpa T, Dr Sajan D George and Dr Aseefhali Bankapur were the inventers.
Institution Category:
Manipal College of Nursing, First; Manipal Institute of Technology, Second and Manipal College of Dental Sciences, Mangalore, Third.
Provenance
Manipal College of Dental Sciences came first for their invention, "DentoGen Manipal". Sai Nivedita JS and Evit John were the inventers.
Second was MIT for "VisionX", invented by Shubam Rateria, Aditya Saxena, Adri Rajaraman and Saksham Pandey. MIT clinched the third prize as well through Aryan Adya Prachetha Shetty, Navneet Kishan and Pankaj Agrawal for the invention "Clapoof".