Manipal Institute of Technology Alumni Meet 2013
Sixth annual alumni meet of Manipal Institute of Technology held on 21 and 22 December 2013 at Fortune Inn Valley View.
Start Date: July 11, 2014
End Date: August 22, 2014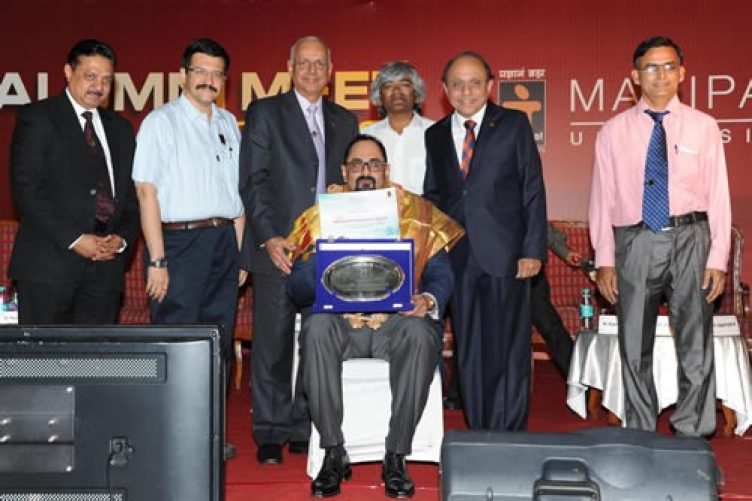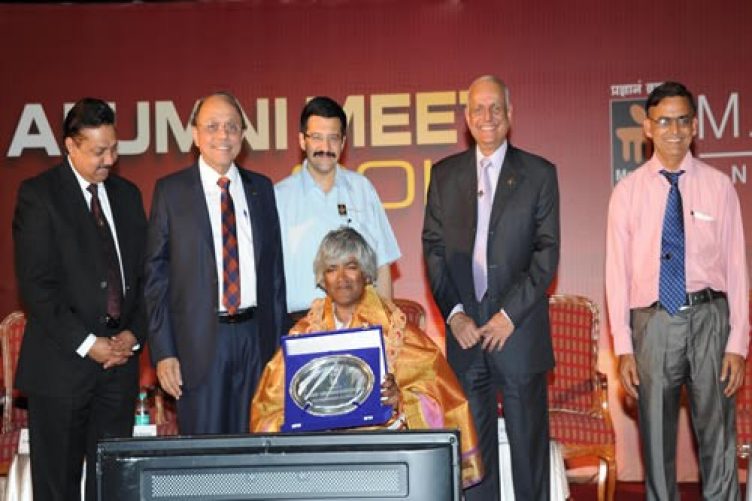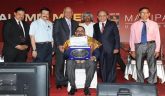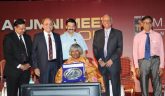 Rajeev Chandrasekhar, MP and MIT alumnus, poses with his Distinguished Alumni Award at the Sixth Annual Alumni Meet of Manipal Academy of Higher Education,
Dr Unni Karunakara with his award
Rajeev Chandrasekhar, MP, and alumnus of Manipal Institute of Technology (MIT) and Dr Unni Karunakara of Kasturba Medical College (KMC), Manipal, were honoured with the Distinguished Alumni Award at the Sixth Annual Alumni Meet of Manipal Academy of Higher Education, held at Fortune Inn Valley View on 21 December, 2013.
There was a lot of bonhomie and cheer as old friends caught up among the 500-odd crowd, to recall and relive the time they had spent together in Manipal Academy of Higher Education.
"The university campus wears a completely new look," said Chandrasekhar, who was returning to the campus after about 10 years.
In a brief talk after receiving the award, Chandrasekhar recalled some of his favourite joints, faculty, and other things he had done. The Distinguished Alumni Award meant more to him than all the laurels he has earned in the last two decades, he said.
Thanking Manipal for shaping his future, he said: "This is clearly a destination for world class education and is a matter of immense personal pride to me and all the alumni who have come here today from all over the world.
"I am what I am today, because of Manipal Academy of Higher Education. When I first came to this University after three days of journey from Delhi as a nondescript person and left four years later, I not only had a degree, but also a collection of experiences and an outlook towards life and ambition that I never possessed before coming here," said the Independent Rajya Sabha MP from Bangalore, Karnataka, who was elected unopposed for a second term in 2012, unanimously supported by all major political parties.
"I made my moment in the sun in the area of technology from the first floor of the MIT building in the computer centre which had a DCM Spectrum 7 machine, the holy grail of computing those days. I was introduced to many things here which I remain passionate about even today. From there I was launched to Illinois Institute of Technology, Chicago, and then to the Silicon Valley as an intern, becoming witness and participating in the design and building of most of the technology you see around today. And I met with and worked with names who are legends today, like Steve Jobs, Bill Gates and others. So no matter where I am, I will always remember DCM Spectrum 7," said Chandrashekhar, who founded (and then later sold) BPL mobile in India after a very successful stint as a Silicon Valley entrepreneur.
Dr Unni Karunakara, who was International President of Médecins Sans Frontières from 2010 to 2013, has held various academic and research fellowships at universities in Africa and Europe. His research focused on the demography of forced migration and the delivery of healthcare to neglected populations affected by conflict, disasters and epidemics. Before becoming MSF's International President, Dr Karunakara was the Deputy Director of Health of the Earth Institute, Millennium Villages Project, at Columbia University in New York, and Assistant Clinical Professor at the Mailman School of Public Health, Columbia University.
After fondly recollecting his days at KMC Manipal, Dr Karunakara went on to speak about his 5,000 km bicycle journey from Kashmir to Thiruvananthapuram, to create awareness about community medicine.
In his welcome address, Dr HS Ballal, the Pro-Chancellor of Manipal Academy of Higher Education, briefed the audience about the Annual Alumni Meet. Later, the Vice-Chancellor, Dr K Ramnarayan, gave an overview of the University, and Dr Nagendra Swamy, President and Chairman - Quality Council, Manipal Hospitals, spoke briefly on Manipal Health Enterprises. Dr Raviraj V Acharya, Director, Alumni Centre, presented the alumni report and spoke about future plans.
The next evening, the 1988-batch MIT alumni celebrated the Silver Union at the institute premises.
Dr Ballal was the chief guest for the occasion, where Sanjay Khanna and Ganesh Prasad were honoured with Distinguished Alumnus Awards.
Sanjay Khanna is APAC, IT Supplier Manager, NCR Australia Pty Ltd, a reputed electronic data processing equipment company in Australia.
Ganesh Prasad is CEO at Mocha Merlot Business Builders, a company that helps start-upsa with growth and divestiture challenges.
Four alumni of the 1963 batch, K Balagopal, VK Gopinath, Mohan Das and Thomas George were also felicitated. And of course, it all ended with a grand party, as the invitees walked and danced down Memory Lane.