Manipal Runners' Club to organize Manipal Marathon on March 5
Start Date: March 05, 2017
End Date: March 05, 2017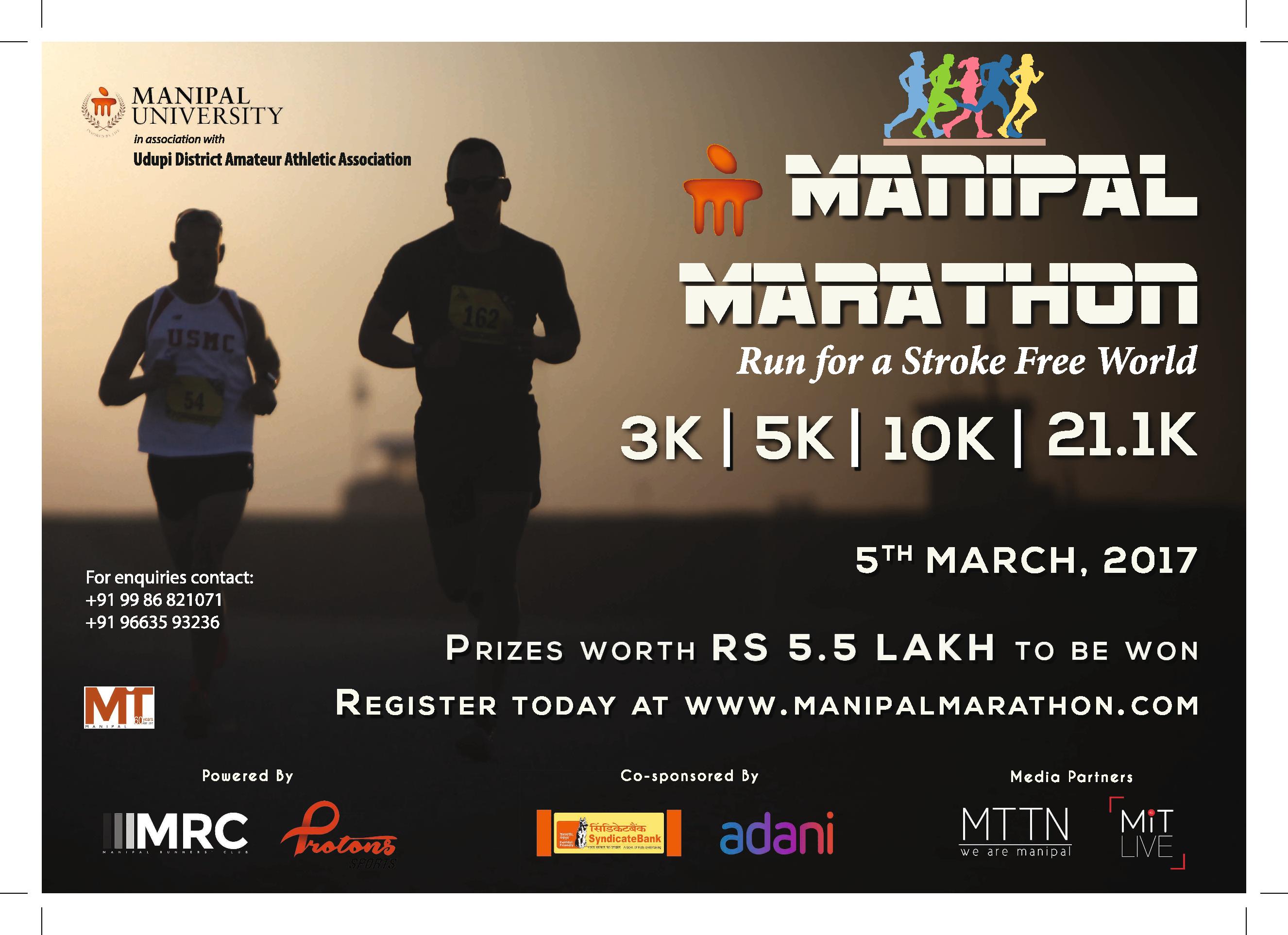 Manipal Runners' Club takes a big step forward, to organize Manipal Marathon on March 5. It will be jointly organised by the Manipal Runners' Club and Protons Running of Bangalore, under the aegis of Manipal Academy of Higher Education, and assisted by the Udupi District Athletic Association. The event is co-sponsored by Manipal Academy of Higher Education, Adani and Syndicate Bank.
Manipal Marathon in it's first edition will host 4 race categories – 3K and 5K fun run, the ever popular 10K and the challenging but sweet half marathon (21.1km). All participants across the 4 race categories will be given a goodie bag with a t-shirt, running bib and post-race breakfast. The 10K and Half Marathon finishers will be given timing certificates and finishers medal. There is combined prize money of 5.5 lakh Rupees, with the winner of the 21.1km category walking away a cool Rs. 70,000 richer (both men and women have separate categories).
Half Marathon :
The Half Marathon route takes you through the natural beauty of Udupi – Manipal region. The race starts from KMC greens, covering a portion of the campus, and heads towards Perampalli road for a roller coaster ride through lush green surroundings, laid – back villages and bands playing throughout the route. The weather will be slightly on the humid side, but the green cover throughout the route will be a relief. Don't forget to pose for the cameras on the route. The race ends back in KMC greens, with your finisher's medal and a carnival of events and hot breakfast waiting for you.
10K:
The 10k is the most popular race for the enthusiastic first time runner. You get the flavour of the Half Marathon on a smaller distance. Train well for a month, and you'll have a comfortable finish.
3K and 5K Fun Run:
The 3K and 5K both are a perfect distance to experience with your friends. Though it's not demanding as the Half Marathon, it is a good challenge to give yourself to stay fit. Experience the fun run, and you'll be in love with the sport.
For further details : http://manipalmarathon.com/