New Year Awards for four eminent persons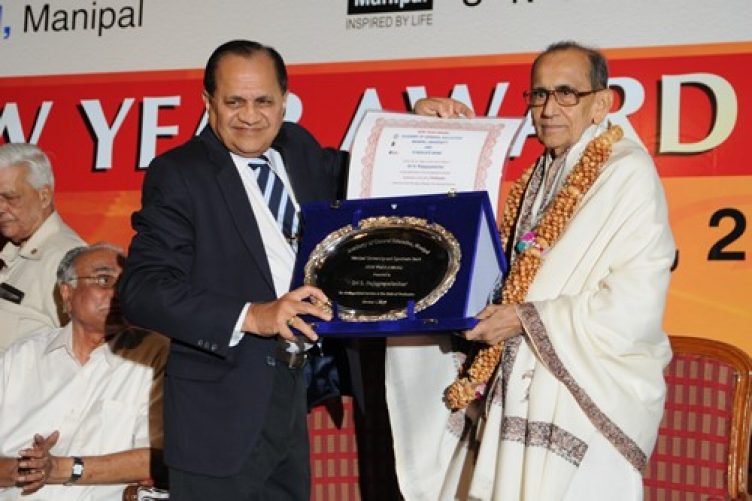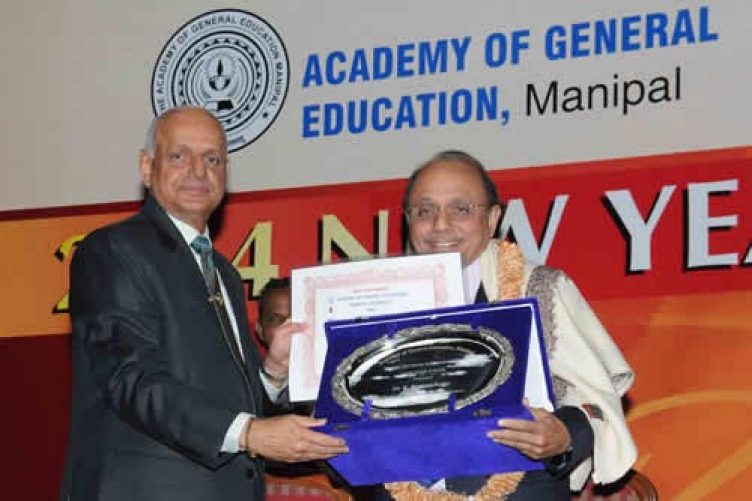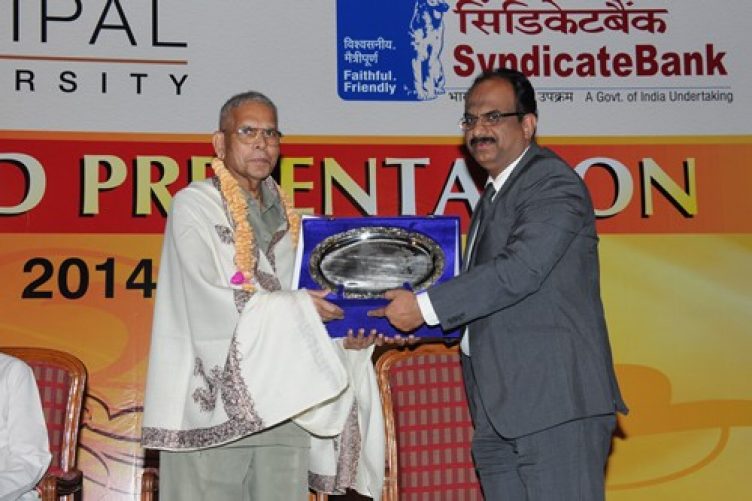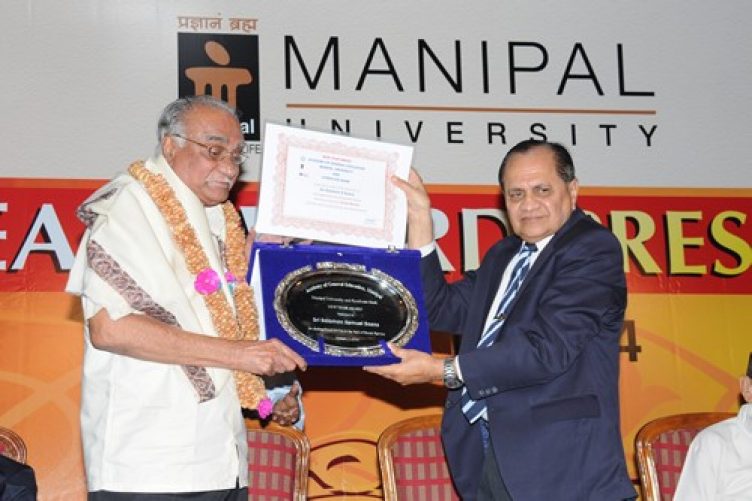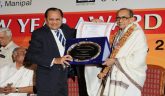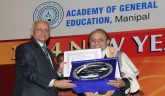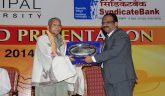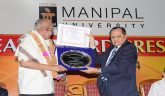 Manipal, January 02: Four eminent personalities from different fields were honoured jointly by Manipal Academy of Higher Education, Academy of General Education and Syndicate Bank at Fortune Inn Valley View on Wednesday at the 74th edition of the New Year's Day Award instituted by Dr TMA Pai way back in 1941.
Those honoured were: Mr S.Rajagopalachar, advocate; Dr K. Ramnarayan, Vice Chancellor Manipal Academy of Higher Education; Mr T.J.A. Ganiga former CMD Andhra Bank and Chairman Banking Services Recruitment Board, Hyderabad and Mr Solomon Samuel Soans, an industrialist and leader of educational movement.
Mr Rajagopalachar after graduating from St Aloysius College, Mangalore studied law at Madras Law College, Madras University and got enrolled as an advocate in the then High Court of Mysore in 1956. He was the president of the Bar Association of Karkala and his 50th year of practice coincided with the 50th year of Karnataka High Court and was one of the six lawyers of Udupi district honoured by the High Court in 2006. He was also legal adviser to several nationalized banks, cooperative banks and cooperative societies. He is the trustee of Karkala Sri Bhuvanendra College Trust and is the President of the Governing Council of the College. He is a member of the Administrative Committee and also of the Supreme Governing Council of the Academy of General Education, Manipal.
Dr K Ramnarayan assumed office as the fifth Vice Chancellor of Manipal Academy of Higher Education in May 2010. He has been with the Manipal group for over 35 years in varius academic and leadership positions. His experience and expertise are in medical education, academic leadership and curriculum development. With an MBBS from Stanley medical College, Chennai, Dr Ramnarayan joined Kasturba Medical College, Manipal in 1977. After completing his MD in Pathology, he continued to serve KMC in different designations. He was Dean of Student Affairs and Associate Dean (curriculum) in KMC, Manipal. He was also the first Dean of Melaka Manipal MBBS twin campus programme with Malaysia. He is also the recipient of the Bloomberg UTV Award for his Outstanding Contribution to Education. He was one of the early recipients of the ECFMG Foreign Faculty Fellowship in Basic Sciences, which initiated him into medical educationi the US. He was also awarded the short term exchange fellowship in academic leadership by the Foundation for the advancement of International Medical Education and Research (FAIMER) USA. He was also a member of the University Grants Commission (UGC).
Mr T.J.A Ganiga, the former Chairman and Managing Director of Andhra Bank and Chairman of Banking Services Recruitment Board, Hyderabad is a distinguished banker with rich experience of over four decades. He is a post graduate in Business Administration from Delhi University and Certified Associate of Indian Institute of Bankers. He is a Member of British Institute of Management. Having climbed the ladder of success one rung at a time, he was made the Executive Director of the Andhra Bank in 1995 and three years later became its CMD, and later, after retirement made the Chairman of Banking Services Recruitment Board, Hyderabad for two years.
Mr Solomon S. Soans had his early education in Kundapur and Udupi Christian High School and then went to St Aloysius. In 1956 he joined his father's business Prabhakar Tile Works and ensured that the business grew ten folds. And when the group diversified, Solomon played an important role as founder partner and used his business acumen to establish the new enterprises. He was a good sportsman with interest in badminton and volleyball. The versatile Mr Solomon supported education at all levels. He took up the responsibility of the Soans Education Society started by his father which was running a primary school in Kodi Village. Mr Solomon upgraded the school to Higher Primary School. This school provides education for children in the backward village in Kodi. When the Academy of General Education wanted to start a college at Kundapur in 1961 he was among the first to chip in with a contribution and is one of the founder members of Bhandarkars' Arts and Science College, Kundapur and still is a member of the Governing Council of the College. He has even tried his hand at agriculture and succeeded. He transformed a barren land to horticulture garden in Shettrakatte near Kundapur.