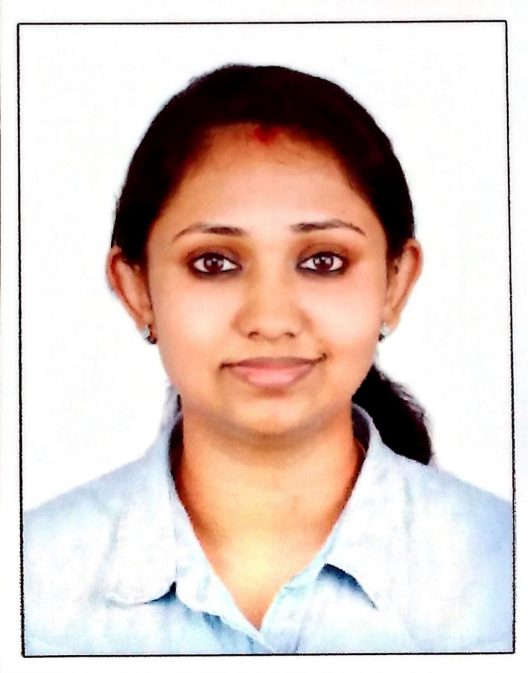 Assistant Professor - Senior Scale
Department of Audiology & Speech Language Pathology (at Mangalore)
CURRENT ACADEMIC ROLE & RESPONSIBILITIES
Teaching: Undergraduate and Post graduate students
Clinical supervision and patient care
Class Coordinator for I M.Sc (SLP)
Guide: Conference presentations/Clinical & Journal clubs 

 
SUBJECTS CURRENTLY TEACHING
| Subject | Subject code | Semester |
| --- | --- | --- |
| Advances in Speech Sound Disorder | SLP 201 | Second semester - M.Sc (SLP) |
| Cognitive-Communication Disorders | SLP 305 | Third semester - M.Sc (SLP) |
| Language Disorders in Adults | B. 6.2 | Sixth semester - BASLP |
| Structural anomalies and speech disorders | B. 5.1 | Fifth semester - BASLP |
ACADEMIC QUALIFICATIONS
| Degree | Specialisation | Institute | Year of passing |
| --- | --- | --- | --- |
| M.Sc | Speech & Language Pathology | All India Institute of Speech and Hearing, Mysore University | 2015 |
| B.Sc | Speech and Hearing | All India Institute of Speech and Hearing, Mysore University | 2013 |
Experience
| Institution / Organisation | Designation | Role | Tenure |
| --- | --- | --- | --- |
| Department of Audiology and Speech Language Pathology, KMC Mangalore | Assistant Professor - Senior Scale | Teaching, Research and Clinical management | July 2018 - till date |
| Department of Audiology and Speech Language Pathology, KMC Mangalore | Assistant Professor | Teaching, Research and Clinical management | July 2015 - July 2018 |
AREAS OF INTEREST, EXPERTISE AND RESEARCH
Area of Interest
Acute care and management of Neurogenic Communication Disorders, Development of Cognitive Communicative abilities in children and adolescents (Assessment and Management), Maxillofacial Anomalies (Assessment and Management)
Area of Expertise
Neurogenic Communication Disorders, Cognitive-Communicative Disorders, Maxillofacial Anomalies
Area of Research
Neurogenic Communication Disorder, Cognitive Communicative processes in children and adolescents
Professional Affiliations & Contributions
Member of Rehabilitation Council of India (RCI), 2016
Member of Indian Speech and Hearing Association (ISHA), 2016.
Member of Dakshin Karnataka Indian Speech and Hearing Association (DKISHA), 2016.
How to preserve your Voice - Udayavani

2016-13-04

Singing is a powerful art form which produces music melodies with harmony of voice. Based on the requirements of each musical style and type, the speech organs have specific adjustments to produce various musical modulations in a variety of ranges. Despite the various form of singing styles, singing at its core requires a complex control and coordinated functioning of the entire vocal mechanism. Good singing voice quality requires an overall vocal performance where the singer is able to sing freely throughout the pitch and dynamic range. Trained and experienced singers have shown more proficiency in singing in comparison to amateur or untrained singer. Systematic training, has shown to have a positive effect on singing, which can increase their vocal fitness across time, improve the singer's endurance and also alleviate fatigue effects. Singing demands a high vocal load due to the nature of its inherent performance and genre requirements. The performance demands of the singer vary based on their experiences, need to perform dance while singing or use of character voices in dialogue. Besides the scheduling, potential touring requirements, extended production seasons and singing with stage smoke, sound effects, loud orchestration can be a heavy load on voice. Though the physical demands of singing necessitate an optimal health, adequate training, and a proper knowledge of vocal hygiene, most singers fail to follow it, leading to debilitating changes to their voice which if not timely treated can aggravate the condition. In addition to the physical demands, singing with inappropriate vocal technique or under abusive environmental conditions, inadequate rest between each performance and using extremes of vocal range can put great strain on the lining of the vocal cords. Vocal health are often overlooked, taken for granted or poorly understood by most of the singers. Most of the time singers do face problems such as hoarseness, difficulty in varying pitch and loudness, reduced pitch range, vocal fatigue, sensations of tightness or discomfort in the throat, dryness, or pain. In severe cases, singers do complain of strained phonation, inadequate breath support, and loss of vocal flexibility or endurance. The impact of heavy vocal load on the vocal folds and vocal function can lead to negative impact and may have a deleterious effect on vocal health which not only compromises their daily and professional activities, but also their quality of life, which may limit his/her career. The restricted knowledge for maintenance of vocal health, proceeds to trying numerous traditional homemade remedies and beliefs in an attempt to improve voice quality. These traditional remedies however may give only a temporary relief. Despite their tendency toward voice problems, singers seldom seek professional help for a voice disorder until it develops into a severe pathology. In these cases, an immediate consultation with the Voice Therapist is highly recommended. In cases of rhinitis, phlegm, infections and other allergies immediate treatment with the otolaryngologist is advised. In this regard, Kasturba Medical College, Attavara, Mangalore is celebrating the World Voice Day on April 16th with the central theme on Voiceathon 2016: A Run for healthy singing voice. The main goals of celebrating this event is to increase public awareness on the importance of the voice and red flag signs of voice problems among singers. On this day, we, the speech pathologists at the Department of Audiology and Speech Language Pathology, Kasturba Medical College Hospital, Attavar offer free consultation and remedial program to various singers such as classical, western, Yakshagana artists etc.