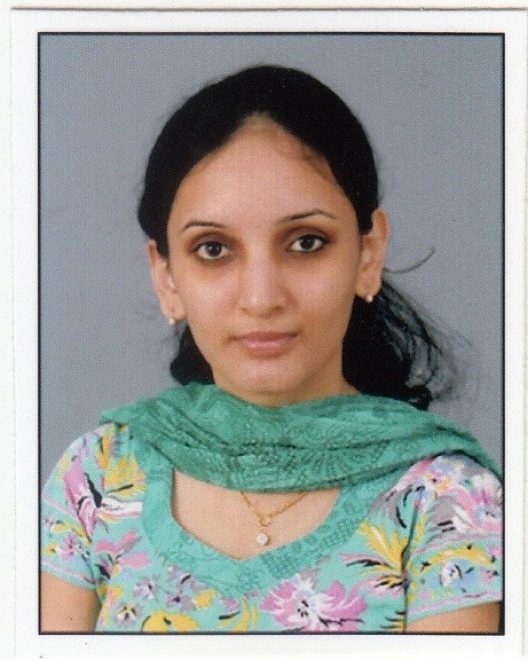 Assistant Professor - Senior Scale
Department of Audiology & Speech Language Pathology (at Mangalore)
CURRENT ACADEMIC ROLE & RESPONSIBILITIES
Teaching: Undergraduate and Postgraduate students
Clinical supervision and patient care
Class coordinator: II BASLP
Guide: Dissertations/Conference presentations/Clinical & Journal clubs 
SUBJECTS CURRENTLY TEACHING
| Subject | Subject code | Semester |
| --- | --- | --- |
| Neurophysiology of Hearing | A 104 | First semester M.Sc (Audiology) |
| Implantable Auditory Devices | A 302 | Third semester M.Sc (Audiology) |
| Implantable Hearing Devices | B. 4.4 | Fourth semester BASLP |
ACADEMIC QUALIFICATIONS
| Degree | Specialisation | Institute | Year of passing |
| --- | --- | --- | --- |
| MASLP | Audiology and Speech Language Pathology | Kasturba Medical College, Manipal University, Mangalore | 2012 |
| BASLP | Audiology and Speech Language Pathology | Dr M. V. Shetty College of Speech & Hearing, Mangalore | 2010 |
Experience
| Institution / Organisation | Designation | Role | Tenure |
| --- | --- | --- | --- |
| Dept. of Audiology & Speech Language Pathology, KMC, Mangalore | Assistant Professor (Senior Scale) | | March 2016- till date |
| Dept. of Speech & Hearing, Father Muller Medical College Hospital, Mangalore | Lecturer | | August 2012- February 2016 |
AREAS OF INTEREST, EXPERTISE AND RESEARCH
Area of Interest
Diagnostic and paediatric audiology, Auditory physiology
Area of Expertise
Behavioral and electrophysiological assessment of auditory system
Area of Research
Auditory processing in normals and hearing impaired
Professional Affiliations & Contributions
Member of Rehabilitation Council of India (RCI), 2012
Member of Indian Speech and Hearing Association (ISHA), 2011.
Member of Dakshina Kannada- Indian Speech and Hearing Association (DK- ISHA), 2012.
Speech motor control in children with Downs Syndrome - Evidences from Formant Centralization Ratio
Effect of Systematic Desensitization Training on Acceptable Noise Levels in Adults with Normal Hearing Sensitivity
Noise and Health, 2018, Vol 20, Pg 83-89.
Comparing three psychophysical procedures in estimating gap detection threshold and modulation detection threshold in humans.
2017- 19, II MASLP/Dissertation
F0 based stream segregation abilities in individuals with cochlear hearing loss.
2017- 19, II MASLP/Dissertation