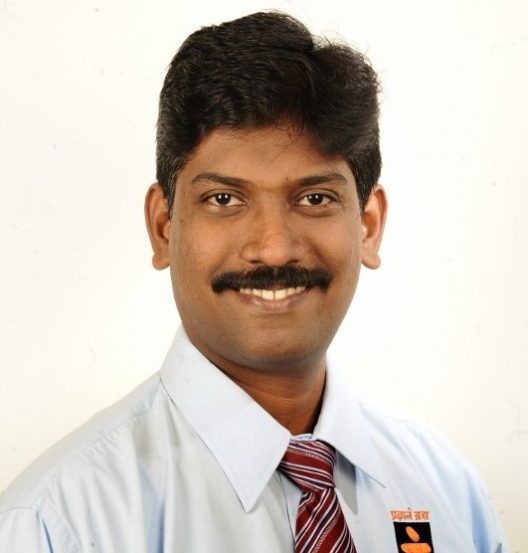 Associate Professor Sr Scale & Head of Department
Department of Physiotherapy
CURRENT ACADEMIC ROLE & RESPONSIBILITIES
Dr. John Solomon M is Associate Professor Sr Scale and Head of the Department in the Department of Physiotherapy at MCHP, Manipal.

He is:

Head of Department of Physiotherapy
Coordinator- Centre for Comprehensive Stroke Rehabilitation and Research
Academic- MPT Neuro- Academic coordinator
Clinical Incharge: Balance and vestibular rehabilitation Unit and Neurosurgery wards
SUBJECTS CURRENTLY TEACHING
| Subject | Semester / Year |
| --- | --- |
| Exercise Therapy | I BPT |
| Exercise Therapy | II BPT |
| PT Neuro | III BPT |
| Ethics and Administration | III BPT |
| Electrodiagnosis | IV BPT |
| Physiotherapy Theory and Practice | I MPT |
| Neurorehabilitation | II MPT |
ACADEMIC QUALIFICATIONS
| Degree | Specialisation | Institute | Year of passing |
| --- | --- | --- | --- |
| Manipal University- FAIMER fellowship | Leadership in Interprofessional education and practice | MFIILIPE, MAHE | 2018 |
| PhD | Neurorehabilitation | Manipal Academy of Higher Education | 2010 |
| MPT | Neurosciences | School of Allied Health Sciences, Manipal Academy of Higher Education, Manipal | 2003 |
| BPT | | SRIPMS, Coimbatore, Dr. MGR University | 2000 |
Experience
| Institution / Organisation | Designation | Role | Tenure |
| --- | --- | --- | --- |
| MCHP | Associate Professor Senior Scale | Head of the Department, PhD Supervisor, Teacher | 2019 to present |
| MCHP | Associate Professor | PhD Supervisor, Teacher | 2008 - till date |
| MCHP | Assistant Professor | Teacher | 2006-2008 |
| MCHP | Lecturer | Teacher | 2003-2006 |
| MCHP | PG cum tutor | Clinical teaching for undergraduate students | 2001-2003 |
AREAS OF INTEREST, EXPERTISE AND RESEARCH
Area of Interest
Stroke Rehabilitation, Vestibular and balance rehabilitation and Interprofessional education and practice
Area of Expertise
Stroke rehabilitation, Vestibular rehabilitation, Acquired brain and spinal cord injury rehabilitation
Area of Research
Physiotherapy in Neurosciences, Motor control, Balance
Professional Affiliations & Contributions
Professional affilitations:
Indian Association of Physiotherapists
International Spinal Cord Society
Indian federation of neurological rehabilitation 
International society of motor control 
World federation of neurorehabilitation
Society of Indian Physiotherapists
World Stroke Organization
Research Training:
Research training in motor control at McGill University during June 12gth to 24th 2013
Motor control Summer School  a training course for research in motor control conducted at Tihany, Hungary  June 14th to 18th 2012
Evidence-based stroke rehabilitation: do priorities for practice change and feasibility of implementation vary across high income, upper and lower-middle income countries?,
Disability and Rehabilitation, DOI: 10.1080/09638288.2021.1910737
Gait training interventions for patients with stroke in India: A systematic review
Gait & Posture, 2021, 83, 132-140, https://doi.org/10.1016/j.gaitpost.2020.10.012
Exercise intensity of the upper limb can be enhanced using a virtual rehabilitation system
Disabil Rehabil Assist Technol. 2020 May 18:1-7. doi: 10.1080/17483107.2020.1765421.
Moving Stroke Rehabilitation Research Evidence into Clinical Practice: Consensus-Based Core Recommendations From the Stroke Recovery and Rehabilitation Roundtable
Neurorehabil Neural Repair. 2019 Nov;33(11):935-942. doi: 10.1177/1545968319886485.
Effectiveness of a multifactorial context-enhancing functional therapy to promote functional arm use and recovery of stroke survivors: study protocol for a clinical trial.
BMJ Open. 2019 Sep 17;9(9):e023963. doi: 10.1136/bmjopen-2018-023963.
Effect of Transcutaneous Electrical Nerve Stimulation (TENS) on spasticity in adults with stroke: A systematic review and meta-analysis
Arch Phys Med Rehabil. 2019 Apr;100(4):751-768. doi: 10.1016/j.apmr.2018.10.016.
Facilitators and barriers to using neurological outcome measures in developed and developing countries
Physiother Res Int. 2019 Jan;24(1):e1756. doi:10.1002/pri.1756. Epub 2018 Nov 7.
Activation of elbow extensors during passive stretch of flexors in patients with post-stroke spasticity
Clin Neurophysiol. 2018 Oct;129(10):2065-2074. DOI: 10.1016/j.clinph.2018.07.007
Personalized upper limb training combined with anodal-tDCS for sensorimotor recovery in spastic hemiparesis: study protocol for a randomized controlled trial
Trials. 2018 Jan 4;19(1):7