Department of Oral Medicine and Radiology is unique in that it combines Oral Medicine and Radiology. It sits at the interface between dentistry and medicine. It is a specialist clinical area of care for treating head and neck medical diseases. In some instances, mouth symptoms and signs reflect problems only in the mouth. However, in some cases mouth symptoms can suggest a connection with disease or problems in other parts of the body and it is the Oral Medicine specialist who can best decide what tests or investigations are needed in these situations. Conditions managed in Oral Medicine are often chronic and may have a significant psychological, as well as physical impact on the patient's quality of life. Some of these conditions also involve other diseases in the body, and in these cases the oral medicine specialist works as part of a multi-disciplinary patient care team
Oral Medicine is involved in patient care, teaching and research involving diagnosis and nonsurgical management of diseases of the orofacial complex and systemic and behavioural disorders that impact oral health, including:
·         Orofacial pain, including temporomandibular disorders (TMD)
·         Mucosal diseases
·         Oral cancer and complications of cancer therapy
·         Dental care for patients with disabilities
·         Neurosensory and motor disorders
·         Salivary dysfunction
·         Oral complications of systemic illnesses
·         Craniofacial imaging and other diagnostics
Oral and Maxillofacial Radiology deals with the acquisition and interpretation of radiographic imaging studies performed for diagnosis of treatment guidance for conditions affecting the maxillofacial region. Specialization in OMR requires the completion of three year course in the specialty in a Dental Council of India recognized institution. Training includes a thorough knowledge on techniques and interpretation for conventional as well as advanced maxillofacial imaging like Cone Beam Computed Tomography
Mission of the department:
·         To promote excellence in patient care, education, and research in the field of Oral Medicine
·         To promote access to quality, affordable, and cost-effective expert Oral Medicine care
Vision of the department:
Oral Medicine and Radiology integrates medicine and dentistry to promote optimal health.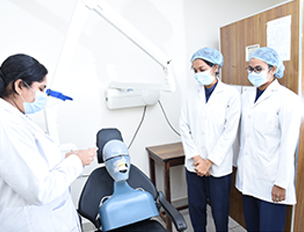 Mannequin teaching 
Various Intraoral radiographic techniques are demonstrated to students using the Mannequin. Students use the mannequin to practice taking radiographs as an exercise prior to taking radiographs on patients.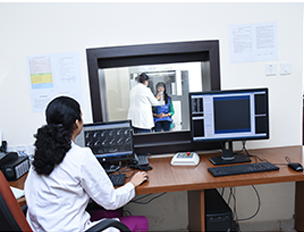 Cone Beam Computed Tomography
3-dimensional imaging of dentomaxillo-facial structures using CBCT helps in diagnosis and treatment planning in various conditions like bone and tooth pathologies, implant placement endodontic surgeries etc.
Research & Publications
The areas of research include: • Early diagnosis of oral cancer by detection and management of potentially malignant oral disorders. • Temporomandibular joint disorders. • Radiological diagnosis of various maxillofacial pathologies.