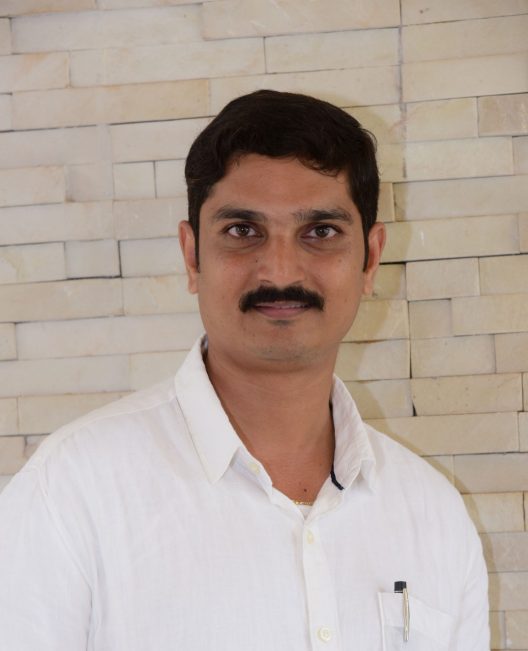 CURRENT ACADEMIC ROLE & RESPONSIBILITIES
Dr. KS Choudhari is an Associate Professor in the Department of Atomic and Molecular Physics.

He:


Engages theory and practical classes in Advanced Optics, Applied Nanotechnology, and Advanced Nanotechnology for the students of MSc Nanoscience and Technology and M.Sc. Photonics.
Carries out research activities in the preparation and characterization of nanoporous structures for different applications.
Is the laboratory co-in charge of the M.Sc. Photonics and Nanoscience and Technology 1st semester.
Is the laboratory in charge of the M.Sc. Photonics and Nanoscience and Technology 2nd semester.
Engages theory and practical classes for Certificate Course in Nanoscience and Technology conducted by the department.
Is Digital Coordinator for the Departmental website at www.manipal.edu.
Is an Internal Auditor for MAHE Quality Assurance 
Is Member of Project Implementation Group, FIST-2012.
Is Laboratory In-Charge for M.Sc. Photonics and Nanoscience & Technology Course-Second Semester.
Is Coordinator for Seminar series for Second Semester M.Sc. Photonics and Nanoscience & Technology Course-Second Semester.
Is a Member of the Master of Science Program Syllabus Review Committee.
Guides Ph.D. students of the department in the area of Photonics, and Nanoscience & Nanotechnology
Guides Masters's degree students in the final year/semester project work.
Is an active Organising Committee member for one-day symposia, workshops, and conferences being organized by the department.
Provides guidance and assistance to the students for classroom preparations, examinations, seminars, etc.

Google Scholar profile: https://scholar.google.co.in/citations?user=hdeJXP4AAAAJ&hl=en

Scopus profile: https://www.scopus.com/authid/detail.uri?authorId=55909884100

PURE profile: https://manipal.pure.elsevier.com/en/persons/choudhari-k-s

Publons profile: https://publons.com/researcher/4659984/khoobaram-s-choudhari/

ORCID profile: https://orcid.org/0000-0001-7428-2678
SUBJECTS CURRENTLY TEACHING
| Subject | Semester / Year |
| --- | --- |
| General Physics –Practical II –Laboratory Course | M.Sc. II Semester |
| General Physics - Practical I - Laboratory Course | M.Sc. I Semester |
| Electrodynamics and Advanced Optics | M.Sc. II Semester |
| Advanced Nanotechnology | M.Sc. III Semester |
ACADEMIC QUALIFICATIONS
| Degree | Specialisation | Institute | Year of passing |
| --- | --- | --- | --- |
| PhD | Physics | Manipal Academy of Higher Education | |
| MSc | Physics (Spectroscopy) | Karnatak University | |
Experience
| Institution / Organisation | Designation | Role | Tenure |
| --- | --- | --- | --- |
| Department of Atomic and Molecular Physics | Associate Professor | | 2023 to till date |
| Department of Atomic and Molecular Physics | Assistant Professor-Senior Scale | | 2015 - 2023 |
| Department of Atomic and Molecular Physics | Assistant Professor | | 2011 - 2015 |
| NITK, Surathkal | Junior Research Fellow | | 2008-2011 |
| MAHE-PHILIPS Oral Cancer Project | Junior Scientist | | 2006-2008 |
| JSS College, Vidyagiri, Dharwad, Karnataka | Lecturer | | 2004-2006 |
AREAS OF INTEREST, EXPERTISE AND RESEARCH
Area of Interest
Nanoporous structures preparation and characterisations, Biomedical Optics, Laser Spectroscopy.
Area of Expertise
Fabrication of nanoporous alumina structures, Characterization of nanostructures, Structural and thermal analyses of nanostructures, Data interpretations and analysis of X-ray Diffractograms and Scanning Electron Microscope images.
Area of Research
Nanomaterials, Microscopy and microanalysis of nanostructures, Optical characterisation of nanomaterials, Data analysis using statistical methods.