Manipal Academy of Higher education has an excellent technical library situated in MIT campus. The library building occupies a total area of about 70, 00 Sq.feet and has 3 floors and is easily accessible to the students, faculty and researchers of the institute. The library can accommodate 950 users at a time.
The library hosts more than 1,50,000 print resources. The library also subscribes many electronic resources as a component of digital library, which includes e-books, e-journals, e-standards, e-databases, etc. These information resources promote and advance teaching & learning and facilitates improved productivity and qualitative research. All the students and faculty can access the e-resources subscribed by the library remotely by using Open Athens software enabled learner.manipal.edu or manipal.edu accounts. The entire library is Wi-Fi enabled and a security system with CCTV is present in all the floors.
All the library resources and services are fully automated using KOHA, a library management software. All books are bar coded and barcoded/RFID tagged ID cards are issued to all library users. Users can search all library resources using WEB- OPAC (Online Public Access Catalog) Koha online catalog (manipal.edu)
A single-window search platform is provided to the users to find relevant information across all library resources using a single search box like google.
Library provides many modern research support services like access to Scopus, Web of Science, and reference managers like endnote, plagiarism-checking tools like Turnitin, grammar-checking software Grammarly and many other state-of-the-art services.
Working Hours
The working hours of the MIT Central Library are as follows.
| | |
| --- | --- |
|  Reference Section | 08:00 am to 11:30 pm      |
|  Lending Section | 09:00 am to 7:00 pm |
Collection
The total collection of library resources as on 31st March, 2023 stands as follows.
| | |
| --- | --- |
|  Books | 117139 |
|  Book Bank Books   | 8793 |
|  Book Titles | 65971 |
|  Bound Volumes | 12667 |
|  E-Books | 70443 |
|  Journals subscribed for the year 2023 | 170 |
|  Online journals | 2750 |
|  Online databases | 6  |
|  Project Reports | 11200 |
|  Ph.D. Theses | 330 |
|  Publication E-Prints | 7200 |
|  SC/ST Books | 1966 |
E-Resources

Journal Citation Reports (JCR)

Journal Citation Reports® is a comprehensive and unique resource that allows evaluating and comparing journals using citation data drawn from over 21,494 scholarly journals from more than 5,241 publishers in over 111 countries. It is the only source of citation data on journals and includes virtually all areas of science, technology, and social sciences. Journal Citation Reports can show the:
Most frequently cited journals in a field
Highest impact journals in a field
Largest journals in a field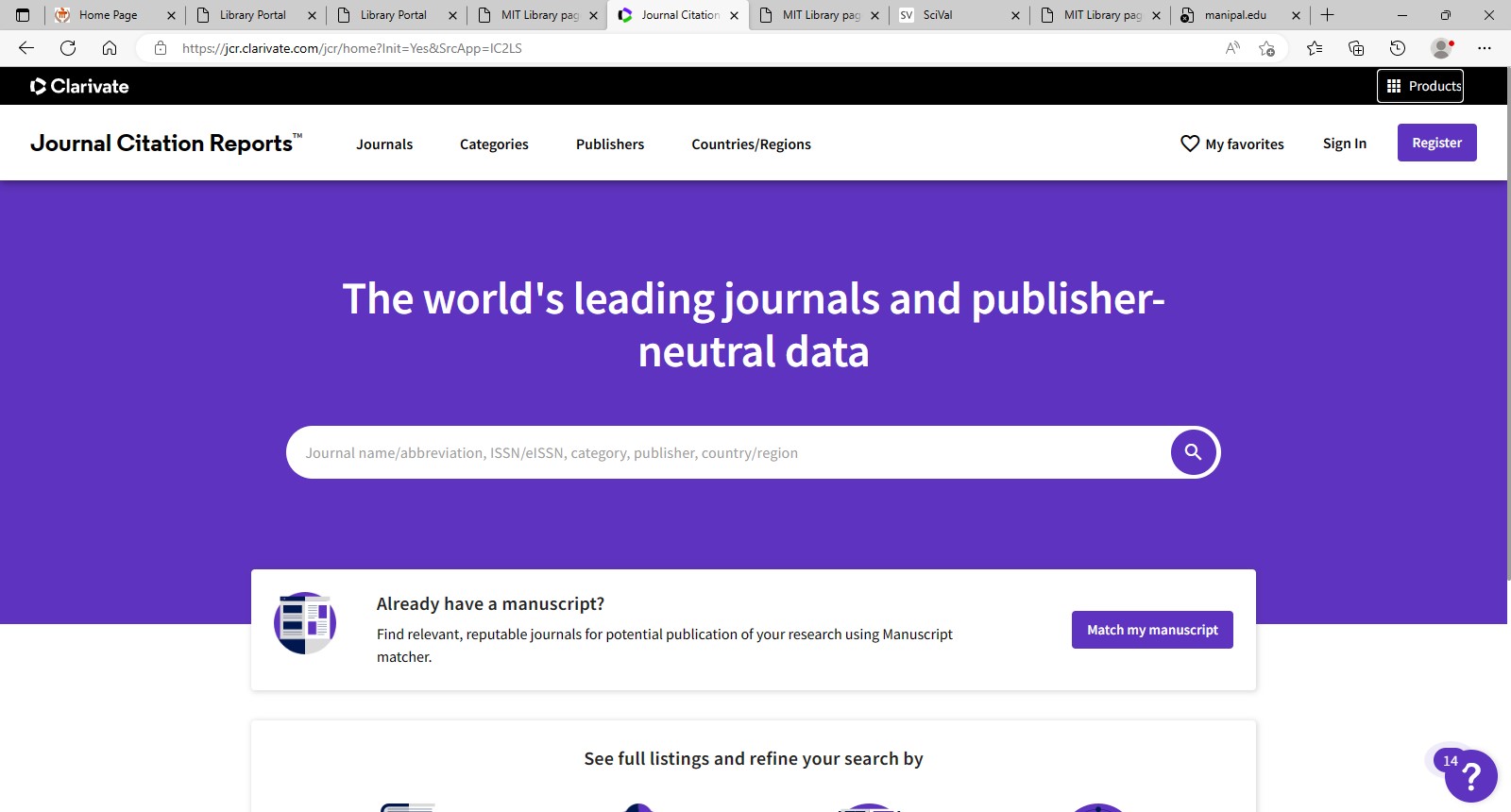 Citation and article counts are important indicators of how frequently current researchers are using individual journals. By tabulating and aggregating citation and article counts, JCR offers a unique perspective for journal evaluation and comparison.
SciFinder
SciFinder is a research discovery application that provides unlimited access to the world's most comprehensive and authoritative source of references, substances and reactions in chemistry and related sciences. SciFinder offers a one-stop shop experience with flexible search and discovers options based on user input and workflow. You can search for substances, reactions, and patent and journal references anytime, anywhere.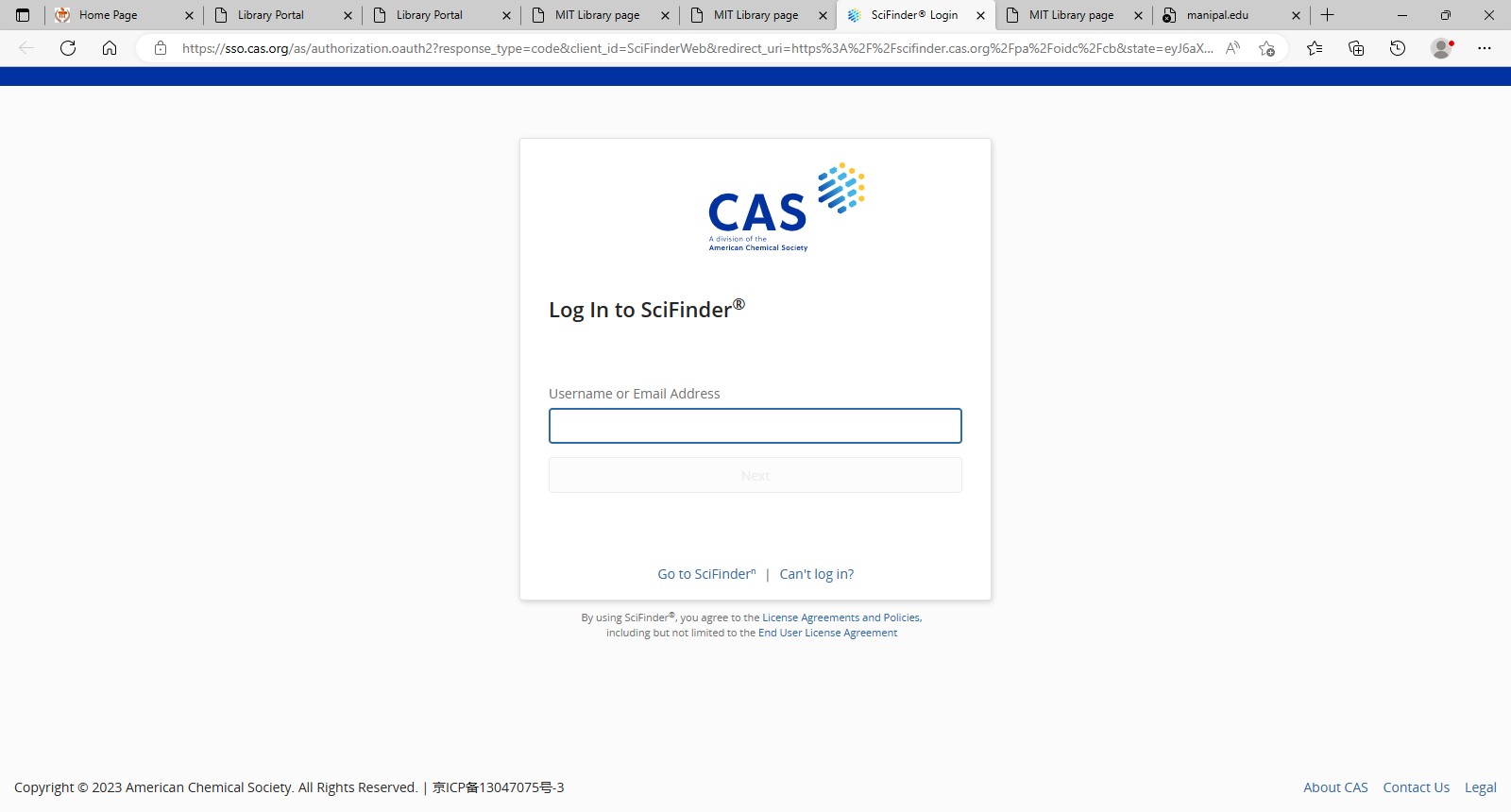 SciVal
SciVal offers quick, easy access to the research performance of 21,200 research institutions and 234 nations worldwide. A ready-to-use solution with unparalleled power and flexibility, SciVal enables to visualize research performance, benchmark relative to peers, develop collaborative partnerships and analyse research trends. Today's R&D landscape requires research managers to devise better ways to measure the quality and impact of their institution's research projects. Using advanced data analytics super-computer technology, SciVal allows to instantly processing an enormous amount of data to generate powerful data visualizations on-demand, in seconds.
Scopus
Scopus is the largest abstract and citation database of peer-reviewed research literature with more than 36,377 titles from more than 11,678 international publishers. Scopus offers researchers a quick, easy and comprehensive resource to support their research needs in the scientific, technical, and medical, social sciences fields, arts, and humanities.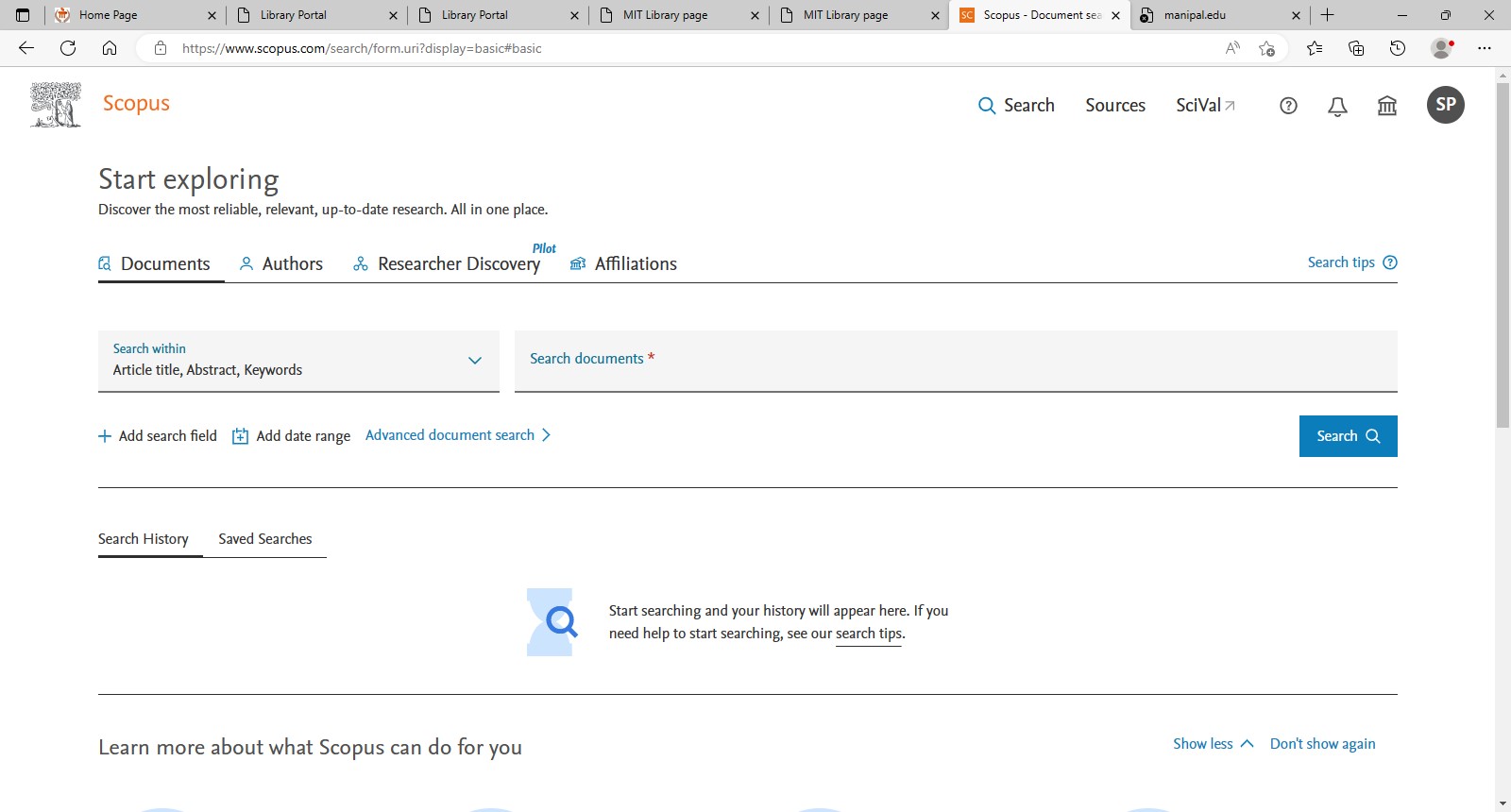 Springer Link
Springer Link providing access to millions of scientific documents from journals, books, series, protocols and reference works.  It is a comprehensive online collection of journals, books and reference works.  MIT Central Library has access to 863 journals and 47,333 books via Springer Link.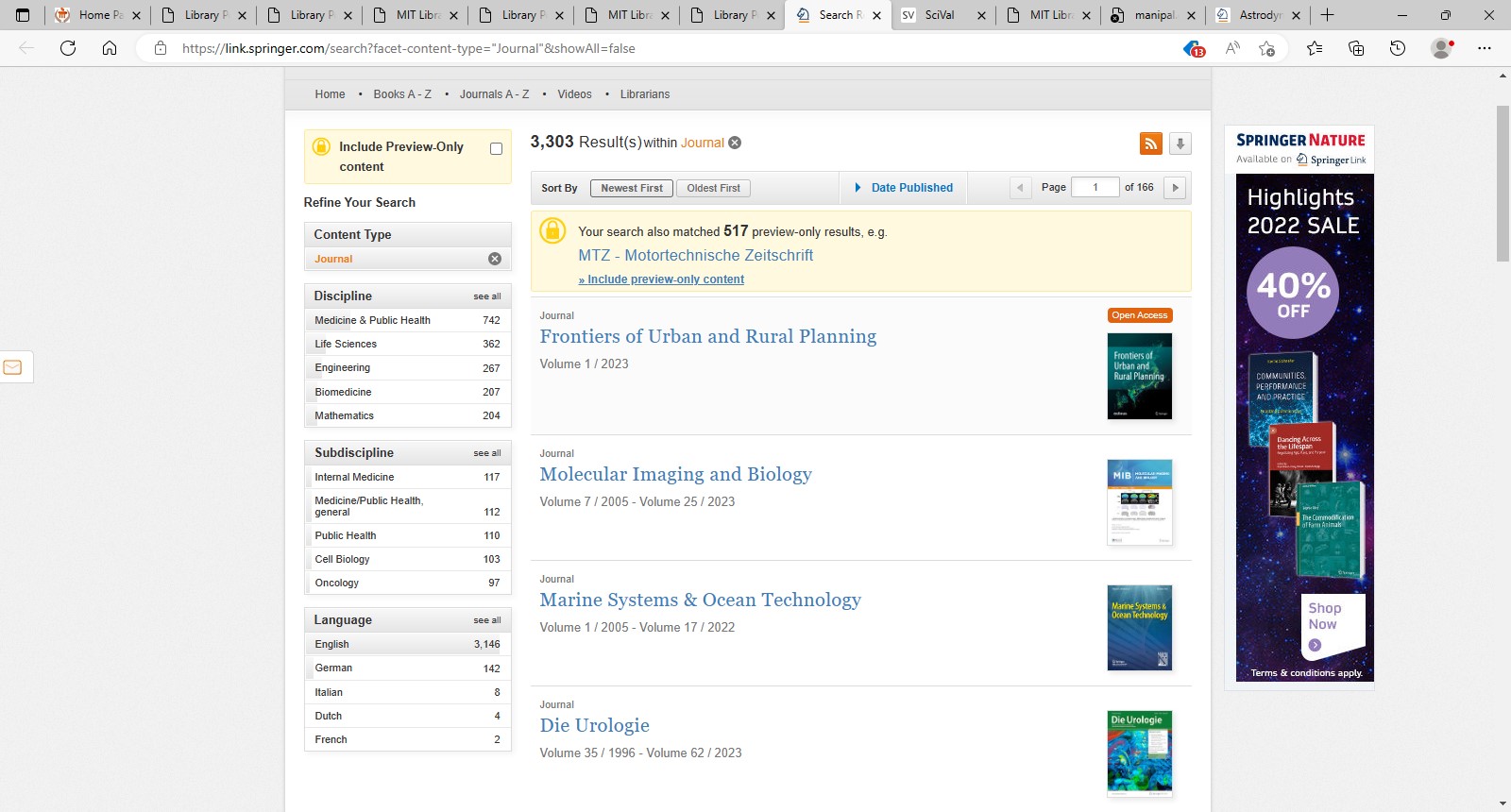 Springer Nature Experiments
Experiments is a new research solution developed by Springer Nature to connect researchers with the most relevant and important protocols and methods to support their research projects. Springer Nature is bringing together the largest available collection of protocols and methods proven to create results, with content from Nature Methods, Nature Protocols, Springer Protocols and Protocols Exchange.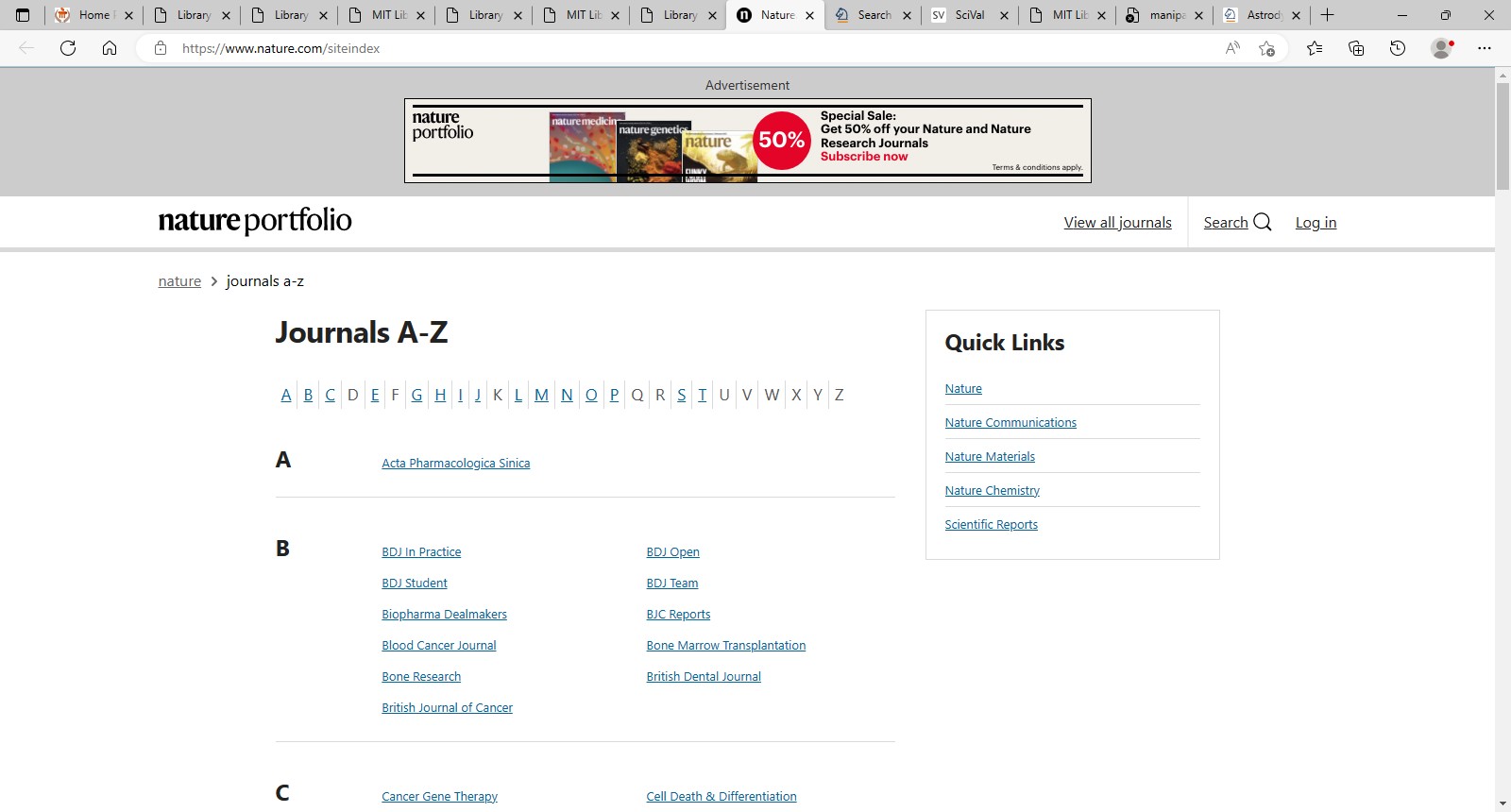 Web of Science
Web of Science provides researchers, administrators, faculty and students with quick, powerful access to the world's leading citation databases. Authoritative, multidisciplinary content covers over 21,000 of the highest impact journals worldwide, including Open Access journals and over 180,000 conference proceedings. Current and retrospective coverage in the sciences, social sciences, arts and humanities, with coverage to 1900 is available.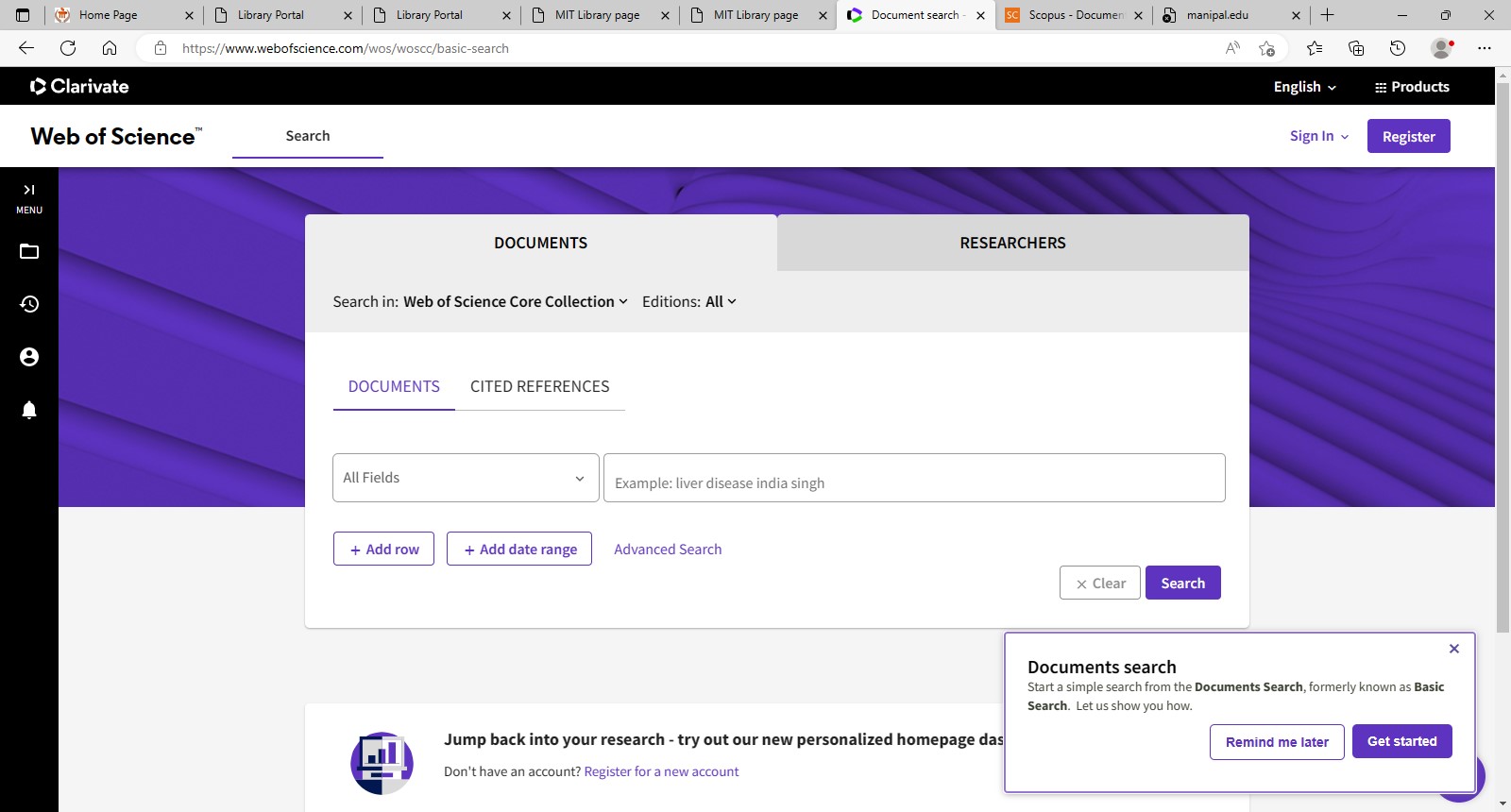 Online Journals of Various Publishers
The library is providing access to more than 2000+ online journals of various publishers, such as Cambridge, Elsevier, Nature, Sage, Springer, Taylor and Francis, Wiley, World Scientific Journals, IEEE, ASTM, ASCE, ASME and standards like ASTM, BIS etc.  
Library Services
Library provides the following value-added services to its users in addition to all routine type of services.
Reference Service
Current Awareness Service
Circulation
Photocopying
Inter - Library Loan/Document Delivery
CD-ROM Access
Wi-Fi
Open Athens (SSO - Single Sign-on) - Remote Access to Subscribed e-Resources
OPAC (Online Public Access Catalog)
Grammarly
Training in Accessing e-Resources
Turnitin
Contacts
Dr. Rekha D. Pai
Chief Librarian and Associate Professor
Central Library
Manipal Institute of Technology
Manipal Academy of Higher Education, Manipal – 576 104, INDIA
Telephone +91820 2924451
e-mail: lib.mit@manipal.edu