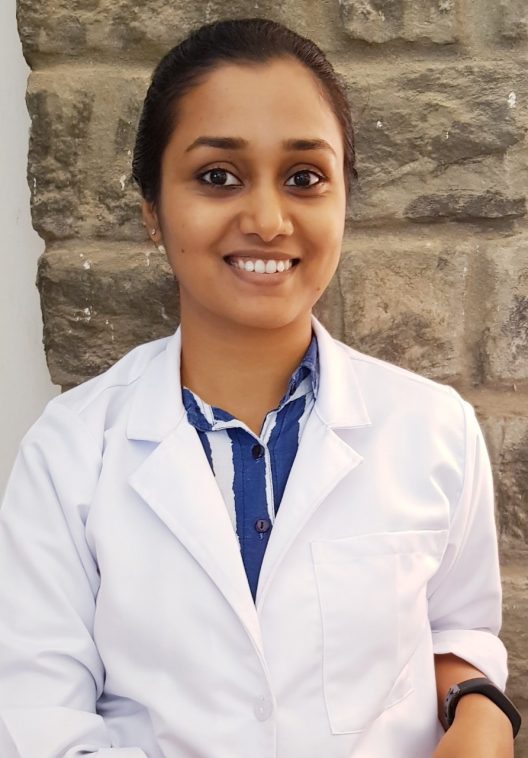 Dr Gayathri Krishnamoorthy
Assistant Professor
Department of Prosthodontics and Crown & Bridge
Qualification: BDS, MDS
CURRENT ACADEMIC ROLE & RESPONSIBILITIES
Assistant Professor in Department of Prosthodontics and Crown & Bridge

Undergraduate Teaching

SUBJECTS CURRENTLY TEACHING
| Subject | Subject code | Semester |
| --- | --- | --- |
| Complete denture | | First - final year, Dental Mechanics |
| Removable denture | | First - final year, Dental Mechanics |
| Fixed Partial Denture | | First - final year, Dental Mechanics |
| Maxillofacial Prosthodontics | | First - final year |
| Implant Dentistry | | Final Year |
ACADEMIC QUALIFICATIONS
| Degree | Specialisation | Institute | Year of passing |
| --- | --- | --- | --- |
| MDS | Prosthodontics | Manipal College of Dental Sciences | 2018 |
| Certificate Course in Advanced Oral Implantology | | Manipal College of Dental Sciences | 2016 |
| Certificate course in International Conference on Harmonization of Good Clinical Practice | | Manipal College of Dental Sciences | 2019 |
| BDS | | Sri Ramakrishna Dental College and Hospital, Coimbatore | 2013 |
Experience
| Institution / Organisation | Designation | Role | Tenure |
| --- | --- | --- | --- |
| Coorg Institute of Dental Sciences | Senior Lecturer | Undergraduate teaching | 2018 - 2019 |
| Manipal College of Dental Sciences | Assistant Professor | Undergraduate teaching and Dental Mechanics | 2019 - present |
AREAS OF INTEREST, EXPERTISE AND RESEARCH
Area of Interest
Implant dentistry, Dental Materials
Area of Expertise
Prosthodontics and Implantology
Area of Research
Dental materials and Implantology
Krishnamoorthy G, Narayana AI, Peralam PY, Balkrishanan D. To study the effect of Cocos nucifera oil when incorporated into tissue conditioner on its tensile strength and antifungal activity: An in vitro study. J Indian Prosthodont Soc 2019;19:225-32.
Krishnamoorthy G, Prabhu N, Goyal V, Srikanth. Horizontal ridge augmentation using ridge expansion technique followed by Implant placement.2019:10(3);276-80.
Krishnamoorthy, G., Narayana, A. I., & Balkrishanan, D. Mastication as a tool to prevent cognitive dysfunctions. The Japanese Dental Science Review 2018:54(4);169–73.