Workshop on "Measles and Rubella Elimination in India": February 03, 2023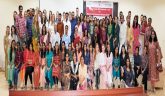 WHO- National Public Health Surveillance Project, Mangaluru and Department of Health and Family Welfare, Udupi in association with the MPH Programme, Department of Health Policy organized a workshop on "Measles and Rubella Elimination in India. 
Dr Nagabhushan Udupa, District Health and Family Welfare Officer, Udupi was the Chief Guest for this event and Dr M G Rama, District Reproductive and Child Health Officer, Udupi was the Guest of Honour for this event. they addressed on healthcare scenario in the distcrict and specially vulnarable population.
Dr Ananthesh G Barkur, WHO- Surveillance Medical Officer, Mangaluru conducted a group gxercise on investigation of suspected MR cases for the Students present during the Workshop. and introduced the importance of surveillance and Vaccine Preventable Disease Surveillance in India.