SOC celebrates 15 years of inception and Alumni Meet, 2012
SOC celebrates 15 years of inception and Alumni Meet, 2012
SOC celebrated 15 years of establishment along with an alumni meet on November 9, 2012 in an evening marked by nostalgia and festive merriment.
Dr. Indira Bairy, Director, Student Affairs of Manipal Academy of Higher Education (MU) and Dr. R. P. Pai, Professor of Fr. Muller Medical College, Mangalore and also the first Director of Alumni Cell of MU were the guests of honor. They lit the ceremonial lamp to usher in the festivities. Dr. Indira Bairy highlighted the power of sharing in today's world and suggested bringing out an alumni newsletter to organize a network of SOC's 15-year strong graduates.
Striking a jovial note, Dr. R. P. Pai shared with the alumni the caliber of MU's founder Dr. T. M. A. Pai who was able to connect with people from the grass-root to the topmost level with ease. The youths can take a leaf from his works, he said, adding that a well-connected alumnus is the first outlook of a college to the world.
The colorful motley of alumni shared their work experiences as well as interesting moments of their campus life with the audience. "SOC is a world within a world, and make the best of your time in here", an alumnus remarked, adding some poignant words of advice to the present students, "Don't just exist in SOC, live in SOC". Students as early as the 1st batch of 1997 were present and were presented souvenirs by the guests of honor to commemorate their contribution to the growth of the institution.
Director of SOC Prof. Varadesh Hiregange addressed the gathering, telling that on the eve of Diwali, the past pupils have brought a sparkle to SOC by their presence. "This itself is a celebratory moment for us, for family members of SOC have come together from all over the world on this day," he said. He also asked them to give back to their alma mater in their own strength so that the students of less fortunate backgrounds can also avail the infrastructure of SOC.  The Alumni Coordinator Ms Shruthi Shetty welcomed the gathering and organized the event. SOC's honorary Director Sri M. V. Kamath  exhorted them to rise up to their merits and be the ones to re-make India.
Earlier in the evening an informal interactive session was held where past students shared many a light moment about their current jobs as well as their memorable years in SOC.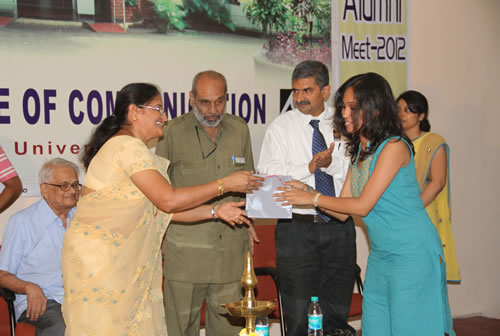 An SOC alumnus receiveing the memento from Dr Indira Bairy, Director, Student Affairs, Manipal Academy of Higher Education. Also seen are Dr M V Kamath, Dr R P Pai and Prof Varadesh Hiregange, Ms Shruthi Shetty.