M.V. Kamath Endowment Lecture by Dr. Parakala Prabhakar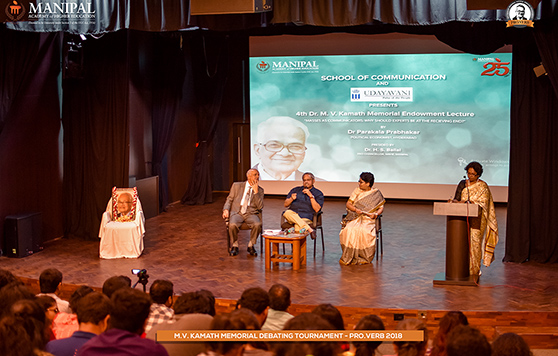 M.V. Kamath Endowment Lecture
Dr. Parakala Prabhakar, Political Economist and Former Advisor (Communication) to the Government of Andhra Pradesh and Managing Director of Right Folio, addressed a gathering of students on the 4th Dr. M.V. Kamath Memorial Endowment Lecture, presented by the School of Communication (SOC) and Udayavani at Dr. Gangubai Hangal Auditorium, Manipal College of Humanities (MCH), Manipal on Thursday, August 30, 2018.
Speaking on 'Masses as Communicators: Why Should Experts be at the Receiving End?', Dr. Prabhakar talked about communicators and their purpose in the society, and the evolution of communication over the years. "The term mass communication was not defined as the communication of the masses, but to the masses by experts, Governments, corporates," said Dr. Prabhakar. He talked about how mass communication is often mistaken as a mouthpiece for the public. "It is a structural asymmetry caused by technology," added Dr. Prabhakar.
Talking about the paradoxical nature of the communication industry, Dr. Prabhakar highlighted the fact that people are being trained to show and speak rather than see and listen. "Most of the communication of the masses is unwritten and oral. Communication experts don't have their ears on the ground." He brought light to the fact that the onset of technological advances has facilitated masses to communicate digitally.
"It is tempting to join one digital army or the other," said Dr. Prabhakar talking about the need of communication experts to be at the receiving end of communication, and stop branding the masses as consumers. "We need to stop outsourcing our thoughts and leadership," he added. The lecture was followed by an open Q&A Session, where the students were provided a platform to pose their questions to Dr. Prabhakar.
The event was presided by Dr. H.S. Ballal, Pro Chancellor, Manipal Academy of Higher Education (MAHE), Dr. Padma Rani, Director, SOC and other faculty members of the institute.
The Dr. M.V. Kamath Memorial Endowment Lecture is held every year in memory of Dr. Madhav Vitthal Kamath, veteran journalist and the founding father of SOC, where illustrious personalities from different disciplines are invited to enlighten the students from their experiences.