M V Kamath Memorial National Debate Tournament 2018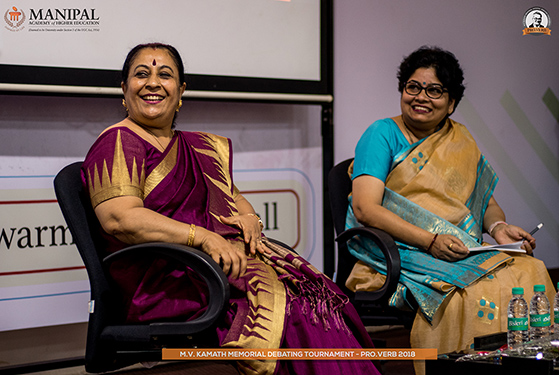 M V Kamath Memorial National Debate Tournament 2018
Late into 2014, a group of media students decided to establish a platform for young intellectuals to voice their opinions and hone their skills of oration. The result of this was the formation of Pro.Verb - the M V Kamath Memorial National Debate Tournament. Pro.Verb is a national debating tournament conducted annually by School of Communication, Manipal Academy of Higher Education. It follows the British Parliamentary debating format and aims at constructing a forum for students from across India to engage themselves in discussions as they simultaneously polish their oratory skills. The fourth edition of Pro.Verb was held on September 28, 29 and 30, 2018.
Pro.Verb has seen tremendous growth over the past three years and this year, we witnessed 28 national teams competing against each other, along with 17 adjudicators. Our core adjudicators included Akash Pattanayak , Sawal Choudhary, Sanutha Shetty, and Hriday Grandhi.
Pro.Verb saw six rounds of debating. On 28th September, the event was inaugurated by Chief Guest Dr. Poornima Baliga, the Pro-Vice Chancellor (Health Sciences) along with the commencement of the first round of debating. On the second day, there were three rounds of debating which decided the teams qualifying for semi-finals. The third and the last day of Pro.Verb 2018 consisted of the two major rounds – the Semi Finals and Finals.
The team representing MIT, Manipal consisting of Amandeep Singh and Shouvik Mukherjee emerged winners of the tournament, while the PES University team consisting of Shardul Singh and Varun Kumar bagged the runners up. Rajarshi Mukherjee of Manipal Institute of Technology and Hrishikesh V of PES University were declared as best speaker and best adjudicator respectively. The closing ceremony concluded the tournament. The chief guest of the ceremony, Dr. Preetham Kumar, Deputy Registrar Academics (Technical)  graced the ceremony with his presence, along with the Director of the School of Communication, Dr. Padma Rani.