M.V. Kamath Endowment Lecture on "Media as an agent of change in society"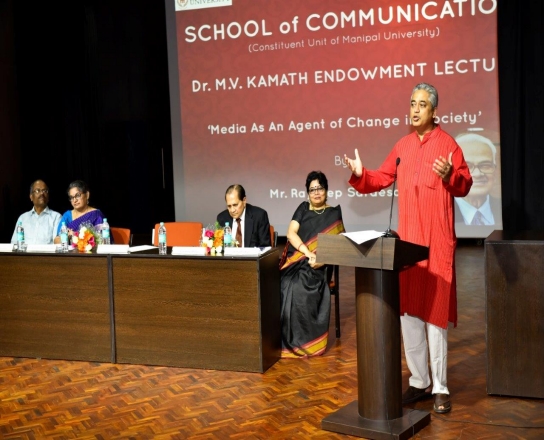 M.V. Kamath Endowment Lecture on "Media as an agent of change in society"
Journalists have to become bridge builders if they have to become true agents of social change, said Rajdeep Sardesai, senior journalist, here on Saturday. He was delivering the M.V. Kamath Endowment Lecture on "Media as an agent of change in society", organised by the School of Communication, here.
Mr. Sardesai said that every year farmers were committing suicide in different parts of the country. There was a wide gap between "aspirational India" comprising glitzy malls, and the "real India" which was in the villages. It was essential that the media became an agent and ensured that the voice of the farmers in villages was heard in Delhi.
Journalists should be bridge builders and try to reduce the gap between the villages and the capital city. The challenge was in bridging the gap between the two, Mr. Sardesai said.
Stories from the northeast States hardly found any space in the television news channels.
But it was essential that stories from Agartala or Imphal found space in news as Mumbai did, he said.
However, there was a possibility of these gaps getting reduced as there were now a large number of websites and news apps, which were now creating some kind of an impact by slowly targeting some specific interest groups.
Nandini Lakshmikantha, director, School of Communication, Ramdas Pai, Chancellor, Manipal Academy of Higher Education, and others were present.