Start Date: August 19, 2016
End Date: August 20, 2016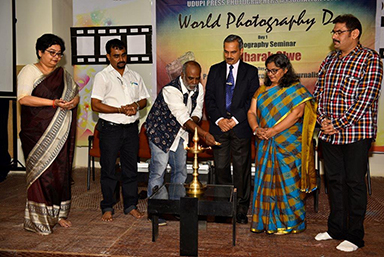 A photographer can touch a thousand hearts by adopting novelty, ingenuity and technical skills in photography said Mr. Sudharak Olwe, a Padamashri awardee, a photo journalist and well-known documentary filmmaker from Mumbai. Addressing the gathering on the occasion of "World Photography Day" organized by the Department of Media Studies, School of Communication, Manipal Academy of Higher Education, Manipal in association with Udupi Press Photographers Association Surdharak  elaborated on how photography is way of life and it is not easy to derive the connotative meaning of a photo.
Delving on the development of photography he observed unlike today where one can share a photograph with the whole world in a fraction of a second when compared to about a decade ago when photography was a challenging task. "There were no well written books on the topic and technology progressed at a much slower rate as compared to today" he said.   Observing how photography has now become a common hobby with the exponential growth of technology and reach of digital media, Sudhark felt capturing a moment correctly can have a huge impact than mere clicking.  Being creative and adopting new technology is the way to become successful photographer, he pointed out.
Dr. Narayan Sabhahit, Registrar, Manipal Academy of Higher Education presiding over the function, highlighted the fact that how photographs act as an effective medium to convey various stark realities of the world. The impression that good photographs leave behind are immense. They have a lasting impact on your minds he added.
Dr. Nandini Lakshmikantha, Director, School of Communication, Manipal Academy of Higher Education, welcomed the gathering. Mr. Astro Mohan proposed the vote of thanks. Mr. Janardhan Kodavooru, President, Udupi Press Photographers Association and Dr. Padma Rani, Associate Director, School of Communication were on the dais.  
More than 75 enthusiast from all over the state have participated in the two day workshop and seminar organized as part of the "World Photography Day".