Blood Drive 2015 "Be a Superhero. Donate Blood"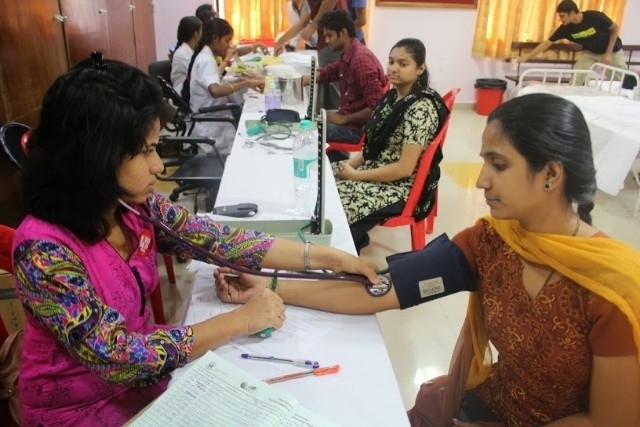 Manipal, Karnataka- February 26, 2015:
You need not be necessarily bitten by a spider or be exposed to radiation accidents to become a superhero. At School of Communication (SOC), anyone who donated blood at the annual blood donation camp, Blood Drive 2015, became a superhero. Held at SOC premises, in association with Kasturba Medical College (KMC), Manipal, Dept. of Immunohematology and Blood Transfusion and Manipal College of Dental Sciences (MCODS), Manipal, Dept. of Public Health Dentistry, the drive saw a large turnout of over 400 people.
The event was inaugurated by the Chief Guest, Dr. K. Ramnarayan, Vice Chancellor of Manipal Academy of Higher Education and the Guest of Honour was Mr. K. Bijumani, Deputy General Manager of Syndicate Institute of Bank Management.  "Communication is not just about words, it is also about deeds," Dr. K. Ramnarayan said emphasising on the role of media in contributing to the society.
This year the otherwise sombre blood donation camp was transformed into a fun event as it brought with it a unique theme, that of a superhero. Students were surprised to walk into the blood donation venue that was replete with props supporting the theme. Posters of popular comics' characters like Hulk, Batman, Powerpuff Girls adorned the walls. Selfie addicts could indulge at the selfie booth in the entrance with the event's mascot, Raktkant. Post the blood donation, donors were given superhero tags reading "I'm BLOODY awesome" that could be seen flaunted on many bags.
Eye check-up and dental check-up was also organised along with the blood donation camp. Many donors who had come to donate blood could also avail the eye and dental check-up for free of cost. The event and the theme was organised and conceptualised by SOC Event Masters, final year students of M.A. Communication and PGDCC. Blood Drive 2015 was a huge success with 197 pints of blood collected, a record number for SOC, as compared to the earlier blood donation camps.