Three-day Namma Angadi in Manipal from March 3
Start Date: March 03, 2017
End Date: March 05, 2017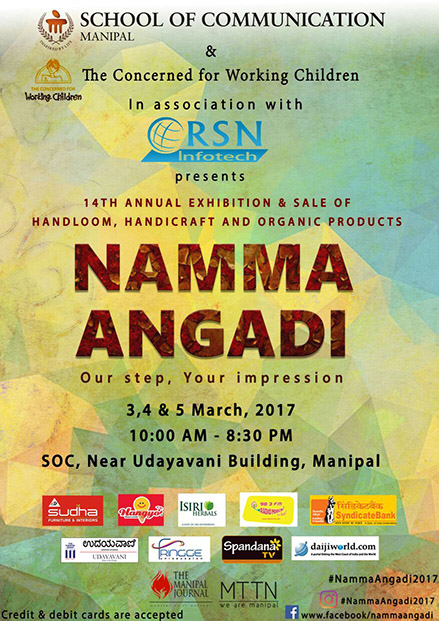 Namma Angadi
The School of Communication (SOC), a constituent of Manipal Academy of Higher Education, will organise "Namma Angadi," a three-day sale-cum-exhibition of handicraft, handloom and eco-friendly products, on its premises in Manipal from March 3.
Addressing presspersons here on Monday, Nandini Lakshmikantha, Director, SOC, said that the postgraduate students of event management and planning at SOC would be organising the event for the 14th consecutive year. It was being organised in association with The Concerned for Working Children (CWC), a not-for-profit organisation.
The products sold during Namma Angadi are produced by skilled artisans of Namma Bhoomi promoted by CWC, at Hattiangadi in Udupi district. Namma Angadi would be open from 10 a.m. to 8.30 p.m. at SOC from March 3 to 5. All the proceeds from the sale will go directly to train children in vocational arts at Namma Bhoomi.
Last year, Namma Angadi attracted a footfall of about 13,000 people from Manipal, Udupi, Karkala, and Mangaluru and did a gross sale of ₹18 lakh. "This year, we hope there will be a footfall of over 15,000," she said.
A wide range of products such as handmade wooden furniture, hand cut and stitched, trendy cotton apparels, handmade cosmetics and jewellery, Kalamkari and Mangalgiri saris, household products, organic food items, decorative items, baskets and trays, handmade paper products, lavanche products, among others, would be both on exhibition and sale.
"Yet another objective of hosting this event is that we want students to know that they should contribute something for society," she said.
The décor used for the venue will be organic. It would be decorated with a traditional "chapara" made of coconut leaves. Vanita Pai, Director of Art1st foundation, will inaugurate the event at 9.30 a.m. on Friday, Ms. Lakshmikantha said. Shivananda Shetty, Assistant Director, Namma Bhoomi, said that sale of products would help the rural artisans.
Padmakumar K., Head of the Department of Corporate Communications, SOC, Ruchi Srivastava, student coordinator, were present.