Empathize with the voiceless advice Harsh Mander
Start Date: August 13, 2016
End Date: August 13, 2016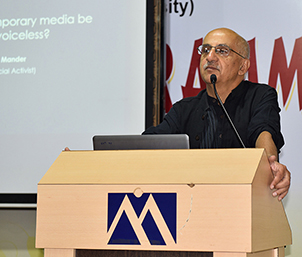 Empathize with the voiceless advice Harsh Mander
A communicator of the future should emphasize on three things like compassion, empathy and care for the voiceless expressed Harsh Mander, a writer and social activist, while delivering a public lecture organized at School of Communication, Manipal Academy of Higher Education on the topic "How contemporary media can be the voice of the voiceless". 
Dwelling on the present day education system, he said "today's education system manifests the younger generation to be selfish and develop not to care attitude" this is harmful for the society.   A common school system with high quality education may would bring down the inequality in the current generation, will solve the problem he felt.
Talking about media and its content in the present day situation, Harsh Mandar, opined that the present day media is pre occupied that interests the people of middle class and above.  While establishing   and catering to the needs of the requirements of middle class and media largely has forgotten the poor.  This divides the society further.  The overall pattern is such that it has forced the expulsion of the poor from our conscience and consciousness. 
Advising the students on the construction of messages that can be voice to the voiceless he suggested the future journalists should understand the realistic situations and emphasize and write.  Though the present day media relays heavily on advertisements efforts should be made to work on linking the people of the society.
The two hour interaction went well with Harsh Mander talking about the role of journalists in covering such stories. He shared with us his experiences, siting a number of examples.  
Dr. Nandini Lakshmikantha, Director and Professor, School of Communication was present.
Shivang welcomed and Mukund Nair, proposed a vote of thanks