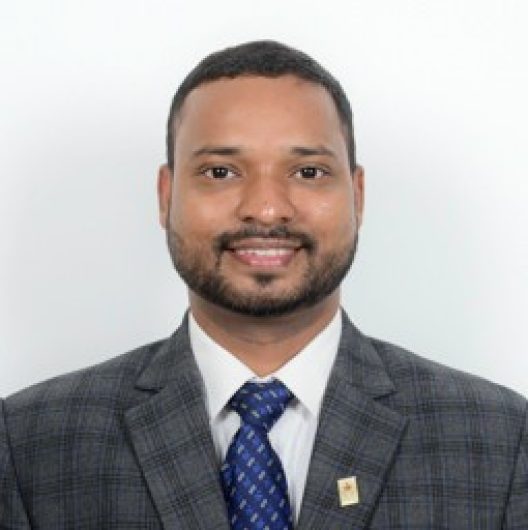 Assistant Professor (Senior Scale)
Department of Mechanical & Industrial Engineering
Qualification: BE, MTech
CURRENT ACADEMIC ROLE & RESPONSIBILITIES
Assistant Professor -Senior Scale - Department of Mechanical and Industrial Engineering, MIT.
Associate Incharge - 3D printing facility, Manipal Universal Technology Business Incubator (MUTBI).
Associate In-charge - Heat Transfer Laboratory.
Department Coordinator  - Central Data Repository.
Coordinator - Student Innovation and Entrepreneurship Development - Mechanical Program.
Editorial member - Department E-News Letter.
AREAS OF INTEREST, EXPERTISE AND RESEARCH
Area of Interest
Design Engineering; Materials Engineering
Area of Expertise
Fatigue of Materials and Structures; Failure Analysis and Life Prediction; Mechanical Surface Treatments; Finite Element Methods; Solid Mechanics; Mechanical Design; Design for Manufacture; Rapid Prototyping
Area of Research
Mechanical Surface Treatments; Material Characterization; Fatigue of Materials; Failure Analysis; Continnum Mechanics; Finite Element Simulation; Additive Manufacturing
Professional Affiliations & Contributions
Member of  Institution of Engineering and Technology.
Work Experience
| Organisation | Role | Tenure |
| --- | --- | --- |
| Manipal Institute of Technology, MAHE, Manipal | Assistant Professor - Senior Scale (Current role) | 2014 - Present |
| Alvas Institute of Technology, Moodubidire | Lecturer | (2011-2012) 1 Year |
| ETA Engineering Pvt. Ltd, Bengaluru | Project Engineer | (2008-2011) 3 Years |