Total grants received in the year 2018 is INR 3.33 Cr. The grants were received from different government organization like DST, SERB etc.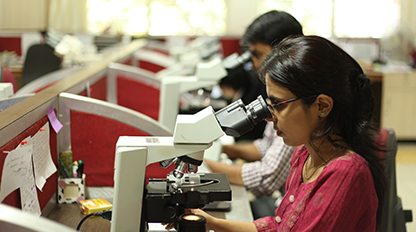 Department of Biomedical Engineering gets INR 32.4 lakhs sanctioned grant from DST.
Department of Information and Communication technology gets INR 85.54 lakhs sanctioned grant from DST.                                                                                 
We have published 20 patents in last three years. Number of patent granted in last three years is 5.
Department of Physics gets INR 2.23 Crores grants from different government agencies (DST, UGC-DAE CRS, DAE-BRNS and DST-SERB)
Manipal fosters both disciplinary and interdisciplinary research and our research areas are focused on the critical issues facing the world.
Focused Research Areas
Healthcare
Many faculty and students from the department of Information and Communication Technology,
Nano Technology
Department of Physics currently is working in the area of Nano Technology.
Water Resources & River Systems
Department of Geology and Civil Engineering are working in the area of water resources and river systems.
Manufacturing
Department of Mechanical and Manufacturing Engineering, Aeronautical and Automobile Engineering and Mechatronics are working in the area of manufacturing.
Environmental Science and Climate Change
Department of Geology, Civil Engineering and Humanities and Management are working in the area of Environmental Science and Climate Change.
Centres, Labs & Facilities
BTech in Electronics & Instrumentation Engineering is a multi-disciplinary offers expertise in mathematics, physics, electronics, electrical and mechanical.
The B.Tech program in Aeronautical engineering deals with the design, construction, maintenance, safety and study of science behind various aircraft and their components.
Student are encouraged to publish their work in International Journals and Conferences. The total number of student publications in 2018 was 197.