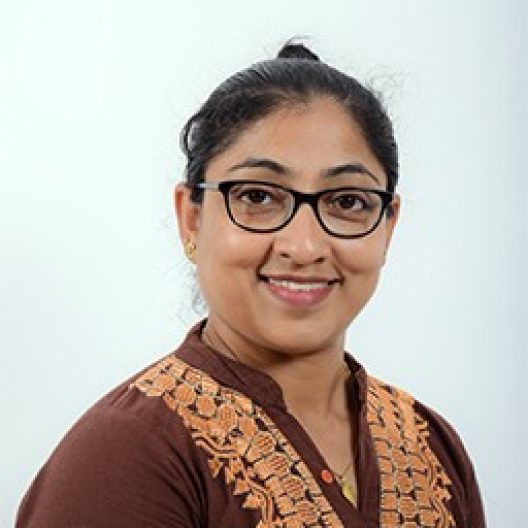 Assistant Professor-Selection grade
Department of Anatomy
CURRENT ACADEMIC ROLE & RESPONSIBILITIES
Lydia Shobha Andrade teaches undergraduate students of MBBS, MD students.


She also:

Conducts video demonstration of Head and Neck for MBBS students.
Sets question papers, invigilates theory examinations and conducts practical examinations.
Guides undergraduates and postgraduates in their research activities.
Is a certified Basic Life Support (BLS) provider and trains undergraduate students in BLS

Her PhD is on "Evaluation of detoxification of lead in preparation of Nagabhasma: Multi-organ approach to explore the possible anatomical, histopathological, embryological and cellular alteration".


SUBJECTS CURRENTLY TEACHING
| Subject | Subject code | Semester / Year |
| --- | --- | --- |
| Anatomy | MBBS | 1st and 2nd semester |
| Anatomy | MD | |
ACADEMIC QUALIFICATIONS
| Degree | Specialisation | Institute | Year of passing |
| --- | --- | --- | --- |
| MSc | Anatomy | Kasturba Medical College, Manipal | 2007 |
| PhD | Anatomy | Kasturba Medical college | 2017 |
Experience
| Institution / Organisation | Designation | Role | Tenure |
| --- | --- | --- | --- |
| KMC manipal | Assistant Professor-Selection Grade | | Aug 2020 till date |
| KMC, Manipal | Assistant Professor | | 12-08-2017 to Aug 2020 |
| KMC, Manipal | Senior Grade Lecturer | | 04/2015 - 8/2017 |
| KMC, Manipal | Lecturer | | 2011 to 2015 |
| KMC, Manipal | Tutor | | 2008 to 2011 |
| International Medical School, Bangalore | Senior Tutor | | 9 months |
| KMC, Manipal | Lecturer | | 4 months |
AREAS OF INTEREST, EXPERTISE AND RESEARCH
Area of Interest
Gross Anatomy, Neuroanatomy, Genetics, Embryology, Clinical Anatomy, Histology, Animal Studies, Radiological Anatomy
Area of Expertise
Gross Anatomy, Neuroanatomy, Genetics, Embryology, Clinical Anatomy, Histology, Animal Studies, Radiological Anatomy
Area of Research
Gross Anatomy, Neuroanatomy, Genetics, Embryology, Clinical Anatomy, Histology, Animal Studies, Radiological Anatomy
Professional Affiliations & Contributions
BLS provider according to AHA (American Heart Association)