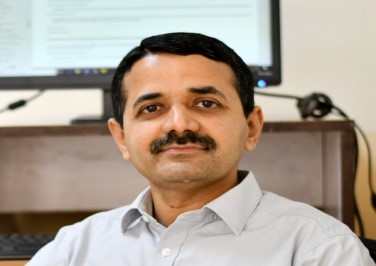 Education:
·         MBBS, Government Medical College, Mysore, 1992-1998 
·         Diploma in Child Health, College of Physicians and Surgeons of Bombay, 2001
·         MD (Pediatrics), Seth GS Medical College and KEM Hospitals, Mumbai, 1999-2002
·         DM (Medical Genetics), Sanjay Gandhi Postgraduate Institute of Medical Sciences, Lucknow, 2003-2005
·         Fellow, Cedar Sinai Medical Centre, Los Angeles
Research Achievements:
Since the last 15 years, Dr Girisha has been using genomic approaches to understand human genetic disorders. He has contributed to discovery of new genetic disorders and determining clinical, genomic and mutation profiles of several rare genetic disorders in India. He played a vital role in research, patient care, education and development of this recent medical specialty in our country.
Dr Girisha's clinical practice and research have resulted in improved diagnosis and understanding of genetic alterations associated with rare diseases. These include progressive pseudorheumatoid dysplasia, Morquio syndrome A, GM1 gangliosidosis, multicentric osteolysis, nodulosis and arthropathy, pyknodysostosis, Mucopolysaccharidoses types I and II, Niemann-Pick disease, Tay-Sachs disease, Larsen syndrome and Waardenburg syndrome. Dr Girisha is one of the first physician-scientists to utilize new genomic technologies to unravel hitherto undescribed rare diseases and their genetic basis in India. These efforts began with identification of a human ciliopathy affecting the skeleton, eyes and brain caused by mutations in IFT52 gene. His team soon described a new syndrome of skeletal dysplasia with joint dislocations and discovered that itwas caused by mutations in EXOC6B. This was followed by identification of a new syndrome intwo children with intellectual disability, ataxia and facial dysmorphism due to mutations in EBF3.
Dr Girisha and his team are credited with discovery of two new childhood neurodevelopmental disorders in quick succession. The first one affected mitochondrial iron-sulphur cluster biogenesis pathway due to a mutation in ISCA1 gene that led to a very severe neuroregressive disorder in five children. He played a crucial role in discovery of a childhood progressive neurodevelopmental disorder with microcephaly, seizures, and spastic quadriparesis that resulted from defects in AIMP2 gene. Similar strategies were applied to identify a new skeletal dysplasia with large epiphyses caused by alterations in PISD gene and followed it by elucidating the mechanism of the disease. Since the year 2000, up to 50 genes for rare diseases have been identified with major contributions from Indian researchers. Dr. Girisha and his colleagues described nearly twenty of them in the last five years emphasizing his contributions to the field of disease-gene discovery.
Online Mendelian Inheritance in Man (OMIM) currently catalogues eleven of them as new monogenic disorders. These include Spondyloepimetaphyseal dysplasia with joint laxity, type 3 (#618395), Leukodystrophy, hypomyelinating, 17 (#618006), Multiple mitochondrial dysfunctions syndrome 5 (#617613), Laurin-Sandrow syndrome (#135750), Hypotonia, ataxia, and delayed development syndrome (#617330), Arthrogryposis, distal with impaired proprioception and touch (#617146), Short-rib thoracic dysplasia 16 with or without polydactyly (#617102), Shukla-Vernon syndrome (#301029), Spondyloepimetaphyseal dysplasia, X-linked (#300106), Spondyloepimetaphyseal dysplasia, SPONASTRIME type (#271510) and Anauxetic dysplasia 3 (#618853).
Dr Girisha has a special interest in skeletal dysplasia as evidenced by ten of his newly described disease-gene associations appended to this group. As an expert in this area globally, he earned a place in the nosology group of International Skeletal Dysplasia Society that is tasked with recognition and classification of genetic disorders of the skeleton. As evident from his CV, Dr Girisha has published over 200 peer-reviewed articles including many in high impact (IF) publications.
In addition to research and clinical practice, Dr Girisha is a pioneer in Medical Genetics education in India. He established the first Master of Science program in Genetic Counseling in India at Manipal that is now emulated in other centers. He is a supervisor for 18 PhD scholars (8 as a co-supervisor) including two clinician-scientists. He also started one of four Doctor of Medicine (DM) courses in Medical Genetics in India. He is one of the founding members of Society for Indian Academy of Medical Genetics (www.iamg.in ) and spearheads its publication Genetic Clinics. He also plays a huge role in advocating genetics and genetic testing in the region through local television, newspapers and magazines and talks to laypersons.
Dr Girisha founded the department of Medical Genetics at our institute and in just 5 years he built a formidable team of young scientists at Manipal to arguably become one of the largest center for clinical genetics in India. He work also had global impact on rare disease research, diagnosis and care of patients with rare diseases and medical genetics education.