The incidence of poisoning in India is among the highest in the world and more than 50,000 people die every year from toxic exposure. To add to this, there is rampant use of substance of abuse amongst the younger generation. As Kasturba Medical College hospital is a main tertiary care referral hospital catering to a population of 130,000,000 across states of Karnataka, Kerala and Andhra Pradesh in southern part of India, we frequently get poisoning/drug abuse cases. In order to support diagnosis, early intervention and comprehensive care, Analytical toxicology wing was started on 20 March 2015. This wing was established in collaboration with department of Biochemistry, Forensic Medicine and toxicology and Pharmacy Practice. This centre offers different panel of tests including- drug abuse panel; pesticide panel; alcohol panel; narcotic panel and heavy metal panel. This is helping in early detection and proper treatment of such cases. 
The Poison Information centre established in 2001 under the Department of Pharmacy Practice which assists the physicians in providing the information for the management of acute poisoning and adverse drug events. The poison Information centre is equipped with a computer, internet software such as Micromedex, Poisindex, and access to authenticated databases which help in providing the information to clinicians. Poison Information centre has assisted in providing more than 200 poison and adverse event-related information for physicians each year. It is also actively involved in educating the community regarding pesticide poisoning and first aid management. The department also initiated community training programmes for farmers on safe handling of pesticides. Poison information centre is one of the integral parts of toxicovigilance and drug safety centre which is actively involved in many research projects in the area of clinical toxicology. 
Moreover, two doctoral research programs and 8 postgraduate projects have been completed in this area. We have also published several research papers related to poisoning management and new interventions, which have been recorded as part of the information management system.  
1. Providing round the clock poison information to all doctors/public regarding any poisoning and management using Micromedex and Poisindex software's.

2. Rapid analysis of suspected samples to help in timely intervention.
3. Organize awareness programs regarding safe handling and health effects of chemicals to farmers who are actively involved in farming.
4. To offer health check and screening for poisons including genetic studies to understand epigenetic changes on chronic exposure with public – private partnership with government of Karnataka.
5. Give medico legal assistance to police and public in cases of suicidal/ accidental and homicidal poisonings.  
Analytical Services
Toxicology Statistics of various years :
1. Puppala GK, Thunga G, Chekka M, Vidyasagar S, Vijayanaryana K, Sreedharan N, Shetty PK. Demographics, clinical characteristics, treatment and outcomes of acute organo-phosphorous pesticide poisoning from South India. Research Journal of Pharmaceutical, Biological and Chemical Sciences. 2015;6(6):826-34.  
2. Priyadarshini M, Thunga G, Pariti B. occupational hazards of pesticides: plight of farmers. Journal of Pharmacy Practice & Research. 2014 Mar 1;44(1):61-2.  
3. Thunga G, Pandey S. Effectiveness of Different Dosage Regimen of Pralidoxime in Organophosphorus Poisoning in Tertiary Care Hospital. Value in Health. 2013 Nov 1; 16(7): A678.  
4. Pariti B, Thunga G, MK U, Nikhil B. Analysis of Total Treatment Costs of Organophosphorous Poisoning in a Tertiary Care Hospital. Value in Health. 2013 Nov 1;16(7): A466.  
5. Devabhaktuni R, Cherukuri H, Kuluru P, Thunga G. Mixed organophosphate and rodenticide poisoning accelerates fulminant hepatic failure. Journal of Pharmacy Practice and Research. 2013;43(4):333-4.  
https://eprints.manipal.edu/view/creators/Thunga=3AGirish=3A=3A.html
As a part of social responsibility, our centre took an initiative and conducted a camp in our district for creating awareness about pesticide hazards and screening pesticide levels in farmers with the help of agricultural department of government of Karnataka. Based on the response seen Government of Karnataka (agricultural pay commission) came forward and offered Rs 15,00,000/- (15 lakhs) to conduct camps for farmers selected from 8 villages across Karnataka.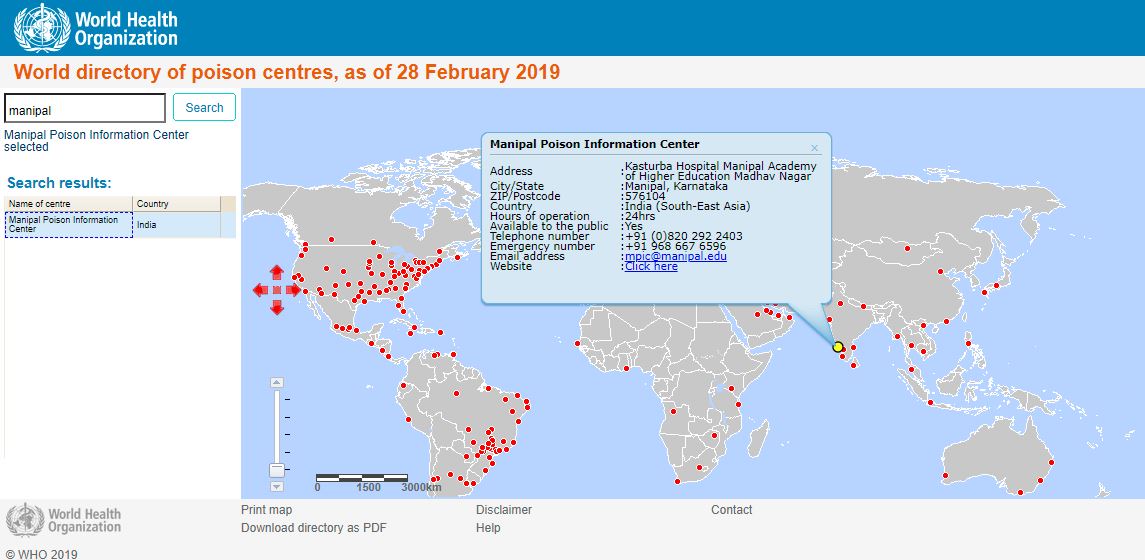 Manipal poison infermation center has been listed on the world map.
Antidotes available in the Hospital
1. Activated Charcoal -PDW PRODUCT- Activated Charcoal 25GSM- Available 
2. Dimercaprol -BAL INJ(BAL001)- BAL 2ML Injection – Available 
3. Methylene blue -PDW PRODUCT – Methylene Blue 2% 10ml- Available 
4. Penicillamine -PENCITIN 250MG CAPSULES – Available
5. Sodium nitrite – PDW PRODUCT –  Available
6. Sodium thiosulfate -PDW PRODUCT –  Available