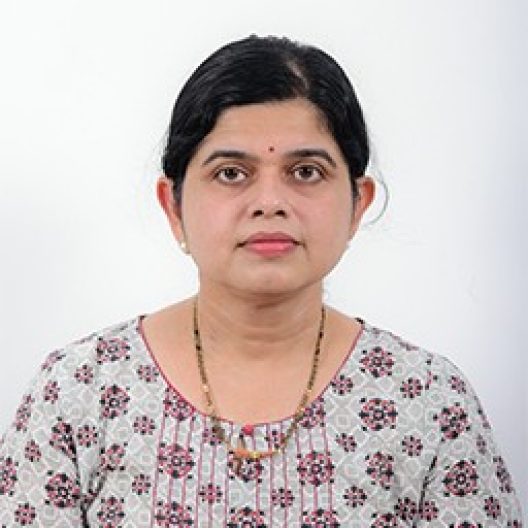 Additional Professor
Department of Dermatology, Venereology and Leprosy
CURRENT ACADEMIC ROLE & RESPONSIBILITIES
Dr Smitha Prabhu S teaches undergraduate and postgraduate students.

She:

Is involved in patient care of outpatient as well as admitted patients, does minor dermatological surgical, laser and cosmetic procedures.
Participates in department research, publications, presentations, and contributor of chapters in various text books, reviewer for national and international journals.
Is Guide  for thesis projects.
Runs Psychodermatology Clinic and Vulvar Clinic

 

 
SUBJECTS CURRENTLY TEACHING
| Subject | Semester / Year |
| --- | --- |
| Dermatology, Venereology and Leprosy | |
| Dermatology, Venereology and Leprology | |
ACADEMIC QUALIFICATIONS
| Degree | Specialisation | Institute | Year of passing |
| --- | --- | --- | --- |
| MD | Dermatology, Venereology, Leprosy | Calicut Medical College, Kerala | 2001 |
| DVD | Dermatology, Venereology, Leprosy | Calicut Medical College, Kerala | 2000 |
| MBBS | | Calicut Medical College, Kerala | 1997 |
Experience
| Institution / Organisation | Designation | Role | Tenure |
| --- | --- | --- | --- |
| KMC, Manipal | Additional Professor | | 12/10/2021 till date |
| KMC, Manipal | Associate Professor | | 05/2008 to 11/10/2021 |
| KMC, Manipal | Assistant professor | | 05/2003 to 05/2008 |
Safety, tolerability and efficacy of combination of topical sodium fusidate and betamethasone valerate in biopolymer versus combination of fusidic acid and betamethasone valerate in the treatment of infected eczema
Double Blind Randomized Pilot Clinical Trial - Co inverstigator
Safety and Efficacy of Epratuzumab in Serologically-positive Systemic Lupus Erythematosus (SLE) Patients With Active Disease
A Phase IIb Randomized, Double-blind, Placebo-controlled, Dose and Dose Regimen-ranging Study - Coinvestigator
A randomized open labelled balanced, two treatment, two period, two sequenced open labelled single dose, two way cross over bio equivalence study of methotrexate 2.5 mg tablet of Ricon pharma with DAVA pharmaceuticals
AREAS OF INTEREST, EXPERTISE AND RESEARCH
Area of Interest
Psychodermatology, Vulvar Dermatoses, Female Sexual Dysfunction, Clinical Dermatology, Dermatopathology, Dermoscopy
Area of Expertise
Psychodermatology, Vulvar Dermatoses, Dermatopathology
Area of Research
Clinical dermatology , Psychodermatology, Vulvar Dermatoses
Professional Affiliations & Contributions
Member of SIG-Psychodermatology, Special Interest Group of IADVL Psychodermatology committee member was organizing secretary for CME on Psychodermatology, 2012.
Life member IMA.
Life Member of IADVL, Attended various conferences guest lectures in national and district level conferences.
Internal Auditor for NABH, ISO
Member of Medical auditing committee since 2013
Research Cooridnator, Curriculum coordinator, CBME coordinator for the department
Member of Doctoral Advisory Committee (DAC) of MAHE 
Editorial Board Advisor to KMC Editorial Board Committee 
Founding Secretary and Executive committee member of  Psychodermatology Association of India  
Coordinator SIG IADVL female genital dermatoses 2021-22
Convener Karnataka Academy of IADVL, 2021-22
Corodinator,Research, Karnataka Academy of IADVL 2021-22
Deputy Editor, CDR. 2021 onward
Secretary, Karavali IADVL 2014-15
President, Karavali IADVL 2019-20
Convener, SIG IADVL, Female Genital Dermatoses 2019-20
Teaching faculty in IADVL online training module  of IADVL, India.
Co-author of various chapters in various subject specific text books
IADVL Concise text book for Undergraduates, first Edition, 2012 – contributed a co-authored chapter on Eczemas
Text Books authored (in Press)
Woundology text book – contributed a co-authored chapter on parasitic infections of the skin
Contact Dermatitis text book – contributed and co-authored 2 chapters – "metal allergy" and "procurement of patch test antigens and series"
Chanpter on psychocutaneous diseases in IADVL textbook, 4th edition
Chapter on Pigmentary disorders text book
Chapter on Psychosomatic hair disorders – in Trichology Text Book – upcoming