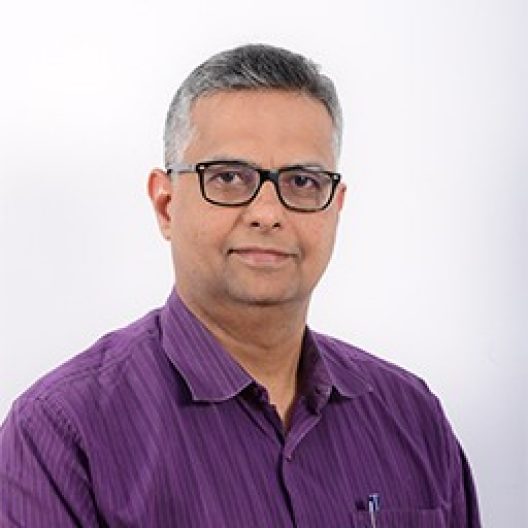 Professor and Head
Department of Dermatology, Venereology and Leprosy
CURRENT ACADEMIC ROLE & RESPONSIBILITIES
Dr Raghavendra Rao's academic responsibilities include training undergraduate, postgraduate and doctoral students.

Besides teaching, he is also involved in,

•     Patient care

•     Academic & clinical Research

•     Member of Board of Studies

•     Approved PhD supervisor

•     Member of Doctoral Advisory Committee for doctoral students.

•     Reviewer of national and international dermatology journals e.g., Frontier in Immunology, Journal of Cutaneous Pathology)

 

 
SUBJECTS CURRENTLY TEACHING
| Subject | Semester / Year |
| --- | --- |
| Dermatology, Venereology and Leprology | |
| Dermatology, Venereology and Leprology | |
ACADEMIC QUALIFICATIONS
| Degree | Specialisation | Institute | Year of passing |
| --- | --- | --- | --- |
| DNB | Dermatology, Venereology and Leprosy | National Board of Examination, New Delhi | 2001 |
| MD | Immunohematology | Government Medical College, Mysore (Mysore University) | 1999 |
| MBBS | | Adichunchanagiri Institute of Medical Sciences , Bellur | 1994 |
Experience
| Institution / Organisation | Designation | Role | Tenure |
| --- | --- | --- | --- |
| KMC, Manipal | Professor and Head | | 05/05/2019 till date |
| KMC, Manipal | Additional Professor | | 19/06/2012 to 04/05/2019 |
| KMC, Manipal | Associate Professor | | 2005 to 2012 |
| KMC, Manipal | Assistant Professor | | 2003 to 2005 |
| Adichunchanagiri Institute of Medical Sciences, Bellur | Lecturer | | 1999 to 2002 |
| Adichunchanagiri Institute of Medical Sciences, Bellur | Assistant Professor | | 2002 to 2003 |
Comparison of conventional indirect immunofluorescence with biochip mosaic slide in the diagnosis of autoimmune bullous disorder – A cross sectional study
Funded research project (IADVL)
Interrogation of Vitiligo Genesis - Cellular and Molecular Analysis through iPSC
Doctoral research project
AREAS OF INTEREST, EXPERTISE AND RESEARCH
Area of Interest
Autoimmune bullous diseases, Dermatopathology , Pediatric Dermatology
Area of Expertise
Autoimmune bullous disease, Immunofluorescence in Dermatology
Area of Research
•Autoimmune bullous diseases, and role of immunofluorescence for diagnosis •Along with other co-researchers reported the first case of anti-p200 pemphigoid from India •Described the utility of honey as a transport medium of skin biopsy specimens subjected for immunofluorescence •First to report the utility of serration pattern analysis in the sub categorisation of sub epidermal immunobullous disease from India
Professional Affiliations & Contributions
Life Member of Indian Association of Dermatologist, Venereologist and Leprologist (IADVL)
Life member of Indian society of Pediatric Dermatology
Life member of Dermatopathology Society of India
Life member of Association of Cutaneous Surgeons of India
Life Member of Member of National Academy of Medical Sciences (NAMS)
Life Member of Indian Medical Association (IMA)
Achievements/Awards/prizes
Awarded Commonwealth academic scholarship and was trained at St Johns Institute of Dermatology, Guys and St Thomas hospital, London, UK (2011-12)
Awarded Prof J N Shetty oration at Cuticon-KN 2016
Past Editor-in Chief of Indian J Dermatopathology and Diagnostic Dermatology
Visiting faculty, Kuwait board of Dermatology
External postgraduate examiner for National Board and other universities across States
A comparative study of Michel's medium versus honey as a transport medium for skin specimens prior to direct immunofluorescence microscopy and antigen mapping
J Cutan Pathol. 2019; 46:729-735.
Epidermolysis bullosa acquisita and anti-p200 pemphigoid as major subepidermal autoimmune bullous diseases diagnosed by floor binding on indirect immunofluorescence microscopy using human salt-split skin.
Indian J Dermatol Venereol Leprol 2017; 83:550-5.
Direct immunofluorescence microscopy of skin biopsy samples preserved in honey.
J Am Acad Dermatol. 2017;76:761-763
Antigen identification using skin deficient in basement membrane protein : a novel tool for the diagnosis of subepidermal immunobullous disease
Clin Exp Dermatol 2013; 38:289-94
Demonstration of pemphigus-specific immunofluorescence pattern by direct immunofluorescence of plucked hair.
Int J Dermatol. 2009;48:1187-9.
Utility of Immunofluorescence antigen mapping in heriditary epidermolysis bullosa.
Indian J Dermatol 2021;66:360-5
Clinicopathological and Immunological Profile of Patients with Cutaneous Manifestations and their Relationship with Organ Involvement in Systemic Lupus Erythematosus Attending a Tertiary Care Center of Eastern India.
Indian J Dermatol. 2020;65:22-28
Sclerotherapy in Mucocele: A Novel Therapeutic Approach.
J Cutan Med Surg. 2018;22:652-653
Advanced Diagnostic Techniques in Autoimmune Bullous Diseases.
Indian J Dermatol. 2017;62:268-278
Comparison of immunofluorescence and desmoglein enzyme linked immunosorbent assay in the diagnosis of pemphigus: A Prospective, Cross-sectional Study in a Tertiary Care Hospital.
Indian J Dermatol 2017;62:171-7
Monitoring the disease activity in pemphigus by direct immunofluorescence of plucked hair: A pilot study.
Indian J Dermatol 2013;58:164-165
Successful use of imiquimod 5% cream in Bowen's disease.
Indian J Dermatol Venereol Leprol 2007; 73: 423-425