Certificate course in Laboratory Quality Management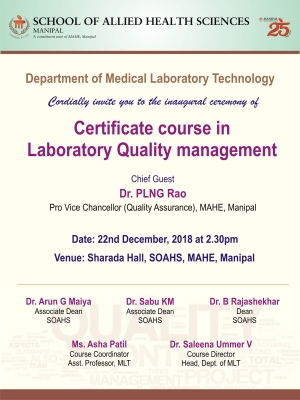 Quality is not an act it is a habit
-Aristotle
Certificate course in Laboratory Quality Management - is designed to provide knowledge, discussion, and expertise in Quality Management for clinical and research laboratories.
This course is highly valuable for those who work with quality management issues.
Quality is a crucial parameter which differentiates an organization from its competitors. Quality management tools ensure changes in the systems and processes which eventually result in superior quality products and services
Eligibility
·         Diploma, undergraduate or postgraduate students enrolled in health science courses (Medicine, Nursing, Pharmacy, Public Health and Allied Health Sciences).
·         Professionals in the clinical laboratory, research labs and industry.
Duration:
One month credit course (12 credits), every Saturdays from 9 to 5 pm (28 hours). 2 hours per week or assignment (8 hours) – 36 hours
Course Description:
The course address on identification, evaluation and control of laboratory crucial quality issues. 
It also facilitates the candidates-
·         To understand the needs of the quality control program and its documentation.
·         Apply appropriate statistical QC practices to monitor the performance of test procedures.
·         To adopt such practices in day to day laboratory practice.
·         To understand the process & procedures necessary for the ISO 15189 and NABL 112
·         To minimise lab errors by adopting risk management strategy.
To adopt global quality control practices for patient safety