"Oral Health Awareness and Screening Program"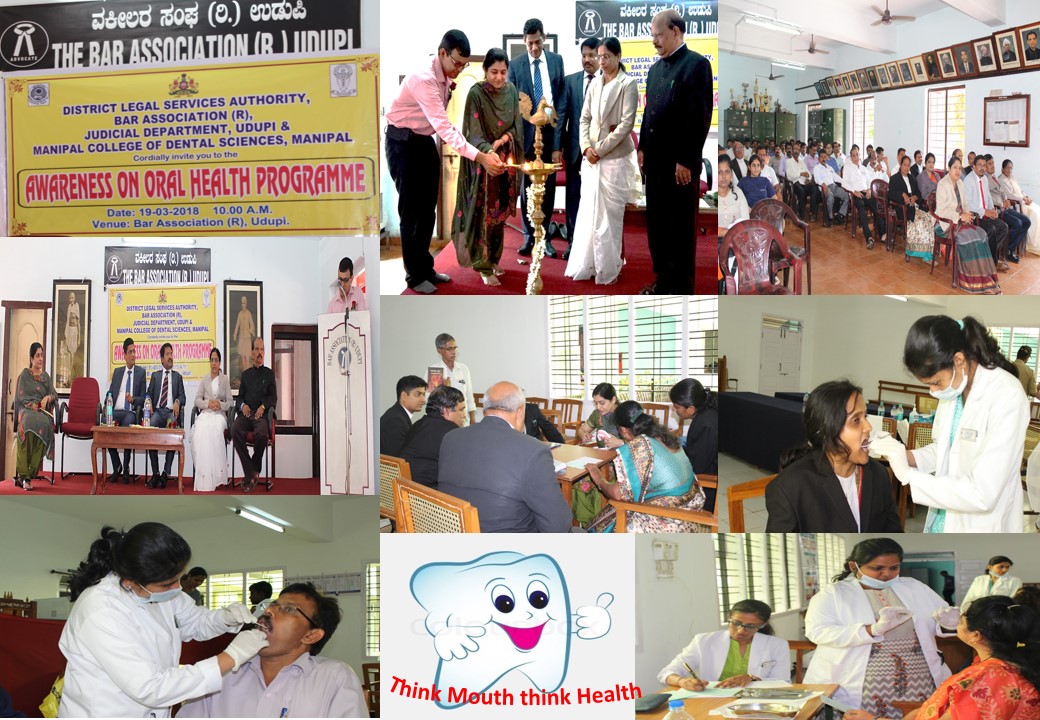 An "Oral Health Awareness and Screening Program" for the employees of judicial department, district court, was conducted on March 19th ,2018 at the district legal services authority complex, Udupi. The intent of the event, was in accordance with the theme of the World Oral Health Day celebrated annually on March 20th i.e.,  "Think Mouth, Think Health", which focused on the maintenance of healthy mouth as a fundamental entity for overall health and better quality of life.
The facilitators of the program were, Dr. Jothi V, Associate Professor, Department of Periodontology , Dr.Ramprasad VP, Associate Professor, Department of Public Health Dentistry, Post graduates of department of Periodontology, Dr.Namratha , Dr.Anupa and Dr.Sugandha along with our dental surgery assistant , Mrs. Shashikala. The interns of the students research council , Dr.Ashna ,  Dr.Chandini  and Dr.Remi extended gratuitous support.
The program commenced at 10.30 am with a traditional onset of lightening the lamp by the dignitaries of the Bar association, Udupi , Sri Venkatesh Naik T, honorable principal district & sessions judge and chairman, Sri. Rathnakara Shetty , president of  Bar association, Smt. Latha , honorable senior civil judge and member secretary, Sri. Vivekananda Pandith, honorable principal senior civil judge. During the program, the legal personages addressed the employees regarding the importance of teeth not only as a cosmetic entity but emphasized on the significance of oral health care services. They also pointed out that such habitual visits could prevent painful consequences as observed in deep carious tooth.
A comprehensive lecture on "Oral health facts" was conveyed by Dr.Ramprasad VP , who highlighted on the  importance of gingival health and its association to systemic diseases. The community was encouraged to adopt a positive attitude towards oral hygiene practices and regular dental visits for maintenance of general health and well-being. Following the didactic speech, all the employees underwent an oral examination and oral health counselling.
A total of 70 employees participated in the event and were invited to for treatment at Manipal College Of Dental Sciences , Manipal. The program culminated  with commendable hospitality from the legal service authority. This collaborative effort with the legal fraternity from court complex, Udupi for propagation of oral health cognizance, was  result of admirable support from the Dean, Manipal College of Dental Sciences, Manipal.