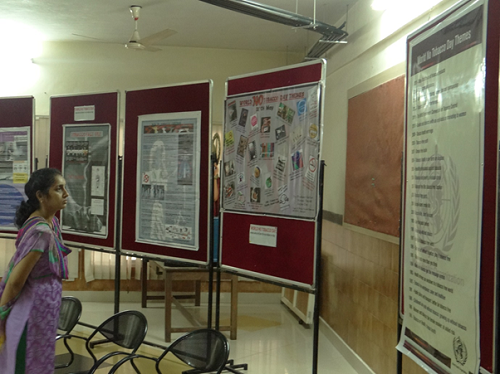 Tobacco-related illness is one of the biggest public health threats the world has ever faced. Approximately one person dies from a tobacco-linked disease every six seconds, equivalent to almost 6 million people a year.
 On the occasion of World No tobacco Day 2015, a series of events were held at Manipal College of Dental Sciences, Manipal, Manipal Academy of Higher Education between May 30th and June 15th 2015.
Manipal College of Dental Sciences, Manipal and Indian Dental Association, Manipal branch had collaborated to focus on this priority issue.
Health education and Information posters about the World No Tobacco Day 2015 theme of "Prevention of illicit trade in Tobacco ", Consequences of tobacco consumption, and methods of tobacco cessation were displayed. These posters were exhibited for a duration of one week starting from 30th May to 6th June, in the Outpatient lobby, Ground Floor of the Institution, with the intention of informing and educating the Outpatients.  A theme related educational video  was also shown as a part of the event.
To bring about increased awareness towards tobacco cessation practices and information about Nicotine Replacement  Therapy amongst the Dental Interns, Post Graduates and Faculty, 2 Guest Lectures were arranged.
Dr. Sreejayan , Associate Professor,Department of Psychiatry, KMC Manipal,  made a presentation on the "Pharmacological Management of tobacco cessation " and Dr.Thippeswamy, Psychiatric Social Worker, Department pf Psychiatry, KMC, Manipal spoke about the "Non-Pharmacological management of tobacco cessation. "
The Lectures were well attended by the students and Faculty of MCODS, Manipal. The speakers were thanked and felicitated for their useful contribution, support and guidance. The program and Tea was sponsored by M/s. INTAS Pharmaceuticals Pvt Ltd , a neuro Psychiatric Pharmaceutical company, along with the display and distribution of product catalogues and samples of Nicotine Replacement Therapy (NRT) products for the  benefit of Interns, post graduates and faculty attending the program.
The program was co - sponsored by Indian Dental Association ,Manipal branch.
As a part of the event, a photography contest was organized based on the theme of "Tobacco Control". Totally, 27 entries from  Under Graduates , Interns, Post Graduate students and  faculty of Manipal College of Dental sciences were received.
2 senior professionals with a rich experience ,  Dr.PSVN Sharma, Professor and Head, Department of Psychiatry, KMC ,Manipal and Sri Parashuram Bhat, Incharge of Audio-Visual Unit, Manipal Academy of Higher Education were the esteemed judges.
The prizes were won as under :
1.      First prize-Team of Mr.Balram Kadaikal and Ms.Shreya Manocha.
2.      Second prize - Shared by Mr.Prateek Mansingh and the team of Ms. Pallabi Roy and Ms. Lochan
3.      Third prize-Shared by Mr. Manikesh Mishra and the team of Dr.Divya and Dr.Gaurav.
The prizes for the photography contest was distributed by Dr.Sridhar Nekkanti,  President, IDA, Manipal branch and Dr.Sanjay Pattanshetty, Dept. of Public Health, Manipal Academy of Higher Education on the 17th of June 2015, and the Prize winning and good entries were displayed in the Out patient waiting area.
The coordinator for the whole program was Dr.RamPrasad V P, Associate Professor, Public Health Dentistry, Manipal College of Dental Sciences, Manipal and was ably supported by the team of Dental Interns posted in the Department of Public Health Dentistry.
Sincere acknowledgements to the Department of Psychiatry, KMC, Manipal , Dr.Sridhar Nekkanti , President , IDA, Manipal branch and M/s. Inta