International day of Yoga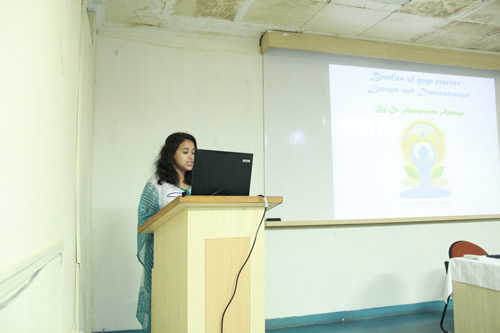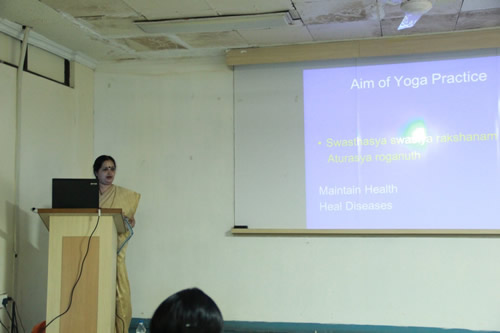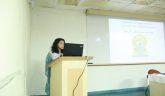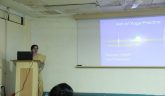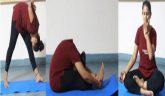 Yoga is the journey of the self, through the self, to the self- Bhagavad Gita
On occasion of International day of yoga, the student council and cultural committee of Manipal College of Dental Sciences, Manipal has held a guest lecture on benefits of yoga practice by Dr Annapoorna Acharya, Associate professor, Department of Yoga, KMC, Manipal.
The program was started by a welcome note and lighting of the lamp by the chief guest, Dr Annapoorna and the Dean Dr Nirmala Rao followed by various heads of department. The introduction of the guest speaker was given by Ms Maseera Fathima, editor in chief, student council of MCODS Manipal.
Dr Annapoorna Acharya enlightened us with simple terms, the science and physiology behind yoga, the components of yoga practice such as asanas [physical postures], pranayama [breathing exercises], dhyana [meditation] and relaxation techniques. She also addressed misconcepts of yoga and how diet and lifestyle modifications attain calmness of mind.
Dr Manjari Chandra, an MSc student of Yoga demonstrated few of asanas, pranayama and dhyana techniques and facilitated the demonstration.
Vote of thanks was given by Dr. Swathi Pai, Assistant Professor, Department of Conservative Dentistry and member of cultural committee, MCODS, Manipal.
Faculty members and students were benefitted by the lecture and demonstration and have got the eagerness and enthusiasm to start yoga practice in their daily life.