"I hope a day comes when I can just be an Indian in India "- Constitution Day-Nov 2015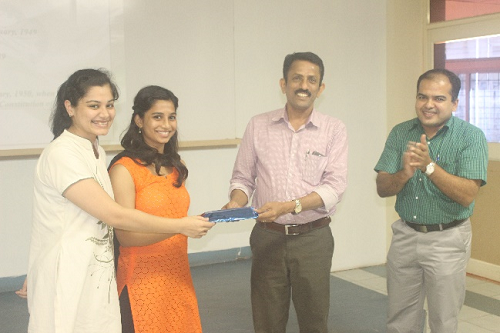 On 26th November 2015, Constitution Day was celebrated with great pride in MCODS,Manipal. A debate competition was held in student's common room on the topic "Should Jammu and Kashmir be free from India and Pakistan." As it is said, "As a historical legacy Kashmir has been a controversial topic for more than five decades." The competetion was judged by Dr.Saurabh from the department of pedodontics and Dr.Siddharth from the department of orthodontics.
Dr.Arun and Dr.Kishore attended the event. Participants presented their views for and against the motion with great conviction. As one of the participants quoted, "I am a Pandit in Kashmir valley, a Bihari in Maharashtra, a Delhi-walla in Chennai, a women in north India, a Sikh in 1984, a muslim in Gujrat, a village in a big city. All of us face discrimination, we all are minorities at some point of time. I hope a day comes when I can just be an Indian in India. Only then, I can be me." The room hall echoed with claps.
Questions were asked to each team and the discussion was igniting. After the competetion a discussion on Indian constitution took place. The first place was shared by two teams , Shreya Singh and Tripti Sarin (interns) and Akansha Roy and Akansha Shukla (4th year). They were awarded by Dr. Subraya Bhat, Associate dean of MCODS,Manipal.