Oral Health for Overall Health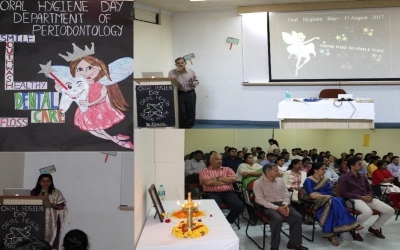 DEPARTMENT OF PERIODONTOLOGY
Oral hygiene day celebration
1st August, 2017
"Oral health for overall health"
Oral health is more than just cavities and clean white teeth. It includes the diagnosis and treatment of oral diseases, including dental caries, periodontal disease, temporomandibular joint (TMJ) disorders, soft tissue injuries and oral cancer. Furthermore, it aims at prevention of respiratory infections, diabetes and other chronic diseases, thereby improving our overall health and well-being. In this regard, the Department of Periodontology at MCODS, Manipal organized the following programs to realize the importance of this day.
The program included:
1.      Continuing dental education on:
Ø  Fundamentals in implant dentistry
Ø  Chin graft for bone augmentation
Ø  Sinus lift- A clinical insight
2.      Demonstration of implant placement
3.      A Hands on practice session for post graduate students
Talk on Dental Implants:
To mark the celebration of the oral hygiene day, a continuing dental education programme was organized in the "Dental clinics (Student's common room)" on 1st August 2017. Dr. Jyoti Varghese welcomed the guests. The chief guest for the programme was Dr. K. Mahalinga Bhat the former Senior Professor of Department of Periodontology. The programme commenced with welcome addresses to the gathering including the Dean of MCODS Manipal (Dr. Keerthiatha M Pai); Associate Dean (Dr. G Subraya Bhat); Guest Speaker (Dr. Rakshit Hegde – Professor, Department of Prosthodontics, A B Shetty Memorial Institute of Dental Sciences). Dr K.M Bhat gave us an insight on the significance of the celebration of oral hygiene day which commemorates with the birth anniversary of Dr. G.B. Shankwalkar (Doyen of Periodontology and Founder of Indian Society of Periodontology) in whose memory the day is celebrated across the country. This was followed by a brief introduction of the resource person (Dr. Rakshit Hegde) by Dr. Rupali Agnihotri, Associate Professor, Department of Periodontology.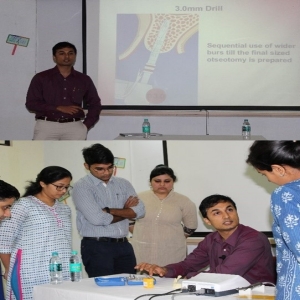 The guest speaker Dr. Rakshit Hegde gave an insight on the principles of successful dental implant placement and its periodontal and prosthetic implications. The series of lectures were followed by demonstration and training programme on placement of dental implants with practical hands on session. About 85 participants benefitted from the program. The sessions were summarized and brought to a close with the concluding remarks by Dr. K M Cariappa (Professor, Department of Oral and Maxillofacial Surgery, MCODS, Manipal)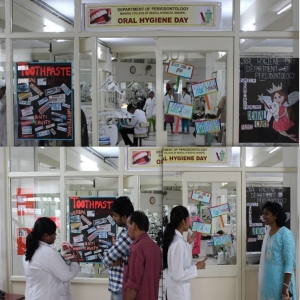 In addition to above programs, posters illustrating the importance of the oral hygiene in maintainance of overall health were displayed in the department for patient education and motivation.