Individually trained oral prophylaxis (I-TOP) -CDE Program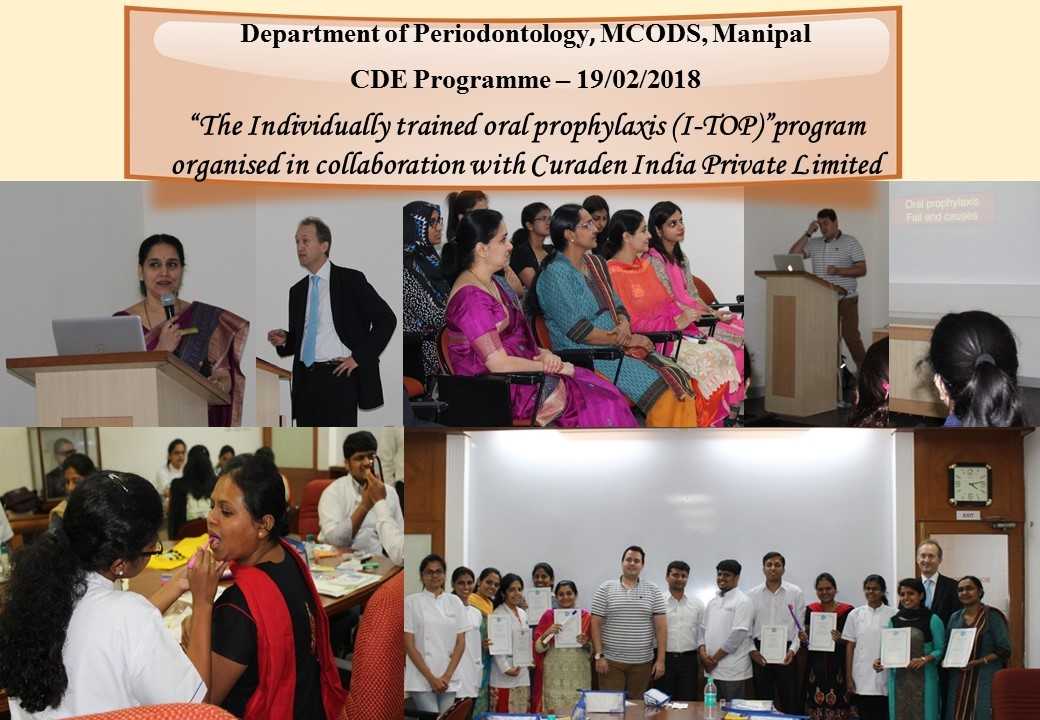 Oral prophylaxis for the maintenance of oral health forms the basis of any periodontal therapy. To emphasize the same, 'Individually trained oral prophylaxis (I-TOP)' continuing educational program with a hands on session was organised by the Department of Periodontology, MCODS, Manipal on 19th February 2018 in collaboration with Curaden India Private Limited.
Curaden is an oral Care brand with over 120 innovative oral care products and specializes in training dental professionals. The hands - on session of the program included a 'Touch2Teach,' a concept, where various oral care products were demonstrated, followed by individualized training on their use.  Dr. Galabov Lyubomir, dentist at NeKa Dent Ltd., Sofia, Bulgaria spoke about the 'Biofilm' and the debate regarding its management with emphasis on preventive oral care. Mr. Tino (Assistant to Board of Directors, Curaden), Mr. Mahesh S G, Vice President, Curaden India Pvt. Ltd. and Dr Chethan Nandakumar were also present on behalf of the Curaden team.
The chief guest Dr. Keerthilatha M Pai, Dean, MCODS, Manipal stressed the need for dental professionals to update their clinical skills and expertise in order to effectively deliver optimal patient care. Heads of various departments, faculty members, post graduates and interns of MCODS, Manipal were present during the inaugural session of the program. Mr. Tino presented an overview of the Curaden company, their products and global presence.