Alumnus Dr Eubulus Timothy at MCODS, Manipal
Dr Eubulus Timothy , Alumnus of MCODS, Manipal , from the batch of 1987 visited Manipal on 8th April 2015 and delivered a talk " Ethical consideration of social Media for health care" to the interns and students of Manipal College of Dental Sciences, Manipal.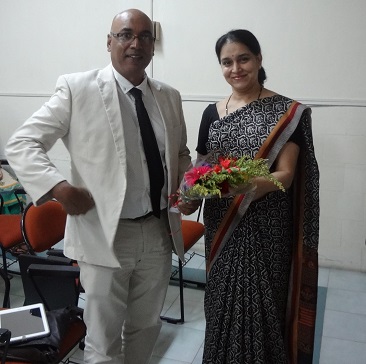 Dr Eubulus Timothy, BDS, MCODS, Manipal, with two Post Graduate Diplomas, one in Implantology & another in Aesthetics, both from the University of the Western Cape. He now lectures at the University of the Western Cape in use of neuromodulators and dermal filler for facial aesthetics for their post graduate dental program. Dr Timothy has a diploma in Marketing Management & a Diploma in Journalism from London.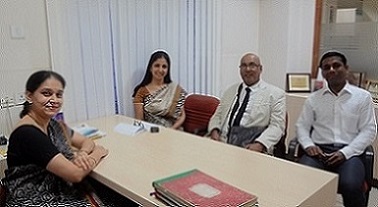 Dr Timothy is a member of the South African Associations of Cosmetic Doctors, Aesthetics and Anti-Aging Society of South Africa, World Society Interdisciplinary Anti-aging Medicine and the South African Association of Aesthetic Dentists. He recently returned from a seven-year sabbatical in Los Angeles. He has a practice called Smile Spa in Musgrave, Durban with special focus on facial and dental aesthetics. He is an active member of the Lazar Society of the South African Dental Association, and member of it's KZN executive committee. Dr Timothy is the chairperson of the MAHE Alumni in South Africa and is a past student president of the College of Dentistry, Manipal.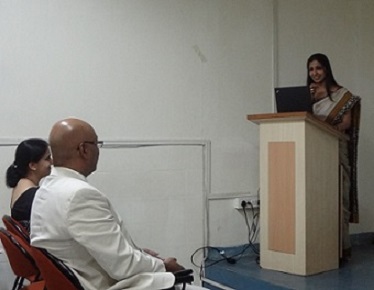 Eubulus Timothy is also an award winning writer, director and producer of film and television. In Hollywood he won the prestigious Harley-Merrill Screenwriting Award. He has studied the History of Narrative Film and also has a Diploma in Directing and a Diploma in Cinematography from the Los Angeles City College Film School.  Presently he is the vice chairperson of Writer's Guild Of South Africa.
In South Africa he directed the feature film Othello which debuted Diana Hayden and numerous short films. He produced Cape Night Live, which introduced Mark Lottering to South African television audiences. Eubulus directed numerous dramas for the SABC.  He started a Performance School in Cape Town with pass students including South African Idol Heinz Winckler and actress Kim Engelbrecht. He has produced and directed major events for South African Embassies and Commissions around the world including the Tsoetsi Pre-Oscar Party at The Beverley Hilton in Beverly Hills.